In this article, you can learn about:
By default, when you reach the monthly pageview limit of your account, your OptiMonk Campaigns will be paused temporarily. You receive a reminder via email when your website's pageviews reach the 80% of the limit and also when they exceed the limit. If your account reaches the monthly pageview limit, you will also see an alert message at the top of the page when entering your account.
You could upgrade your account or wait until the pageview counter resets on the 1st day of the next calendar month, but if you are eligible, you can also choose FlexiPay to make sure the Campaigns continue.
What is FlexiPay?
FlexiPay acts as a safety net. It is a very easy and convenient way to make sure your Campaigns continue to run when you reach the pageview limit of your OptiMonk account.
Who is eligible for FlexiPay?
FlexiPay is available for our customers using a Premium or a Master plan.
How does FlexiPay work?
If FlexiPay is enabled in your account, your Campaigns will continue to show up for your visitors, and the pageviews that were above your account's limit will be automatically added to the next invoice and will be billed this way.
How to enable FlexiPay?
If you are interested in enabling FlexiPay or have any further questions, please contact us at support@optimonk.com or via chat, and we would be happy to assist you :)
Where can I see that FlexiPay is enabled in my account?
When the Flexipay is on, the pageview counter won't stop when reaching zero, the remaining pageviews will show -12345, which means that the FlexiPay is on. You can also check the Subscription page of your account to see if FlexiPay is enabled. You can reach the Subscription menu by clicking on your icon in the bottom left corner.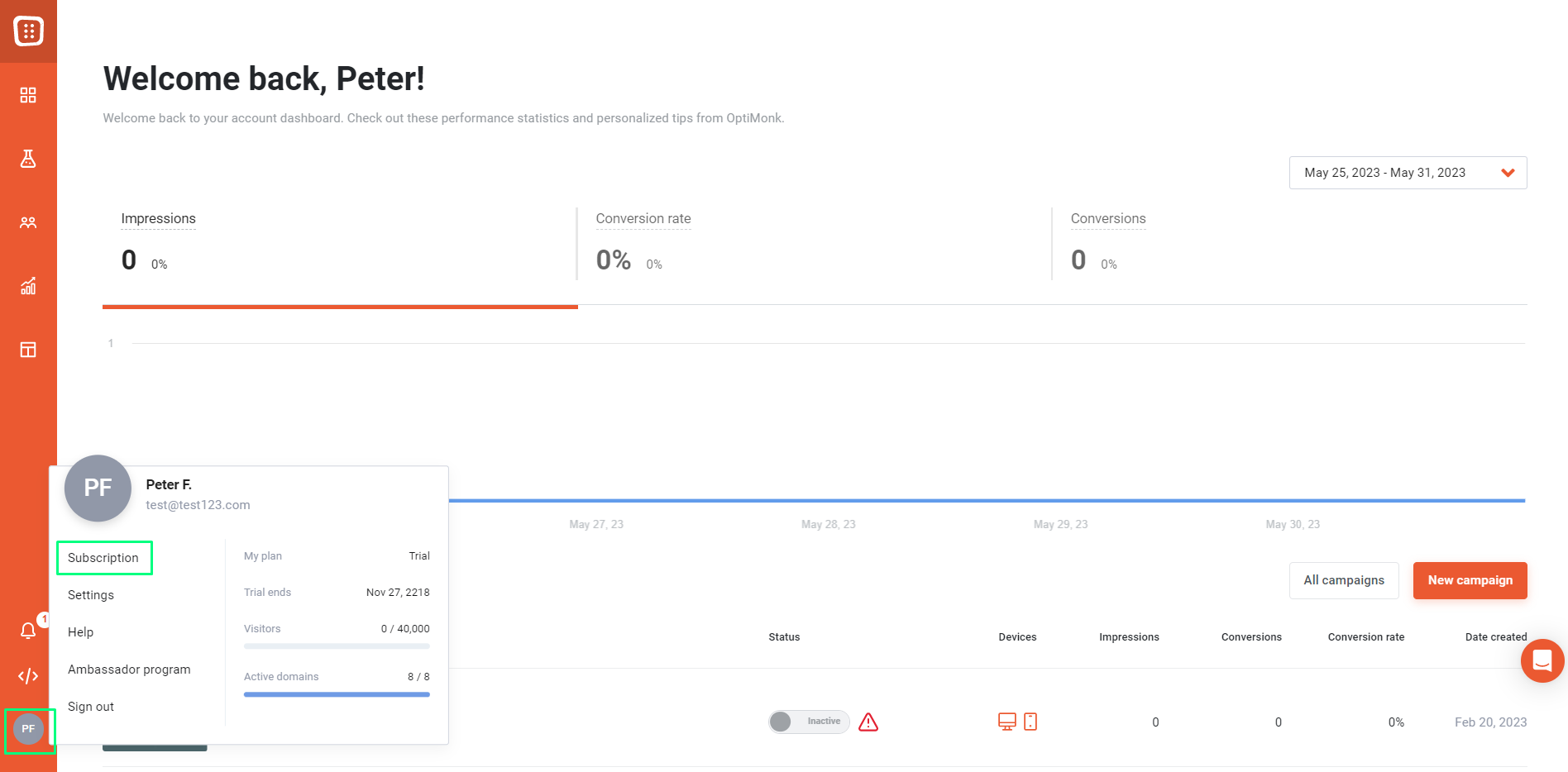 Here, you will see the following if FlexiPay is enabled.