Why should you integrate OptiMonk and Google Analytics?

The integration with Google Analytics is useful because it can help you track:
Referrals
Performance of your Campaigns
Revenue
Order value


What is the data forwarded to Google Analytics?

With OptiMonk dashboard for Google Analytics you can measure the following events:
Popup filled

Popup displayed

Popup Closed (with X button)

Popup Rejected (by clicking on closing link of the popup)

How to set up the integration?

You can easily integrate Google Analytics with OptiMonk to track referrals and events from your popups. This step-by-step guide is going to introduce you to the steps to create the OptiMonk dashboard just in no time, so you can start tracking the performance of your campaigns straight away.

1. To get started, sign in to your OptiMonk account at https://app.optimonk.com/login/en
2. Click on your icon in the bottom left corner, then select Domains under Settings. After that click on the domain and select How to enable? Next to OptiMonk Dashboard in Google Analytics.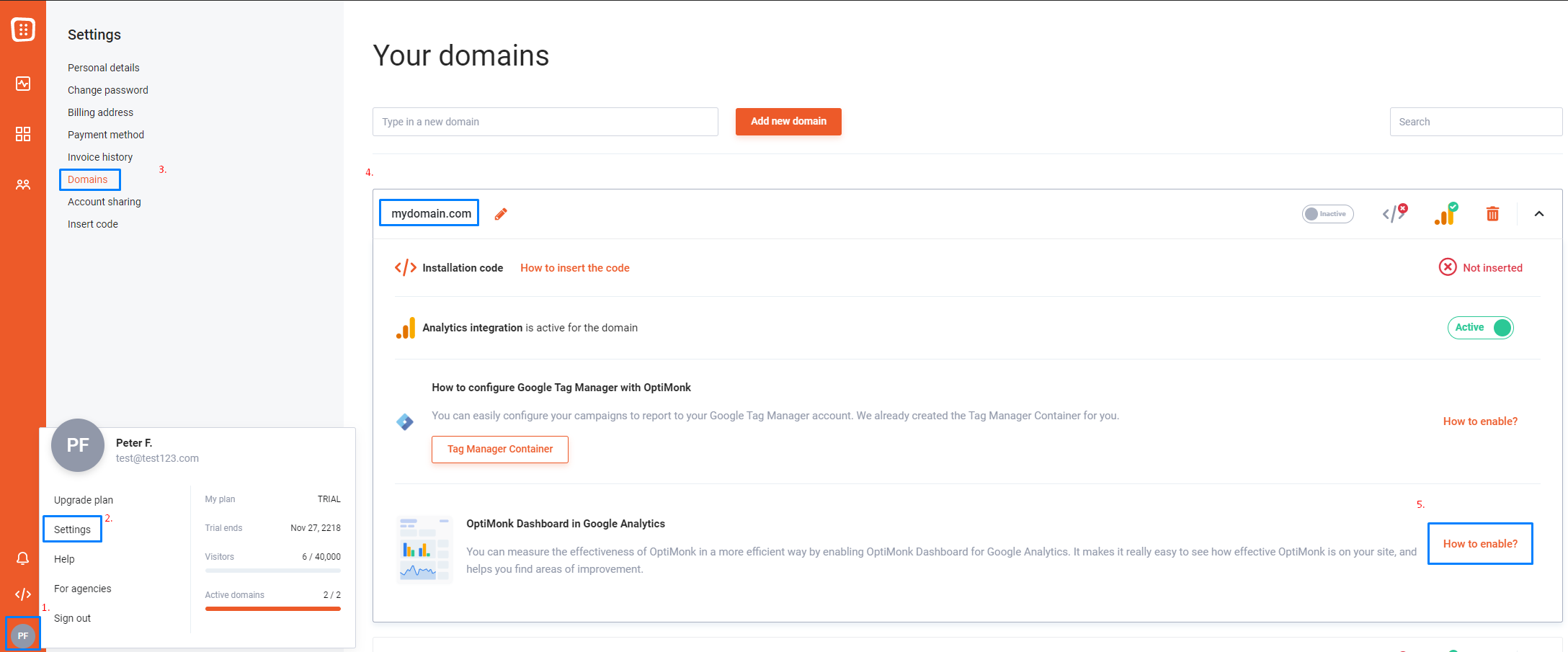 3. Click on Enable OptiMonk Dashboard on the next page: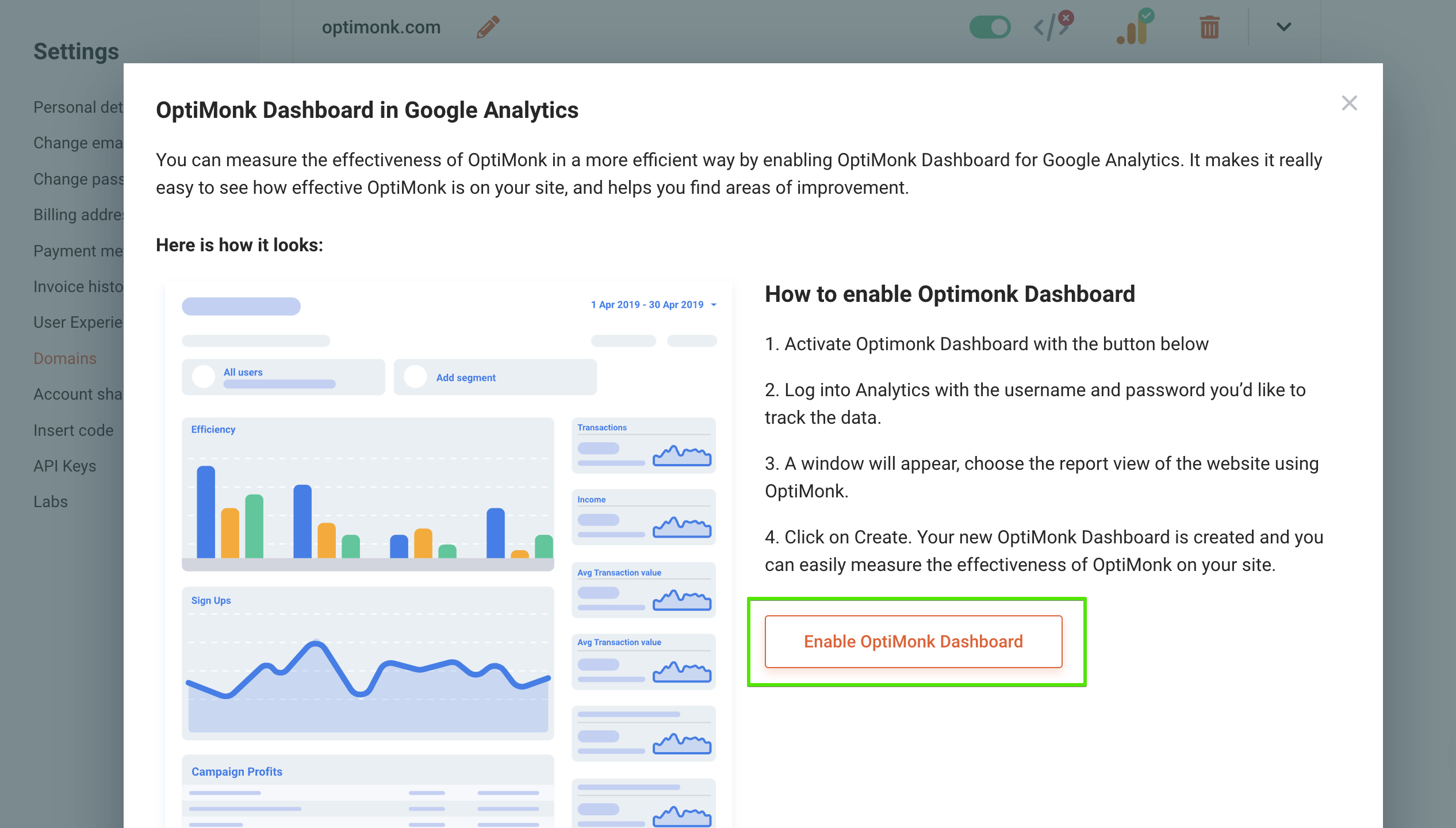 4. This will take you to your Google Analytics account where you can select a View, then click Create to finalize the setup: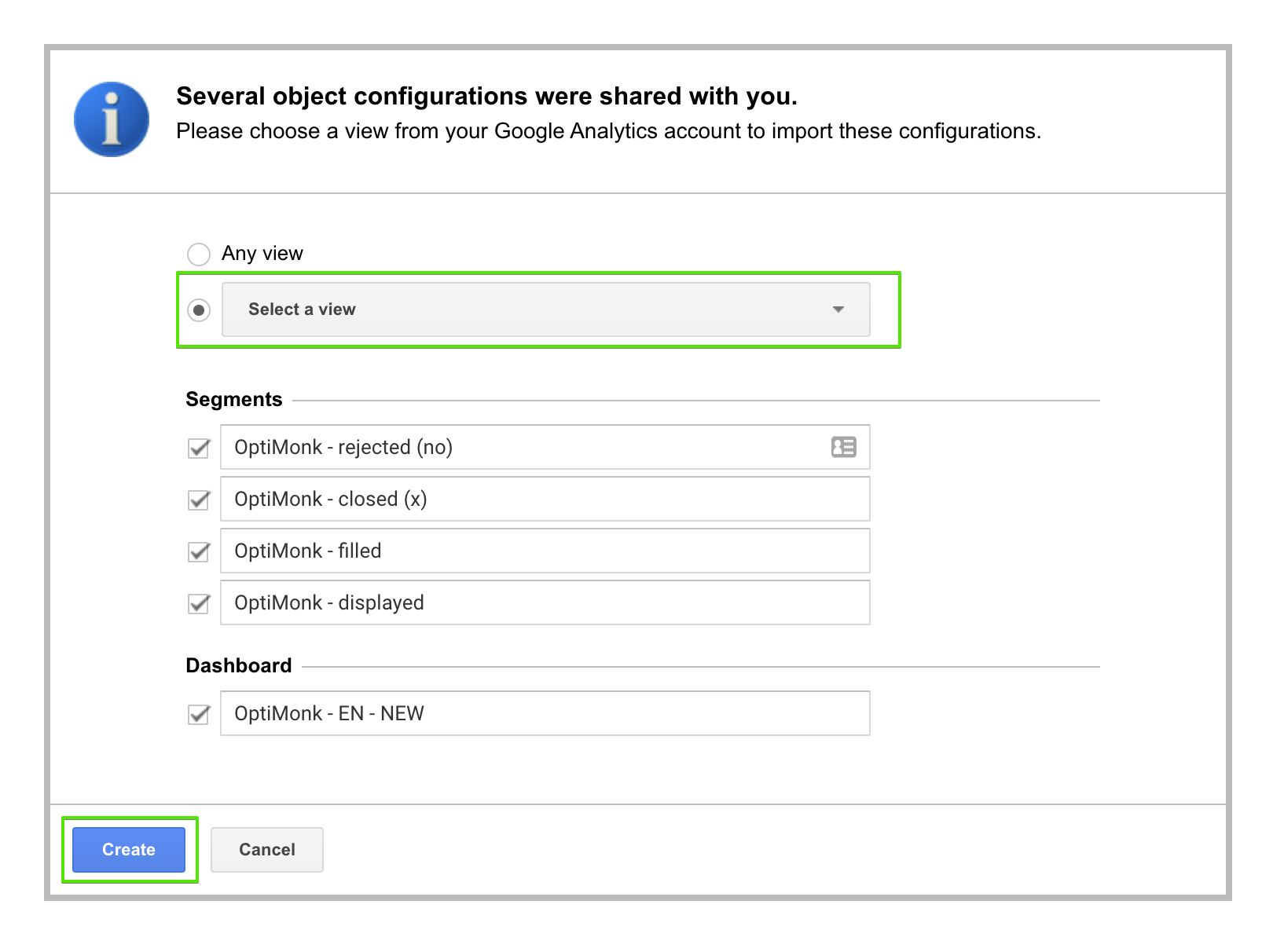 This configures the following action hierarchy in your Google Analytics account:
Category > Action > Tag
Example: OptiMonk > shown > Analytics tutorial campaign
Please note that "filled" is the only action-type that is measured as an interaction. All the other types of actions are not counted as interactions. This is important to consider when calculating your abandonment rate.

Overview of the OptiMonk Dashboard

You will find the OptiMonk Dashboard under Customization / Dashboards: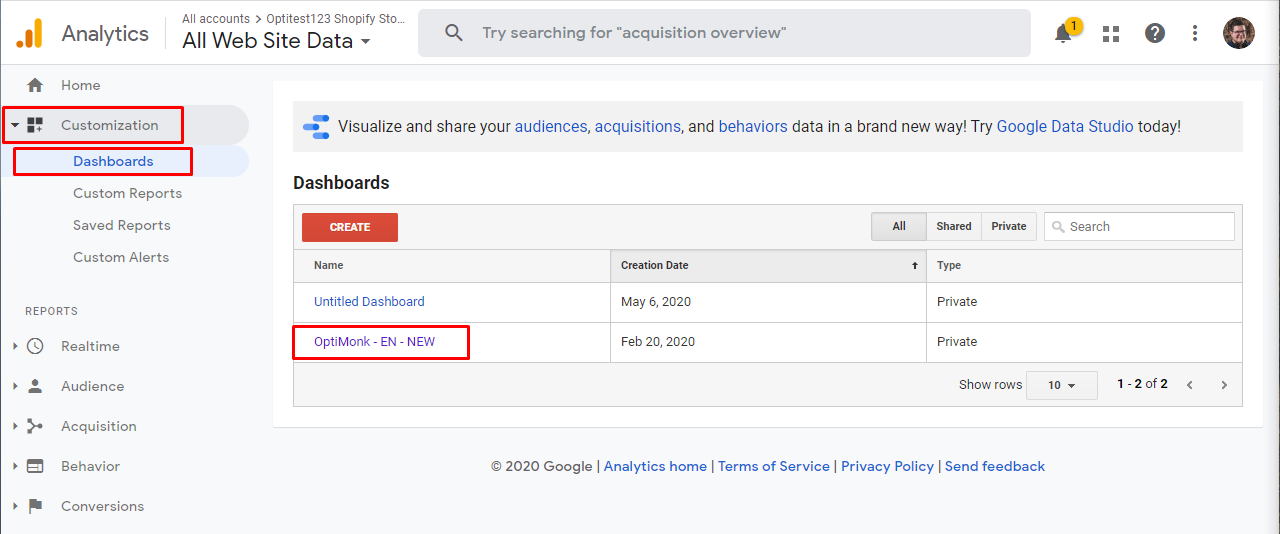 This is how the OptiMonk Dashboard looks like by default: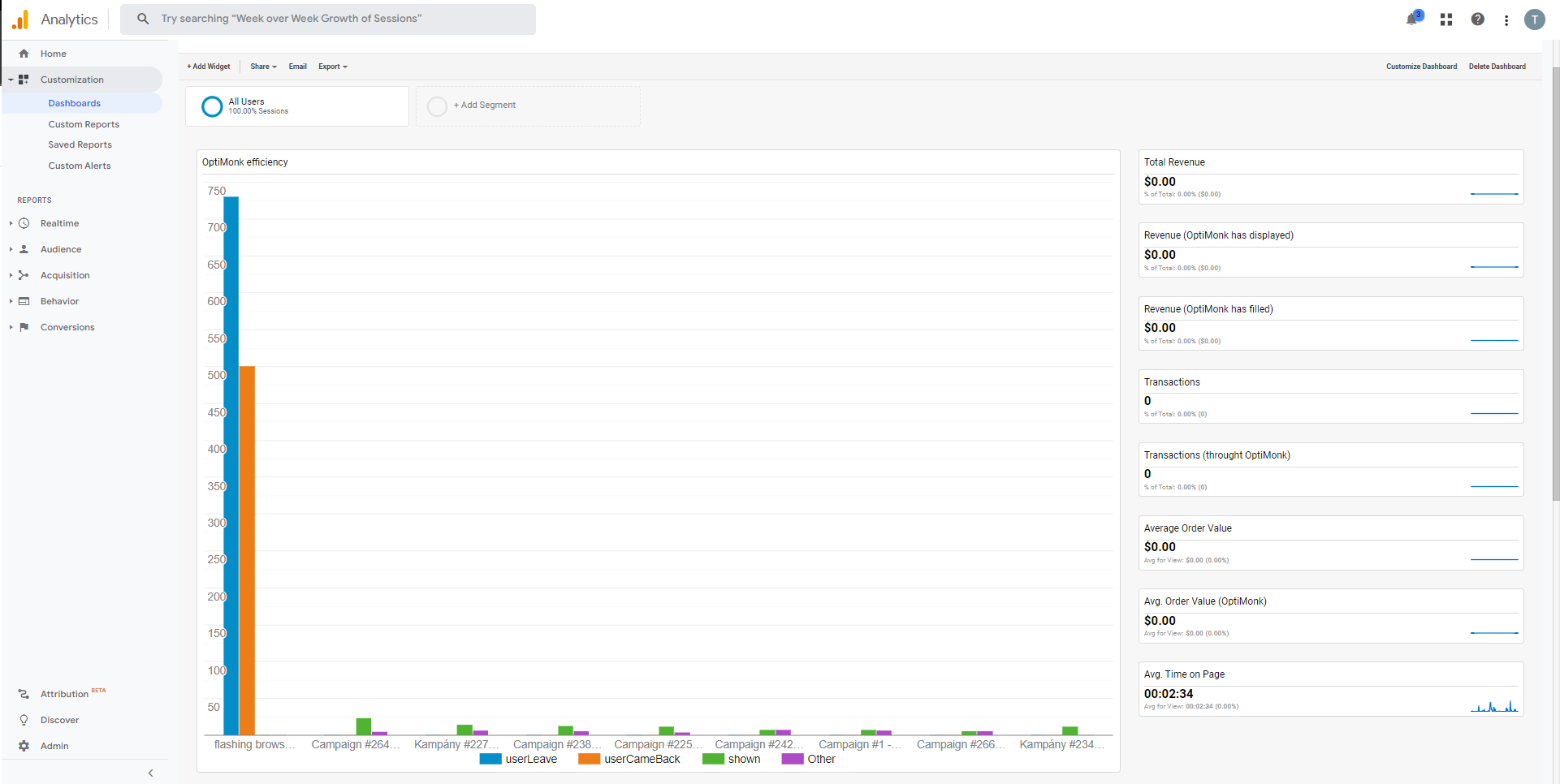 In the middle section, you will see the performance of your Campaigns demonstrated on charts in terms of filled rate and revenue generated. On the right-hand side, you will see widgets that are using Google Analytics built-in calculations to display your revenue, transactions, and average order value with different variables.

Setting up reports
With the help of Google Analytics, you are also able to set up your own reports. For popup campaigns that are designed to redirect visitors, the settings can be found in the URL used with the traffic redirection popup.
1. Use the URL Builder at Google: https://ga-dev-tools.appspot.com/campaign-url-builder/
2. Fill in the necessary fields and then generate your URL: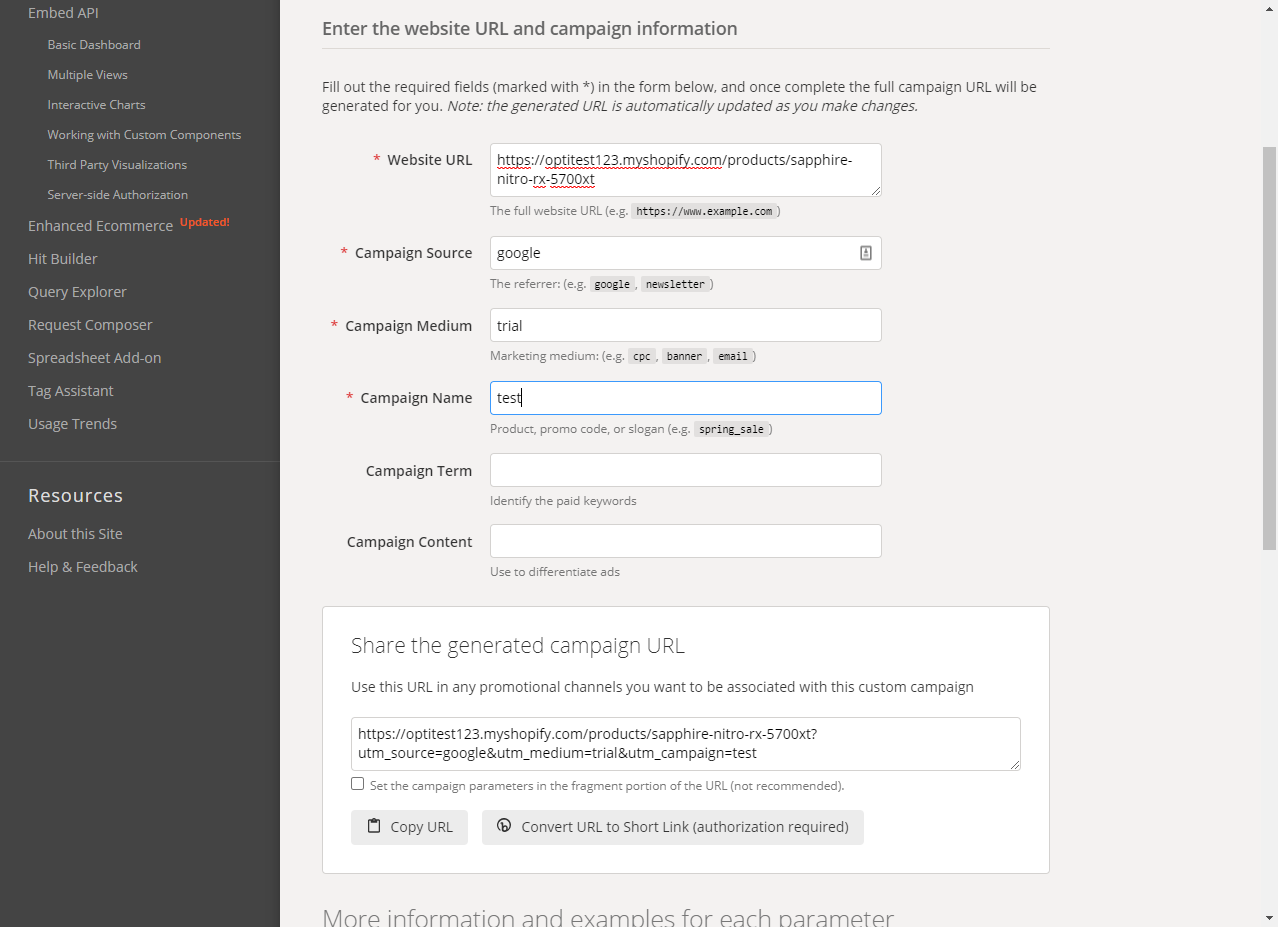 3. Copy the URL from the URL Builder into the proper field of your traffic redirection popup and save your OptiMonk campaign. To do so, click on the Campaigns on the left-hand side in your OptiMonk account and click on the Campaign you wish to set up: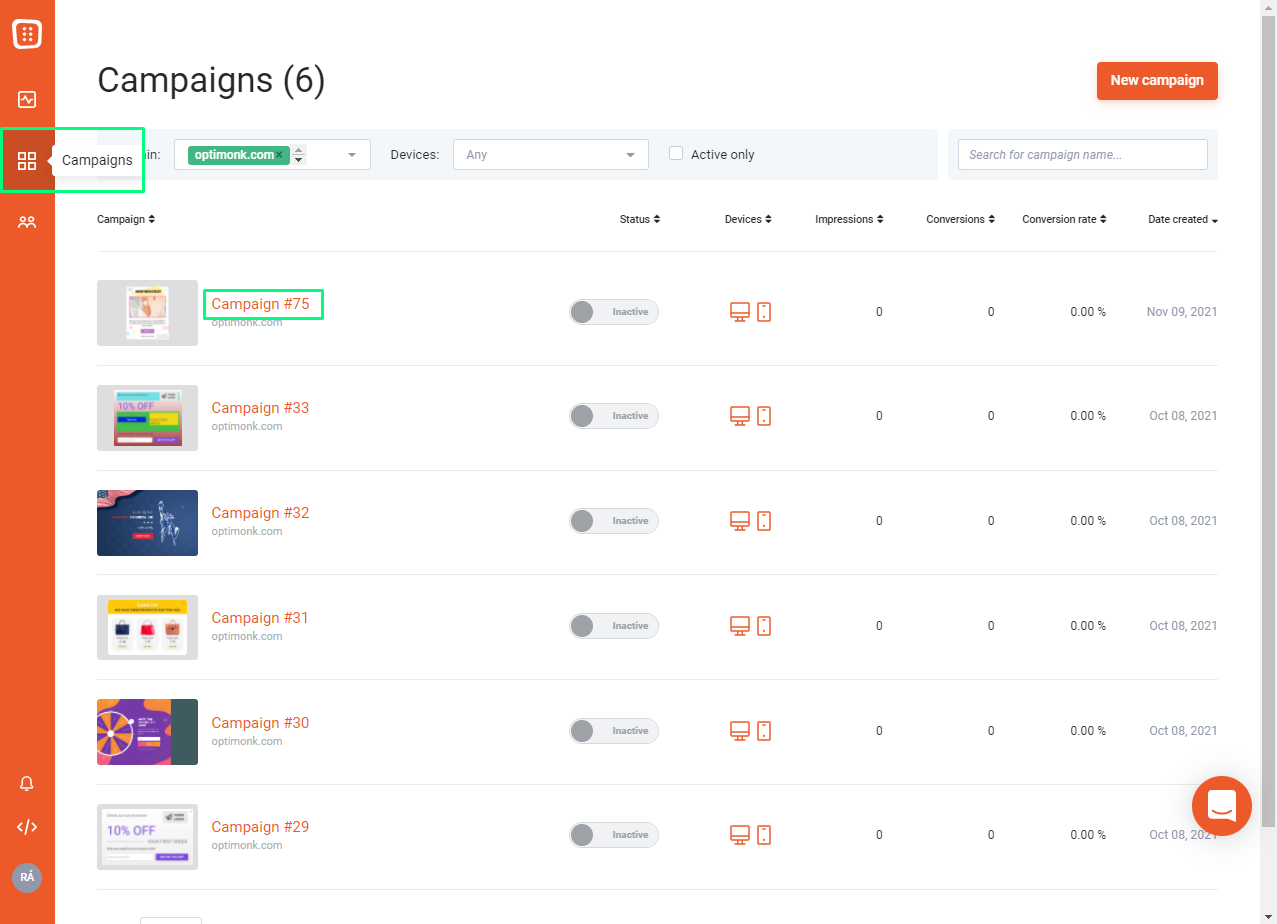 4. Click on the Variant of the Campaign that you wish to edit: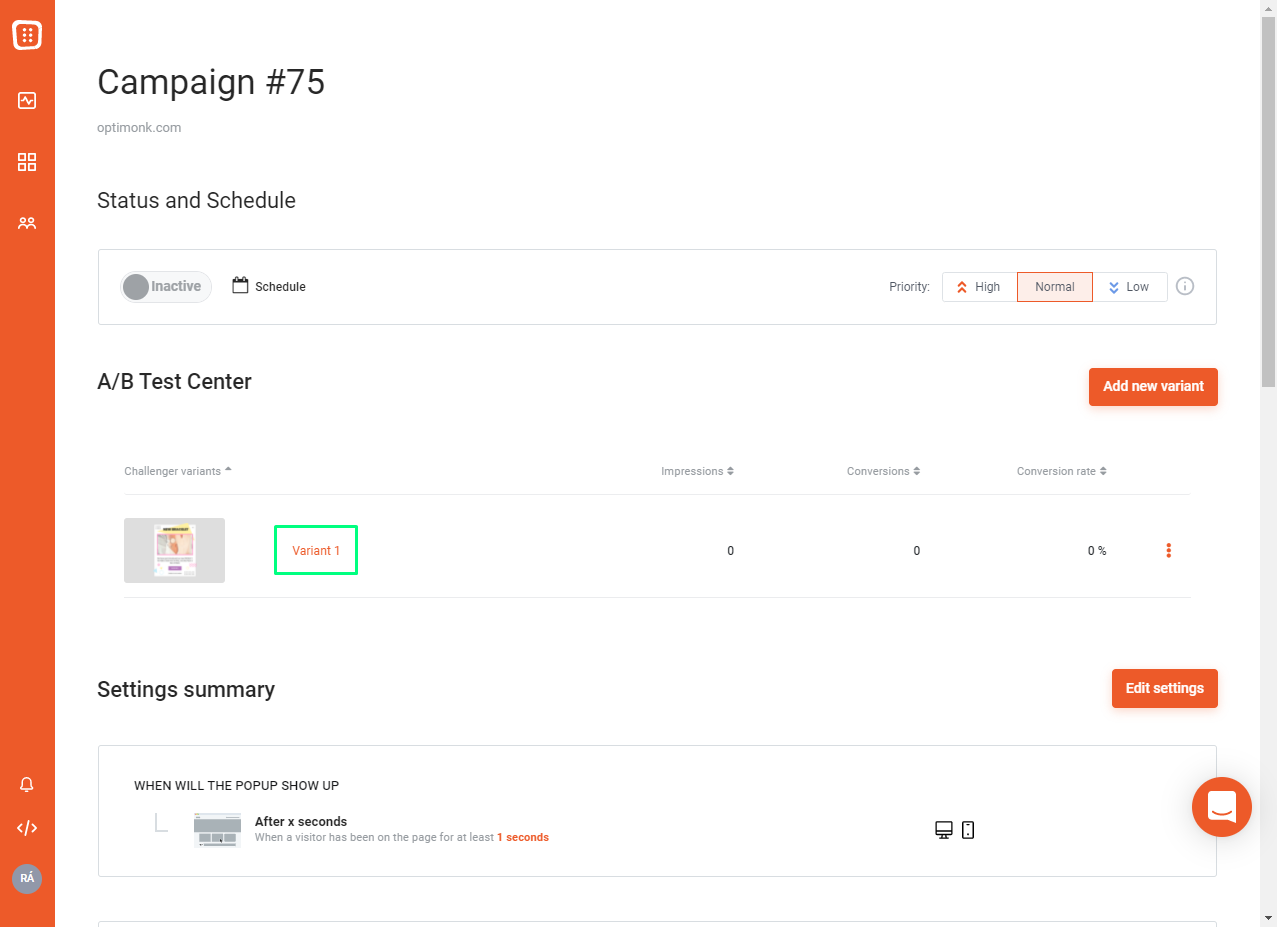 This will take you to the Campaign Editor.

5. Click on the button of your Campaign that you are using to redirect your visitors. You will see the redirect URL on the right-hand side. Paste the URL from the Google URL builder here, then click Save & Exit in the top right corner to save your changes: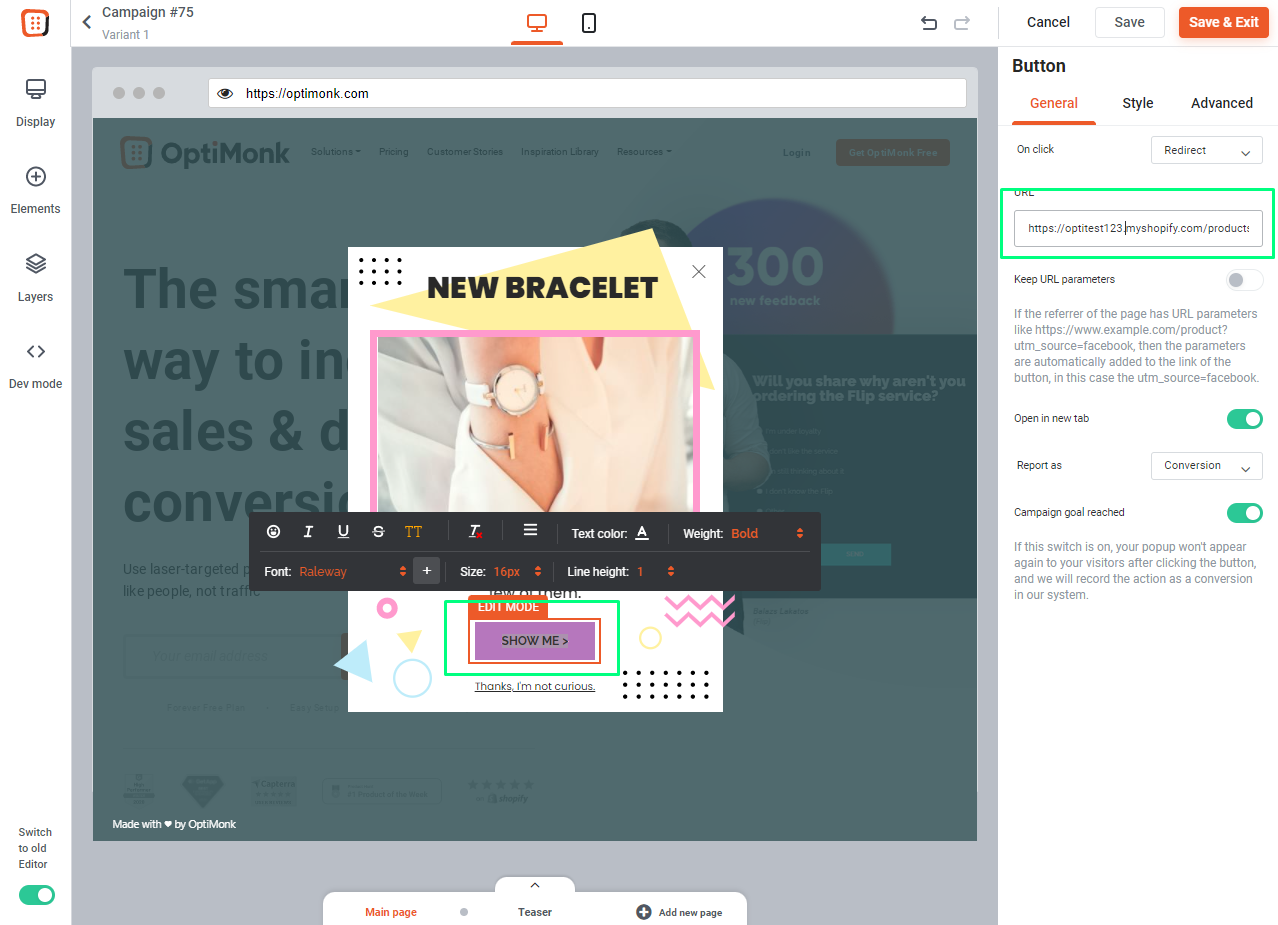 To view your redirected visitors, login to your Google Analytics account, and navigate to Acquisition > All Traffic > Source/Medium: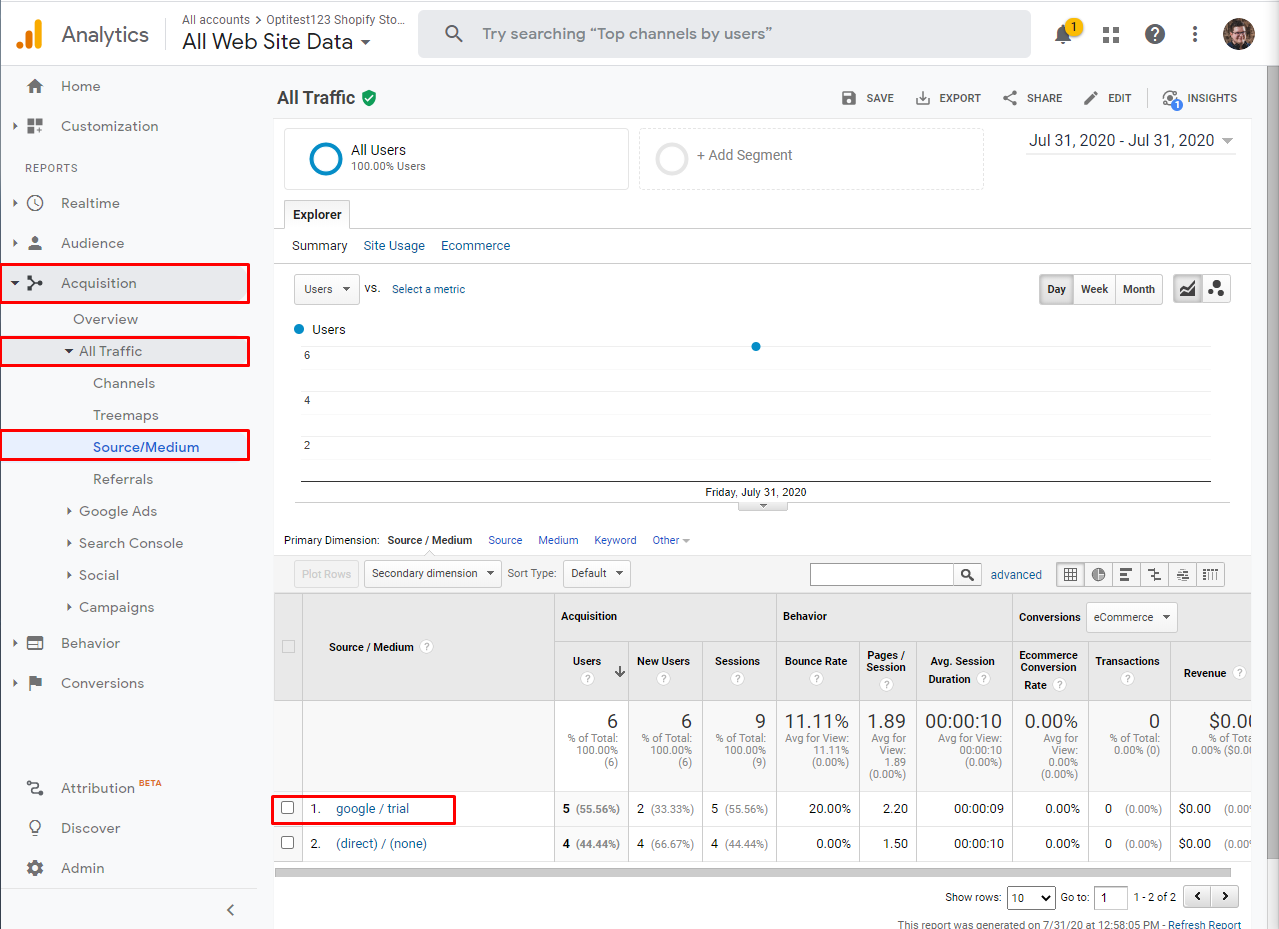 You can also use this to segment your visitors on Google Analytics. Click on Add Segment on any report page: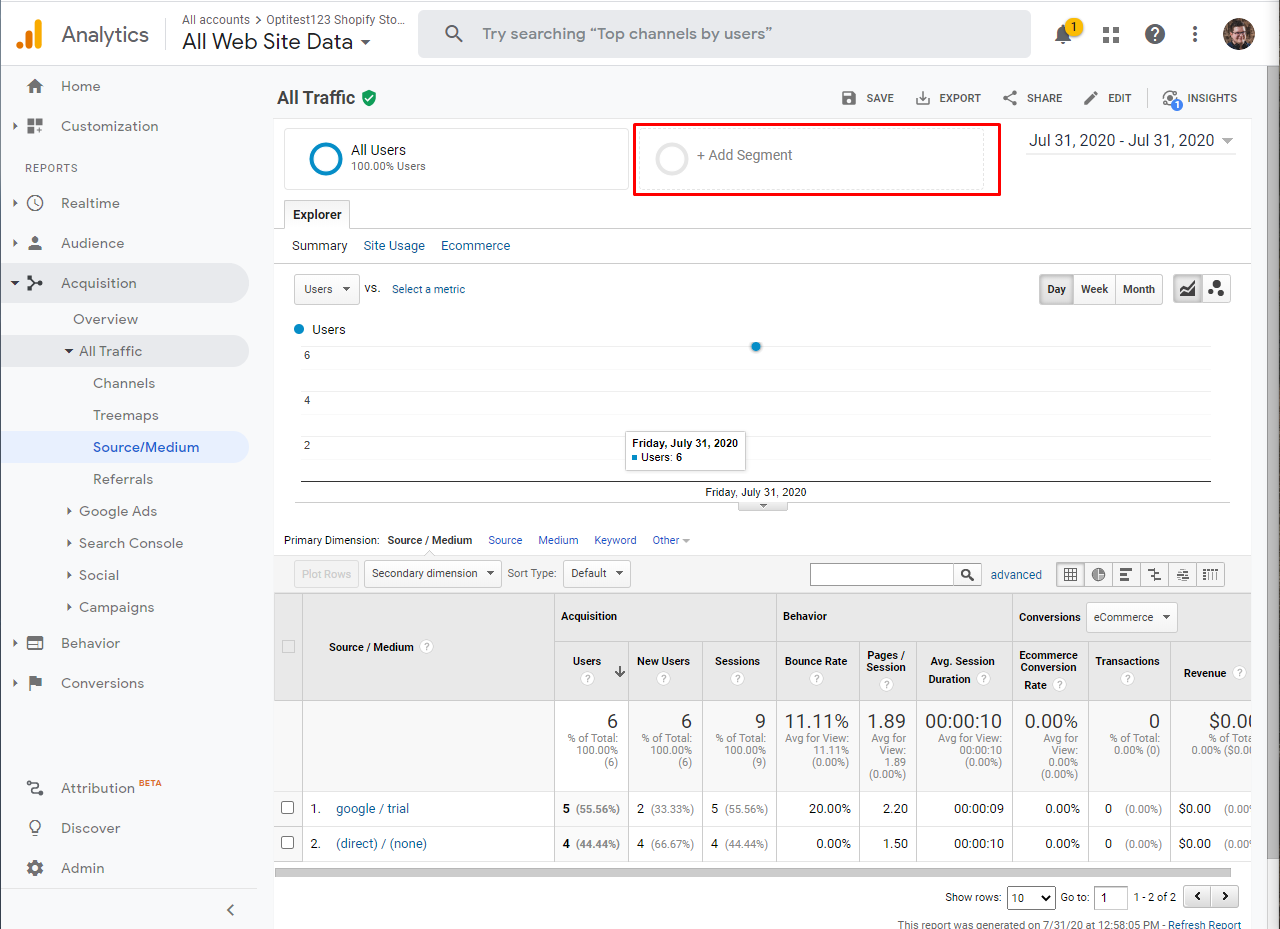 Select New Segment:





Select Traffic Sources, and use the same keywords you used in the Google URL builder: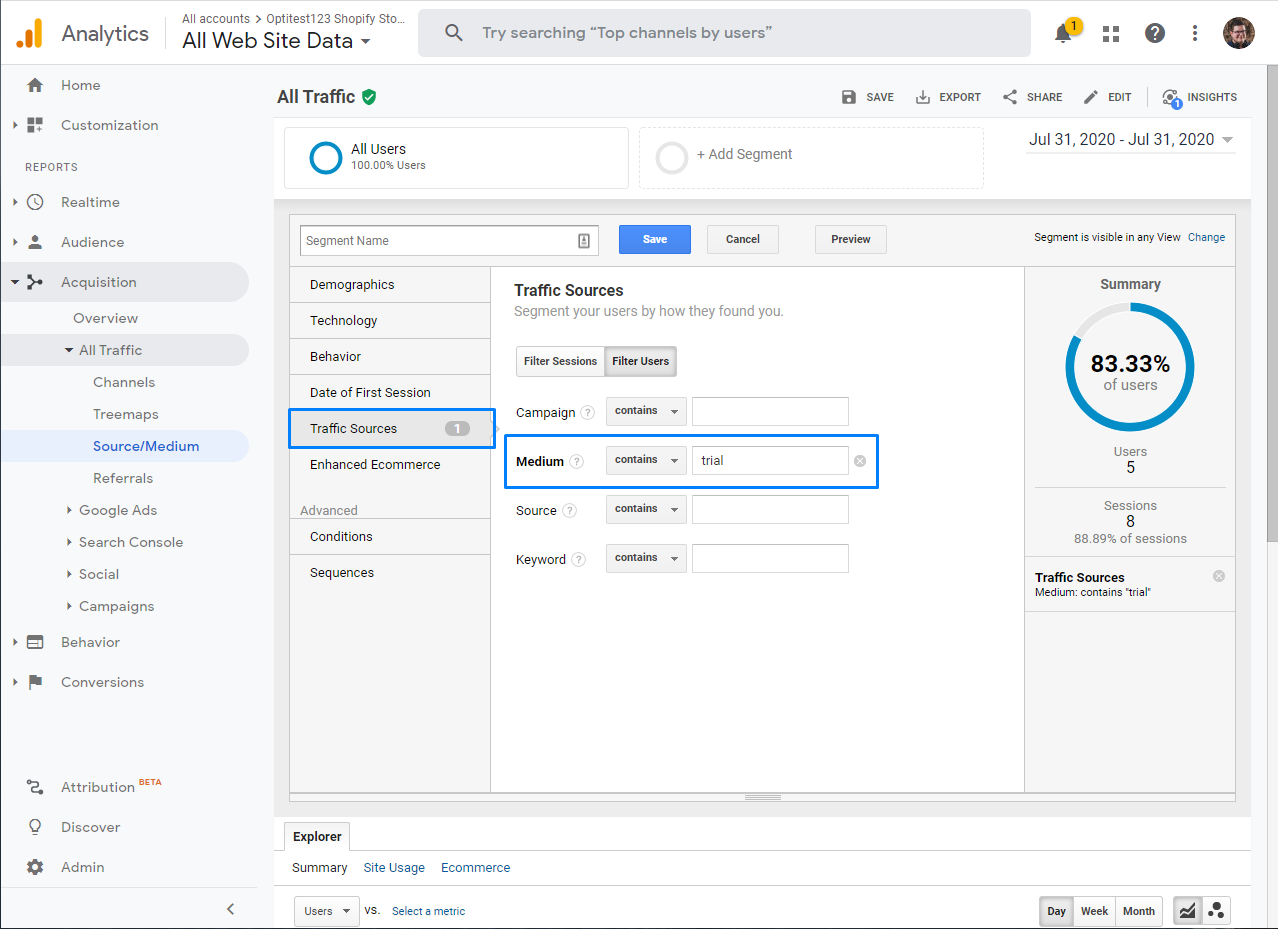 You can add this Segmentation to any report, and you will see the results on the report page: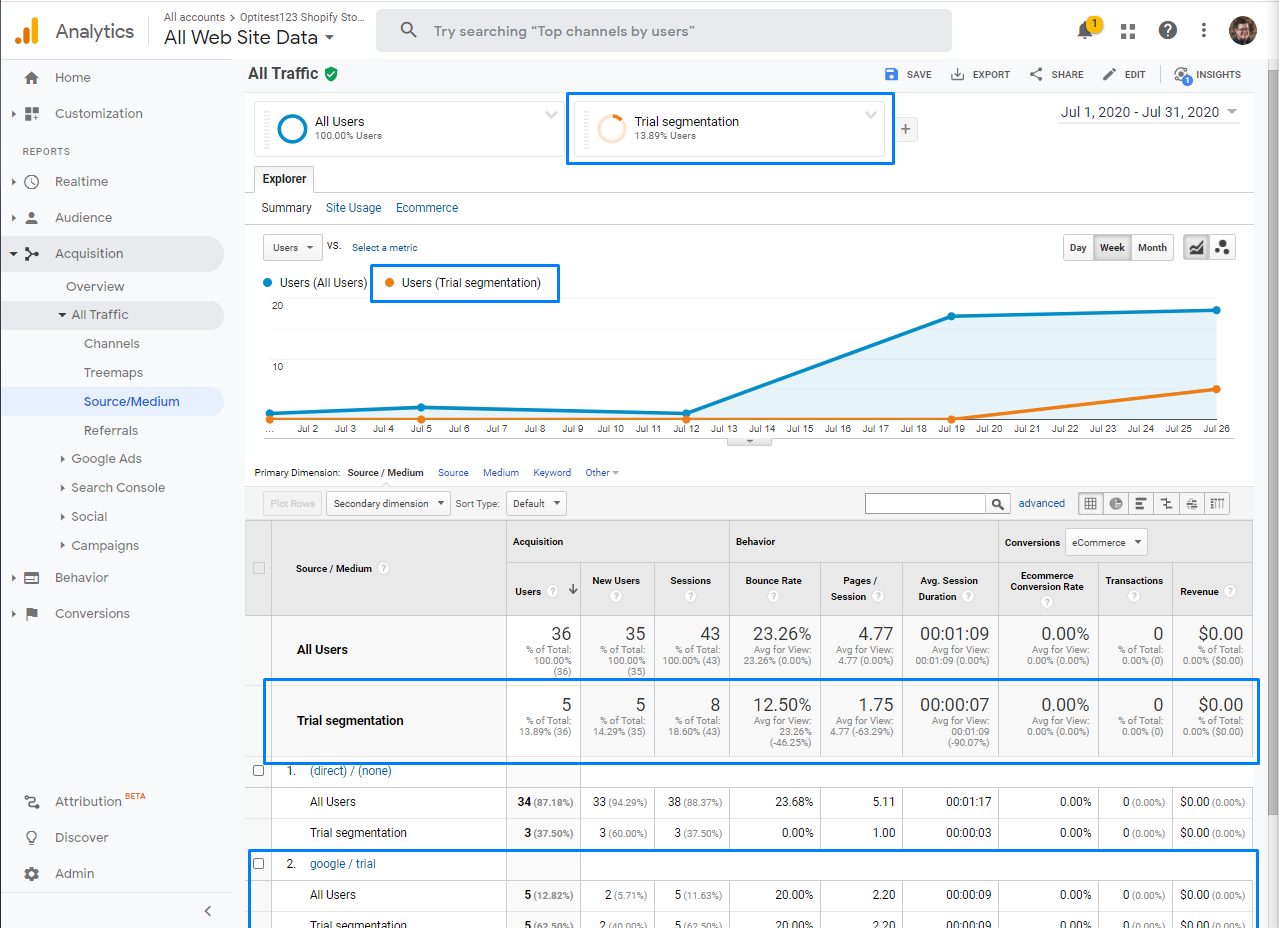 Frequently Asked Questions:
How can I check the revenue generated with the help of OptiMonk?

You will be able to find out by checking the widgets in the OptiMonk Dashboard in Google Analytics.


How can I check if OptiMonk improved the bounce rate of my website?

You will need to select the Audience menu in Google Analytics, then Overview. You will see the Bounce Rate of your website, and you can add it to the chart as well by clicking on Select a metric and choosing Bounce Rate:




How can I compare users who had seen OptiMonk popups and users who did not in a report?

Once you have set up the integration with Google Analytics using the above steps, you will be able to segment your visitors based on the following parameters:



Popup filled (this is based on the settings of your Campaign. A popup is considered "filled" usually by clicking on the button on your on-site message)
Popup displayed (visitors who had seen one of your on-site messages)
Popup Closed (with X button)
Popup Rejected (by clicking on closing link of the on-site message)

1. You can segment the visitors in your report by choosing Customization on the left-hand side. Choose Custom Reports, then select the report you want to use:


2. Next, click on Add Segment: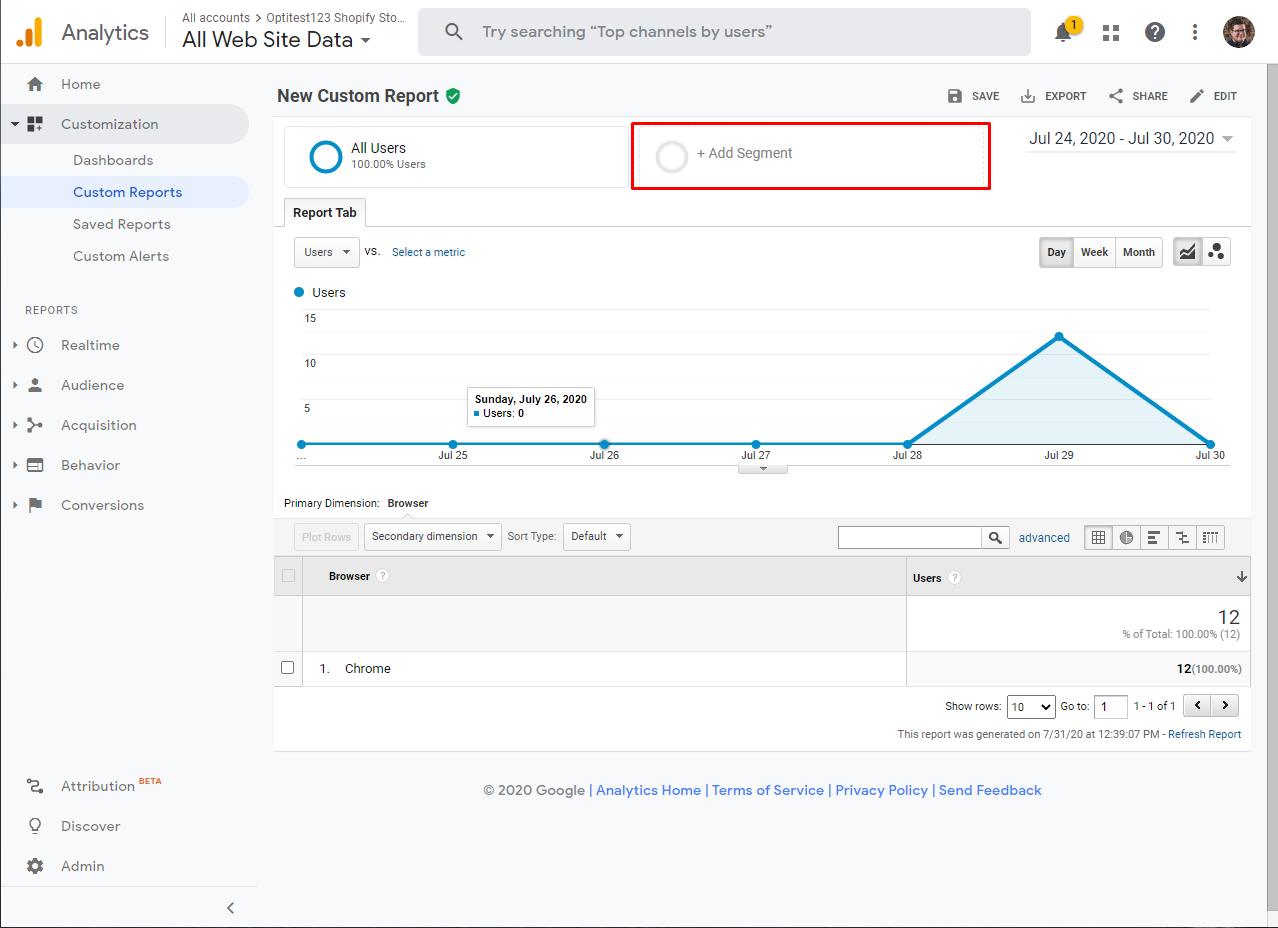 3. Select Custom > OptiMonk - displayed then click Apply: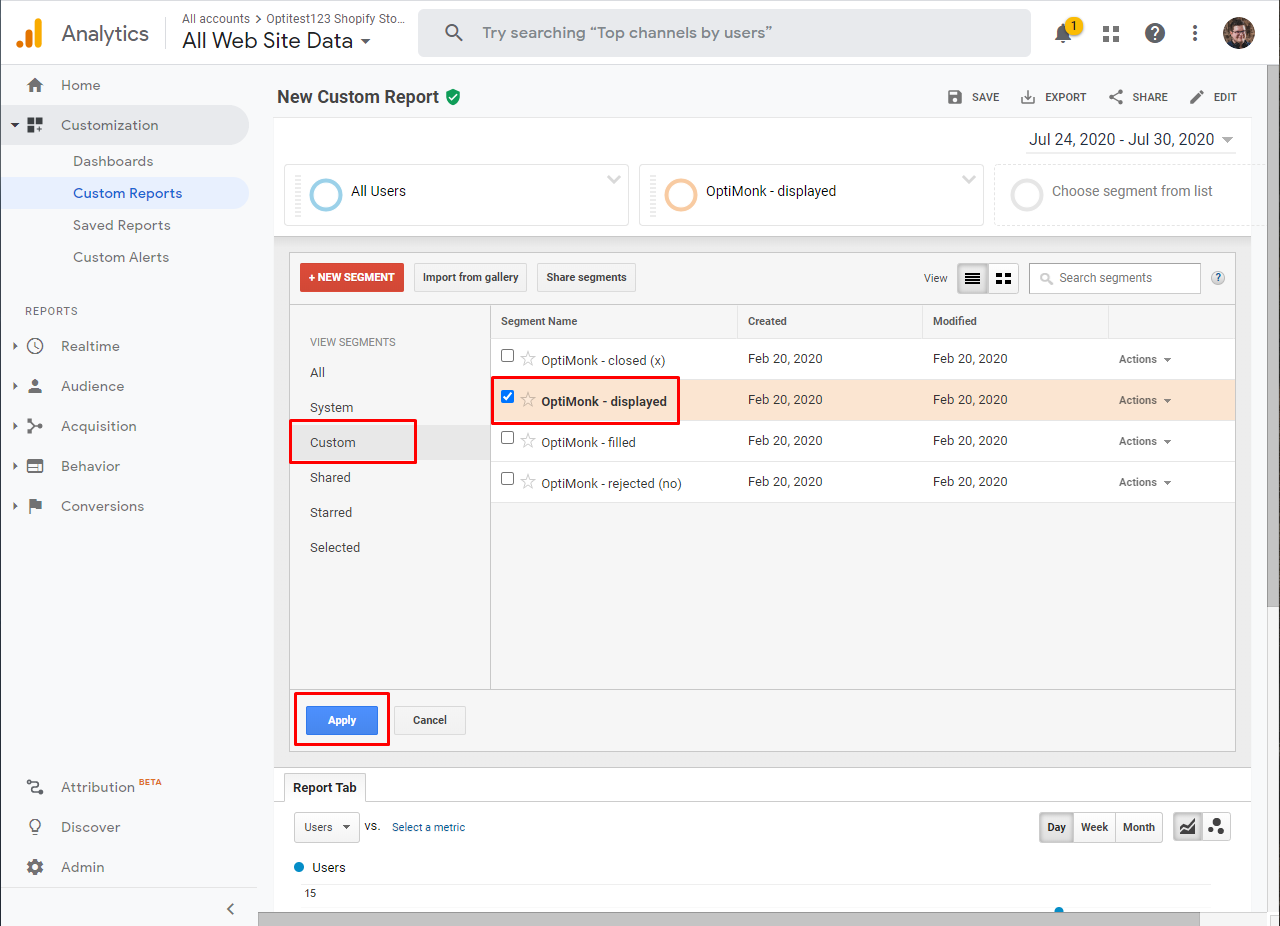 You will see your visitors based on the segmentation chosen: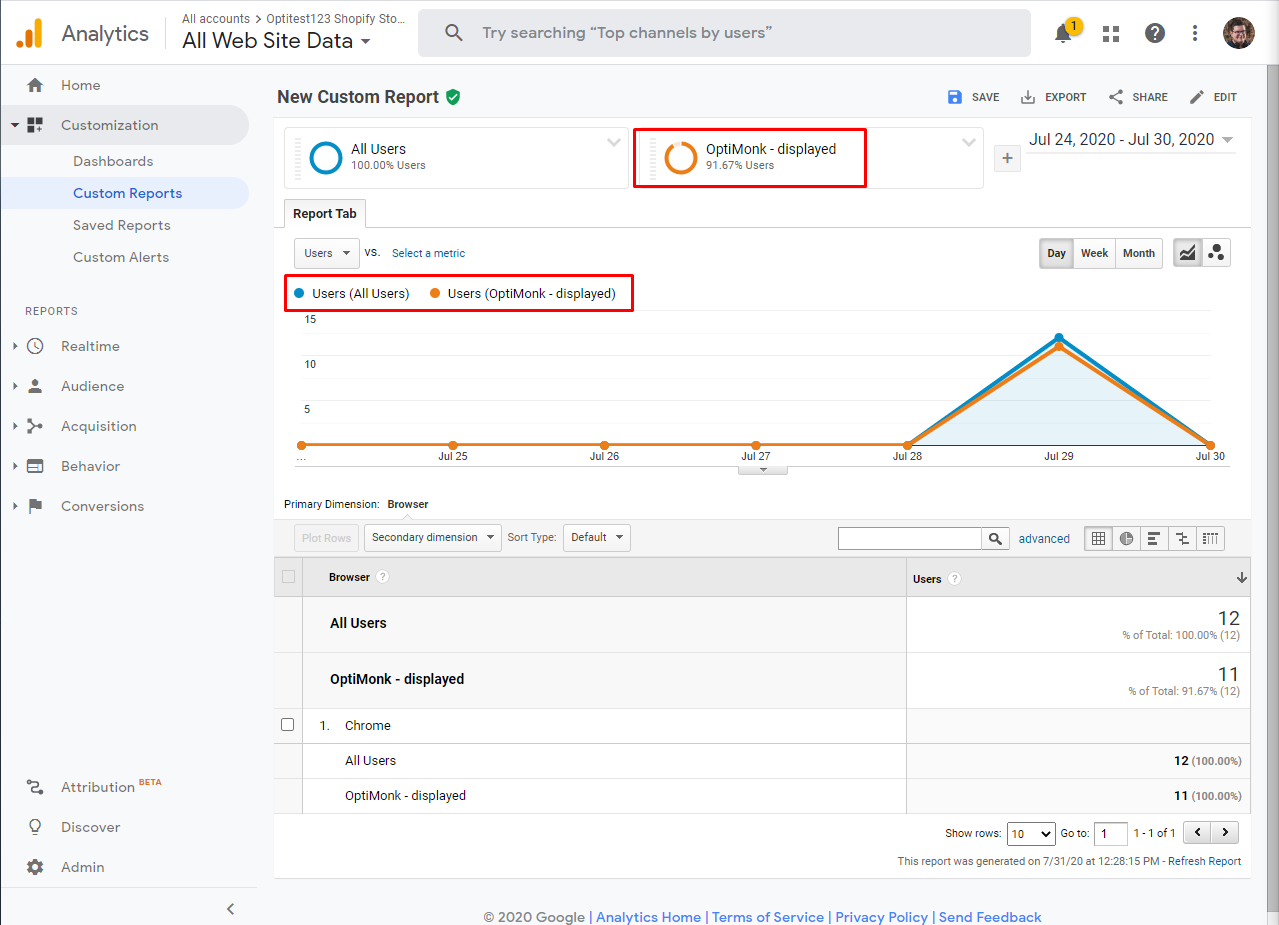 That's it! :) If you need any further help or have any questions, just let us know at support@optimonk.com and we would be more than happy to assist you :)