The CleverReach integration with OptiMonk allows you to have subscribers added to your CleverReach mailing list when they fill out an OptiMonk popup form. It may come in handy if you run marketing campaigns on a regular basis so that the subscribers who signed up via OptiMonk will also get news about your upcoming promotions and news.
Please follow the below steps to set up the integration:
1) Log in to your OptiMonk account at https://app.optimonk.com/
2) Select Campaigns on the left, and click on the Campaign you wish to set up with CleverReach: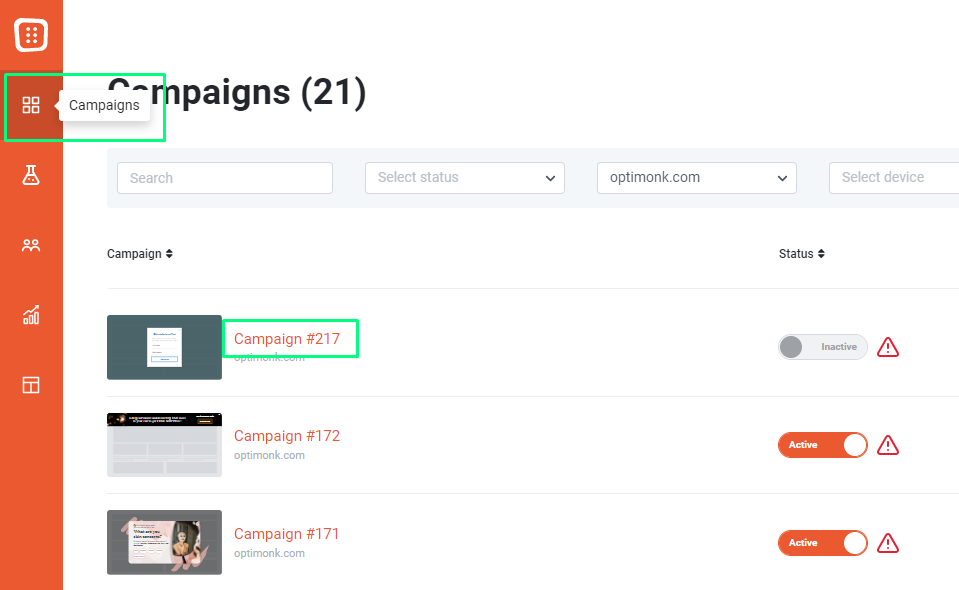 3) Scroll down and click on Edit settings on the right, next to Settings summary:

4) Select Where would you like to send the subscribers and campaign data?, then click on Add new integration: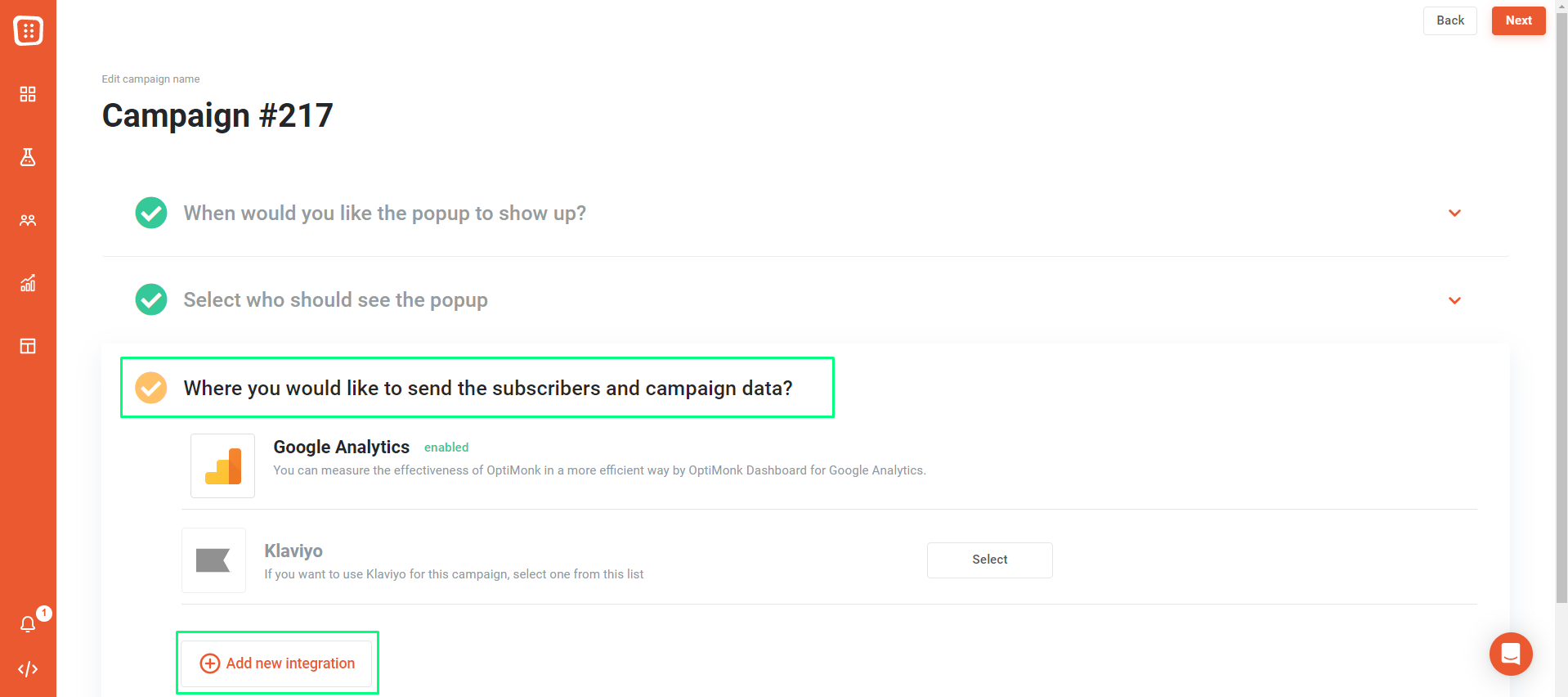 5) Select CleverReach from the list of available integrations: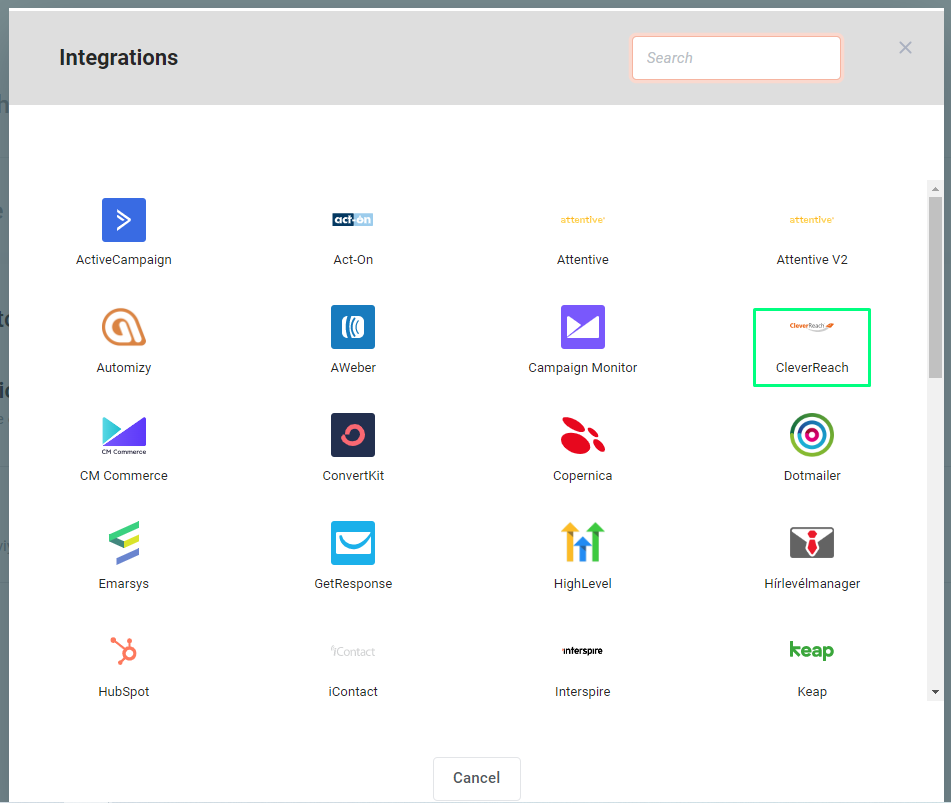 The following window will come up:
We need to give a name to the integration, and also insert the API key, which can be found in your CleverReach account. Please follow the below steps to find the API key:
Sign in to your CleverReach account choose Account from the left column menu, then click on Extras and click on API in the drop-down menu that appears.






In case you'd like to use an existing API key, then please jump to step 3.

a.) In case you haven't created an API key yet, then you can generate one by clicking on the Create API Key button in the top right corner of the API keys page.




b.) Enter the purpose of use, then choose the value Read and write rights from the drop-down menu and click the Save button.




Copy the API key.




Paste it in the API Key field into the appropriate field in your OptiMonk account, then click Done to continue:




Choose the list from the List name drop-down menu that you'd like to forward the subscribers from OptiMonk to.


In case you only want subscribers who have provided an existing email address to be forwarded to your CleverReach system, you need to turn on the Double opt-in function on the admin page of OptiMonk. Then choose the form from the Form name drop-down menu. Please note, this should be the form that you have already chosen on the admin page of CleverReach.


Once you are ready, click Done to finish setting up the Integration.


Finally, click Next in the top right corner to save the Campaign settings.


This is what the subscriber information will look like at CleverReach after a visitor signs up through one of your campaigns at OptiMonk. Note in particular the Source field.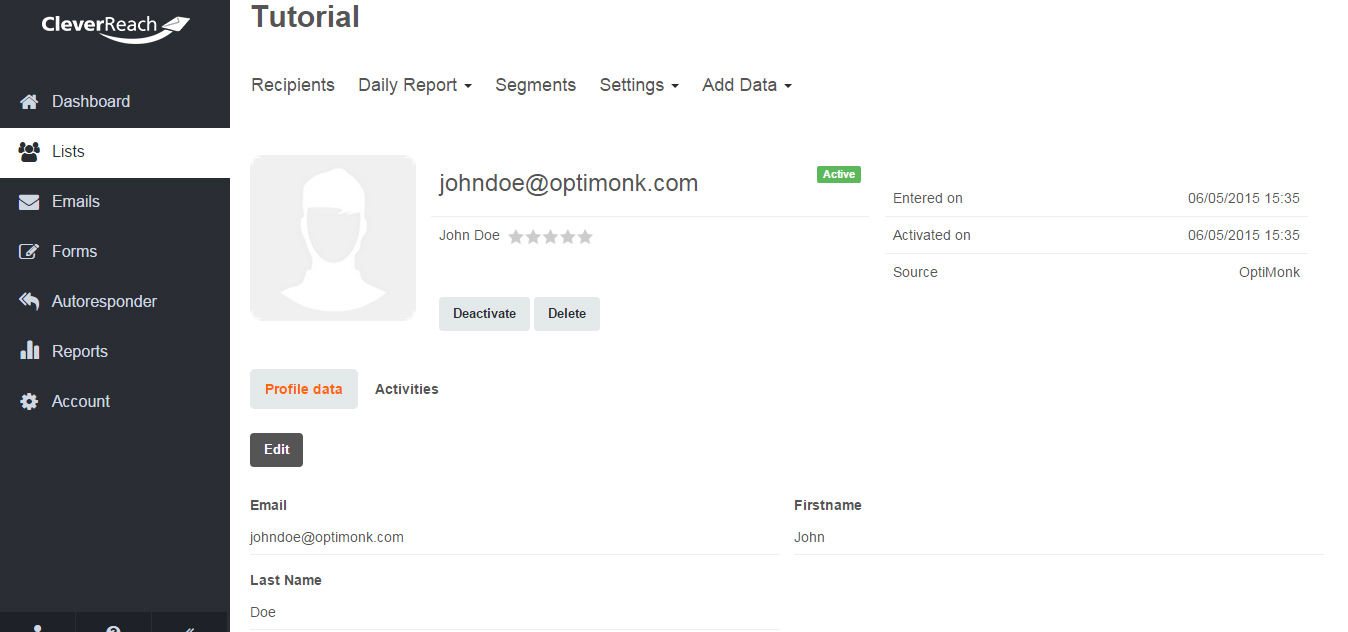 That's it! :) If you need further assistance or have any questions, just let us know at support@optimonk.com; we would be more than happy to assist you!