Integrating Marketo with OptiMonk allows you to gather leads with OptiMonk and use Marketo's powerful marketing tools to connect with your subscribers. It may come in handy if you run marketing campaigns on a regular basis so that the subscribers who signed up via OptiMonk will also get news about your upcoming promotions and news.
To set up integration with Marketo please follow these steps:
1. First, please log in to your OptiMonk account at https://app.optimonk.com/login/en

2. Select Campaigns on the left menu, then select the Campaign you wish to set up with Marketo: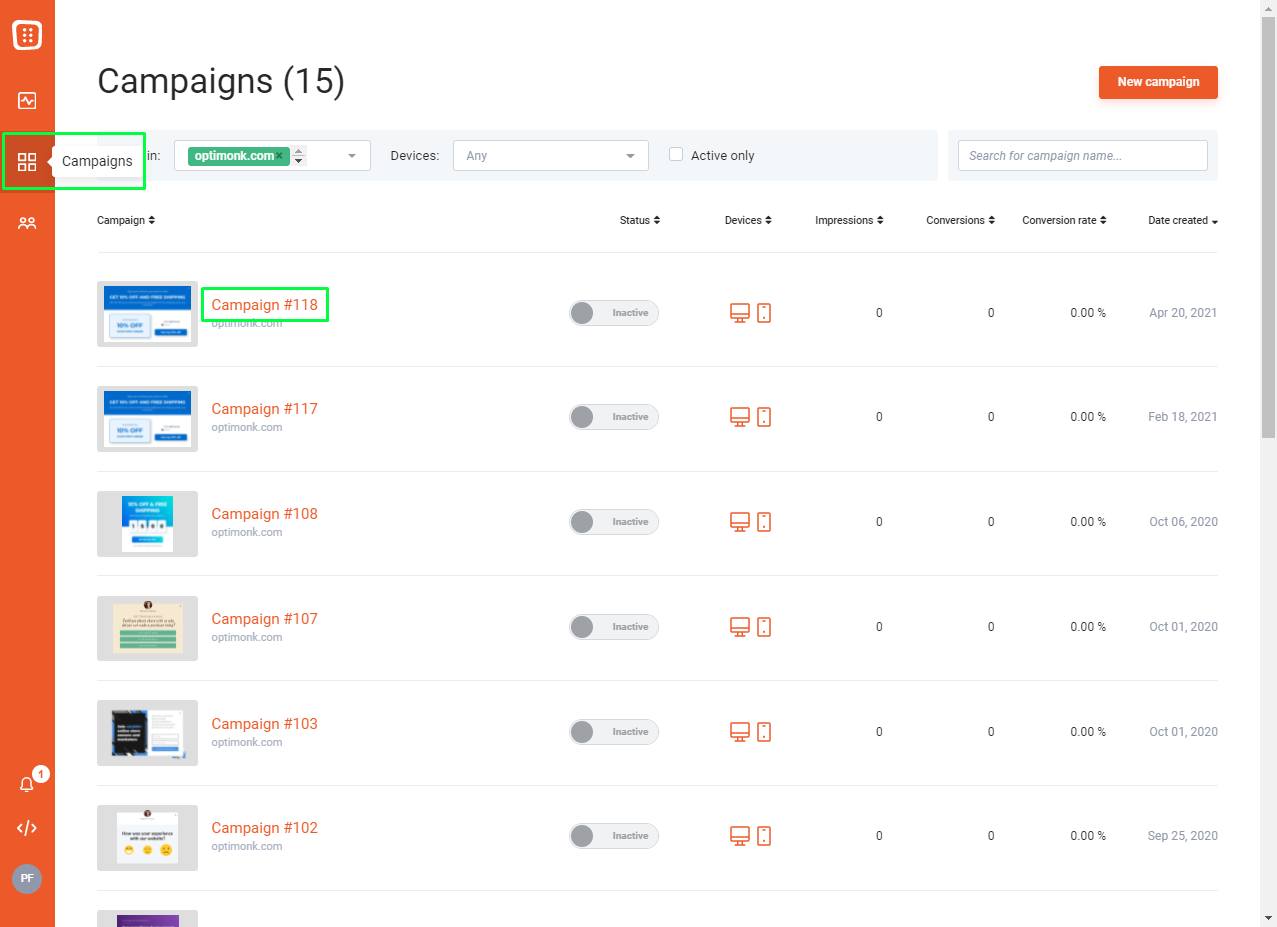 3. Click on Edit settings on the right-hand side: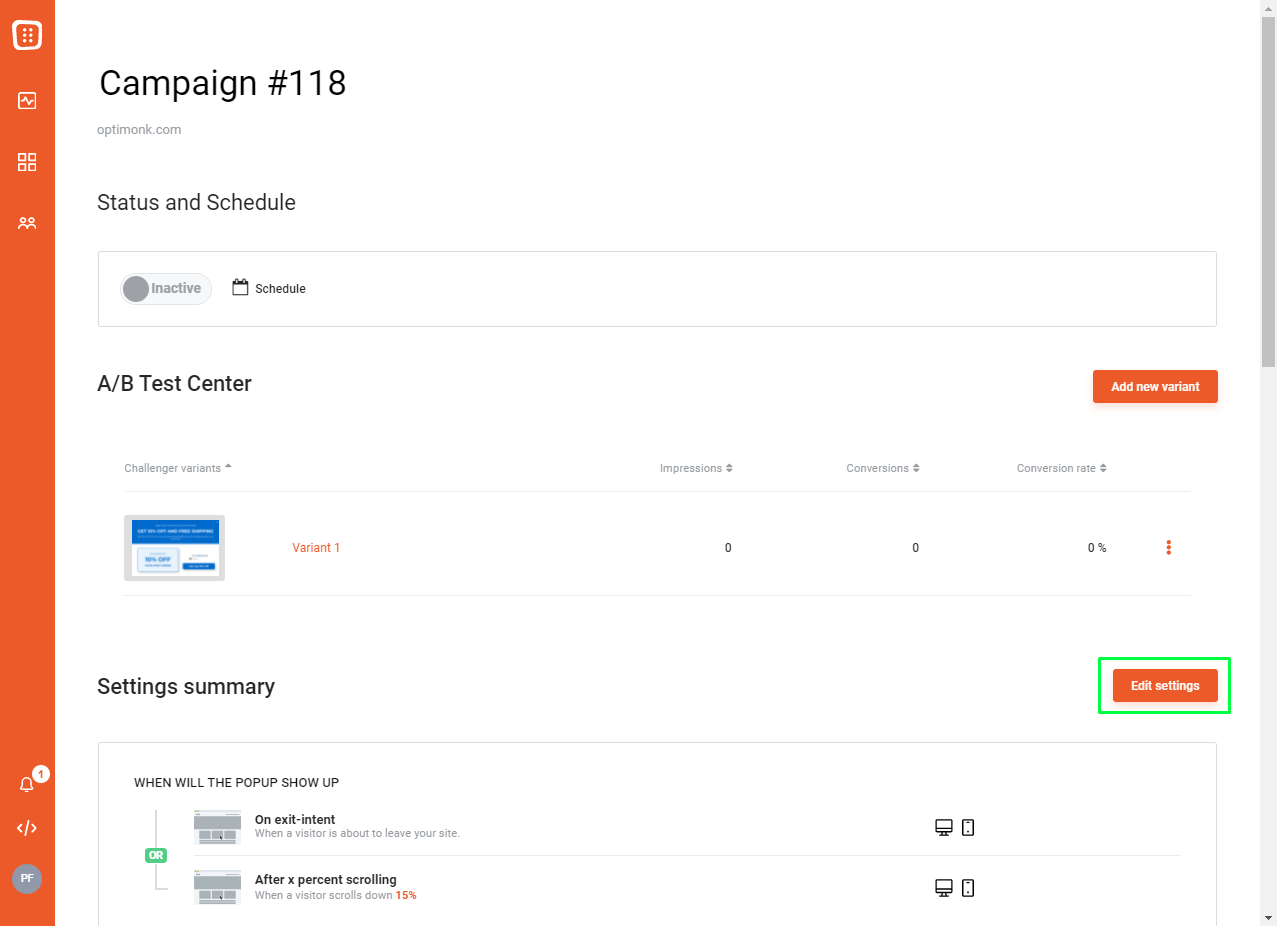 4. Click on Add new integration under Add integration: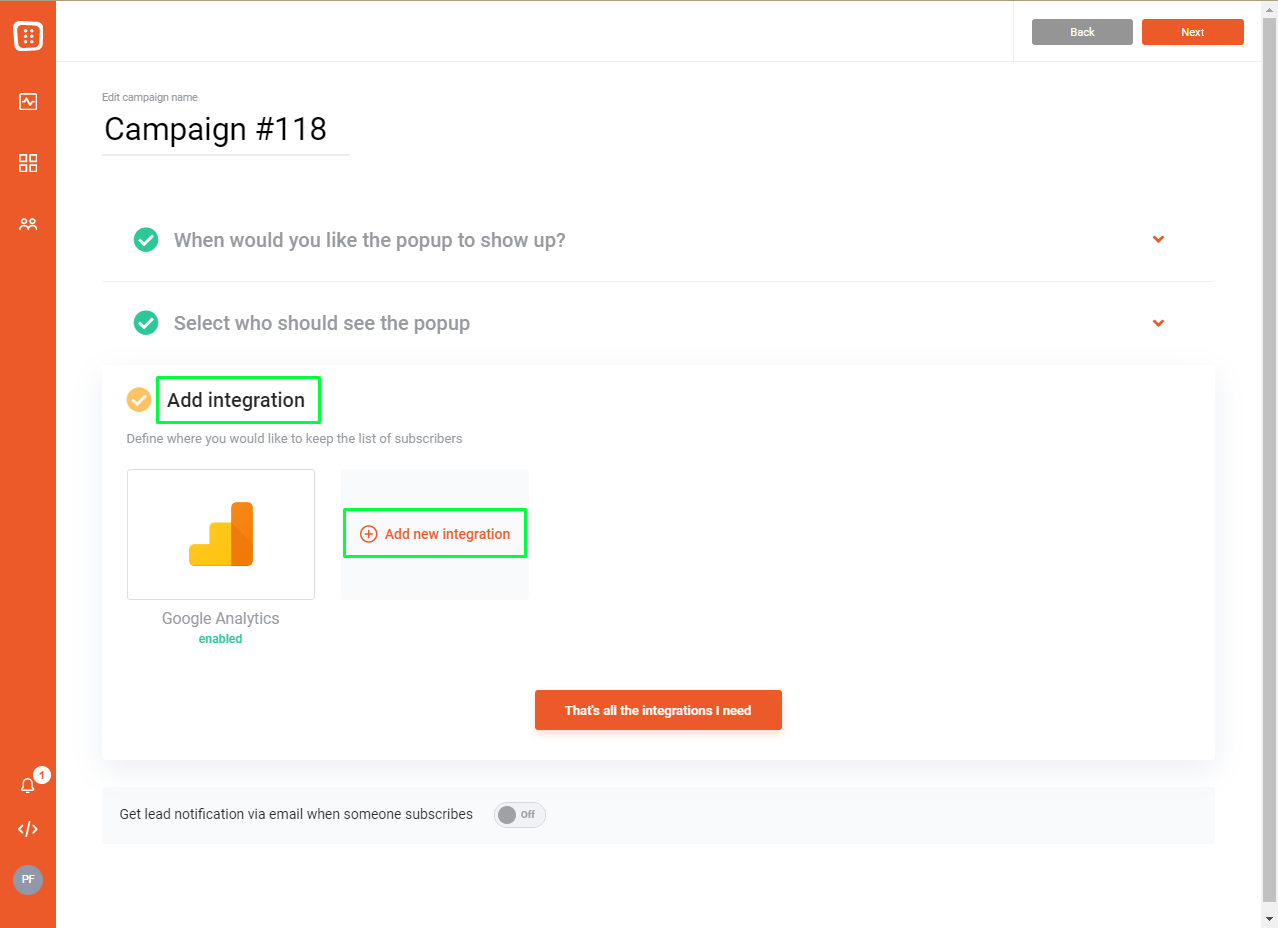 5. Select Marketo from the list of available integrations: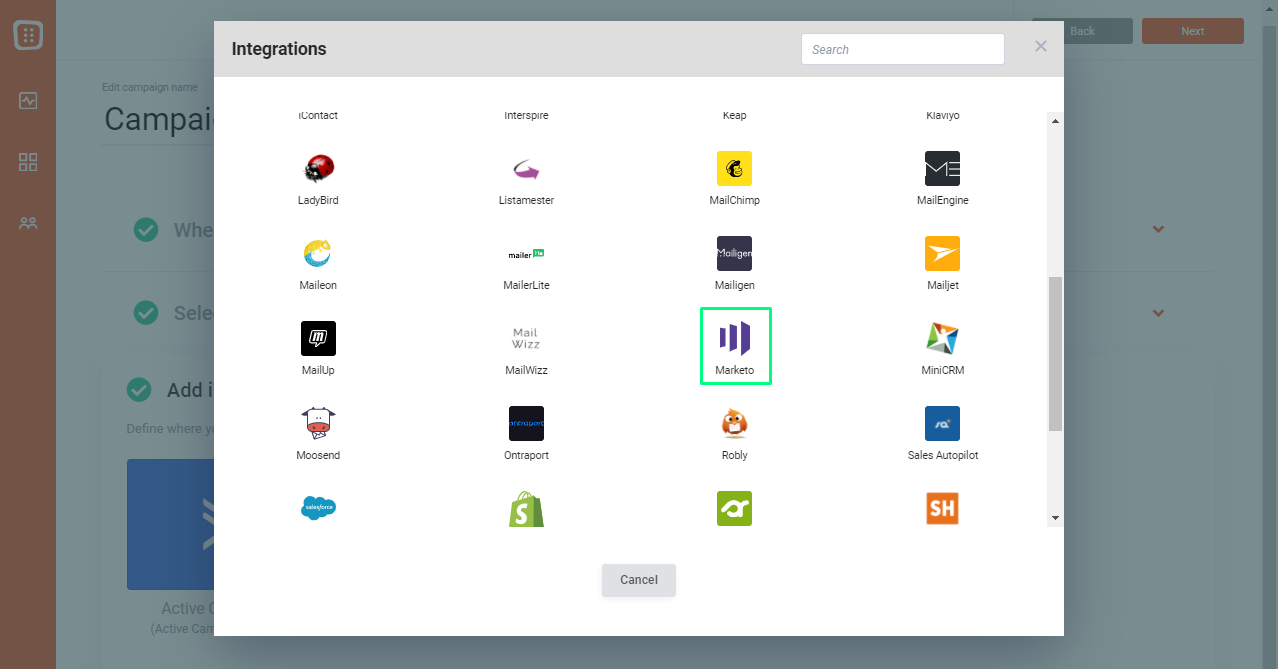 Once you have selected Marketo, you will see the following screen:

6. To integrate with OptiMonk, you will need to enable API calls at Marketo. To do so, please open a new tab or browser window, log in to your Marketo account and follow their tutorial here.
After following the instructions in Marketo's tutorial, you will need to gather the "Host URL", the "Client ID" and the "Client Secret" generated in your Marketo account. You can find the information by clicking on the "Admin" button in the menu shown here:

Select "Integration" -> "Web Services" from the left menu: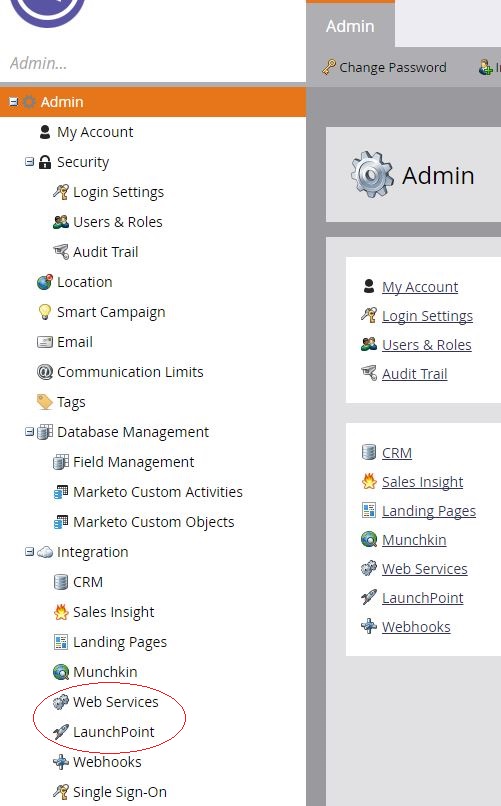 Copy the "HOST URL" from the "REST API" box, return to the tab or window with your OptiMonk admin dashboard and paste it in the corresponding field.



Please note: You should remove the '/rest' part of the URL (e.g. https://123-ABC-456.mktorest.com).
Now we'll return to the Marketo site to gather the "Client ID" and "Client Secret".
Select "Integration" ->"Launchpoint". Here you will see the list of services you have created. Select the service you created and click on "View details" to see your "Client ID" and "Client Secret".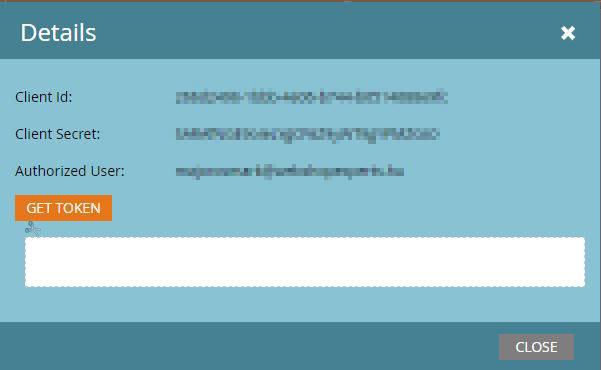 Copy and paste them into the corresponding fields of your OptiMonk admin dashboard.
Optional: You can add the subscribers you gather with OptiMonk to a specific list at Marketo. When you don't choose a list, leads will simply be added to your general lead database or a Smart List you have set up in Marketo.


7. On the last screen you can associate the input fields of your OptiMonk Campaign and the field identifiers in your Marketo account: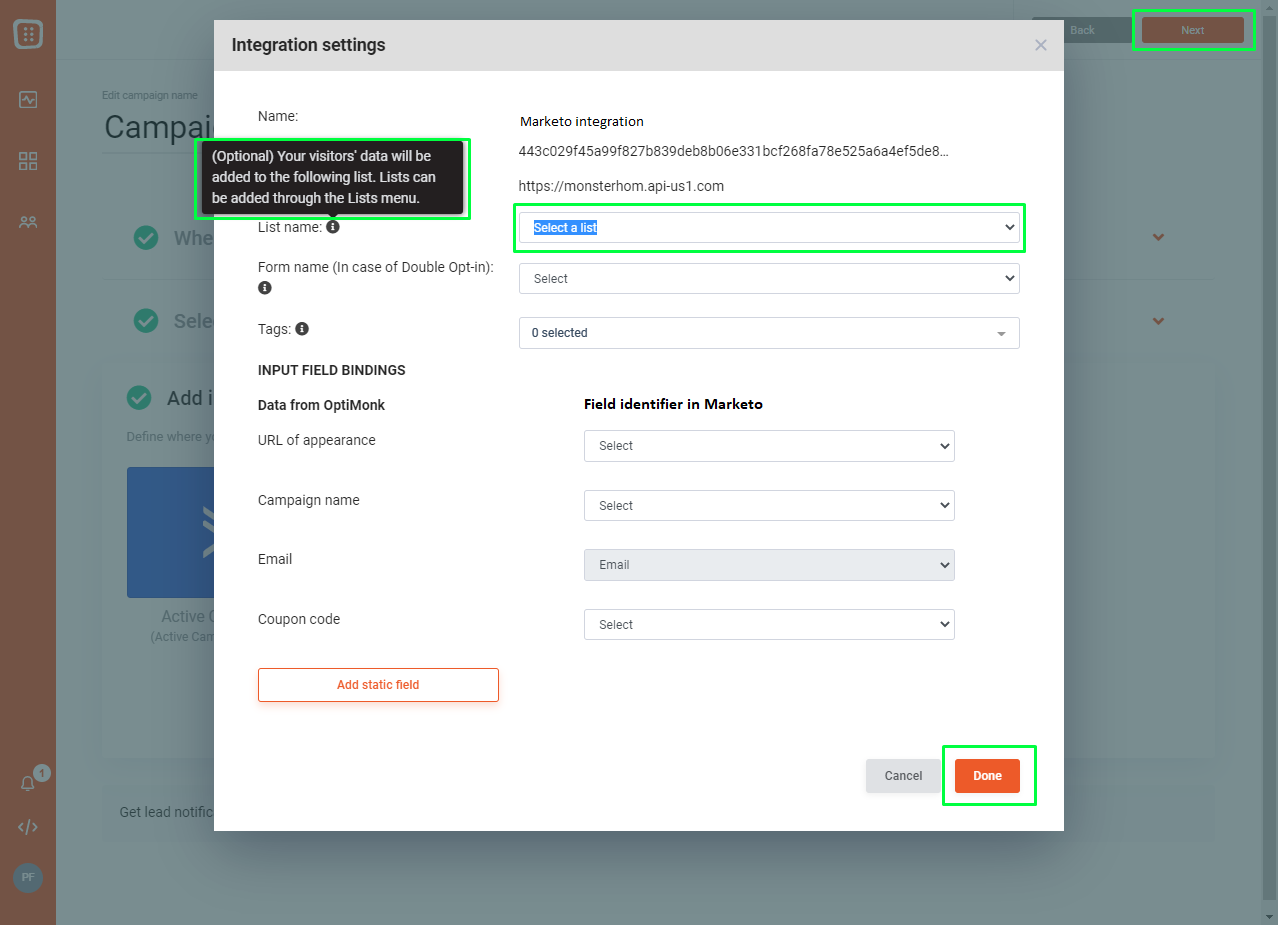 Please make sure to select a list, and once you are ready, click Done and Next in the top right corner to save the changes.
That's it! Now, anytime a visitor signs up on your OptiMonk popup, they will be automatically added to your Marketo list. If you need any further help or have any questions, just let us know at support@optimonk.com and we would be happy to assist :)