Why do I need a Messenger popup?
This is the new way of getting in touch with your visitors and customers. This brand-new method is often referred to as conversational commerce. Let's see why:
Facebook is the #1 app in the US

During the 2nd quarter of 2017, Facebook reached 2 billion monthly active users, which is still keep on increasing (now it's over 2.1 billion)

According to

studies

, smartphone users check their Facebook 14 times a day. Using Messenger sequences, you can achieve

80 to 90%+ open rates.
This also provides a very unique, quick, and fast subscription experience for your customers, mainly those coming from mobile devices. As an extra, you can send lead nurturing messages and promotions using chatbots through Facebook Messenger.
And it's not just the subscription rate. Messenger also has a great impact on your revenue:

What are chatbots?
"A chatbot is a computer program that is capable of having a human-like conversation with a user by receiving and sending text messages for the purpose of automating a business process." – as Hristo Borisov defines it.
Basically, these are robots that can communicate automatically with your customers and prospect saving you a lot of time and money.
There are thousands of Messenger bots available today, but they are not specialized for the needs of e-commerce store owners. In fact, the largest chatbot solutions don't even integrate with Shopify. Recart is the first Shopify app that supports Messenger and helps you make the most of this new marketing channel. Now, we teamed with Recart to help you send e-commerce messages to your website visitors via Messengers.
How to set it up?
To use our new Facebook Messenger templates, you'll need a Shopify store with the Recart app installed.
Before you get started, be sure you have both the

OptiMonk

app

and the

Recart

app

installed in your Shopify store.

In the Recart app, connect your Facebook page.
Do it here: (Shopify Admin>> Apps>> Recart), go to your Messenger menu, and connect the Facebook page you'd love to use for messenger list building.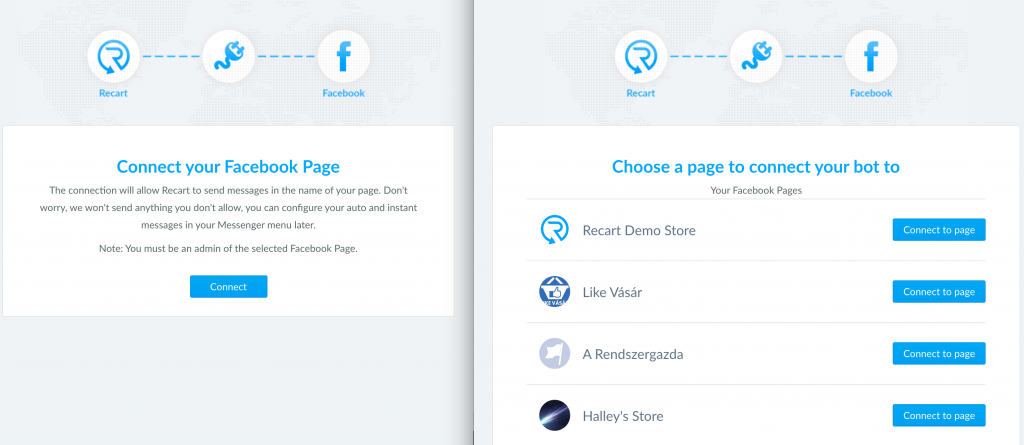 3. Create a new campaign in OptiMonk and select Collect Messenger subscribers for Goal: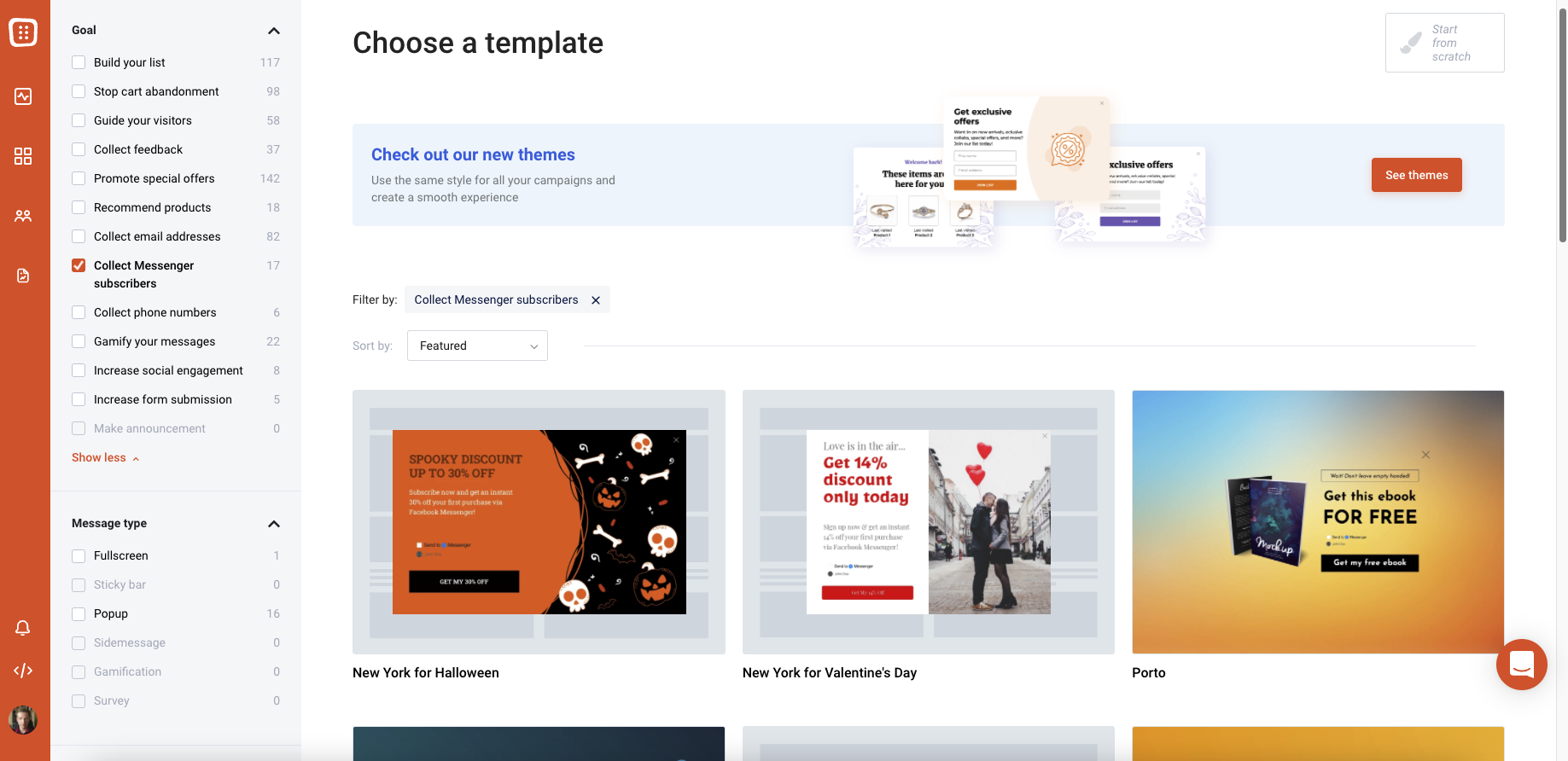 4. Select a design you like, then click Details: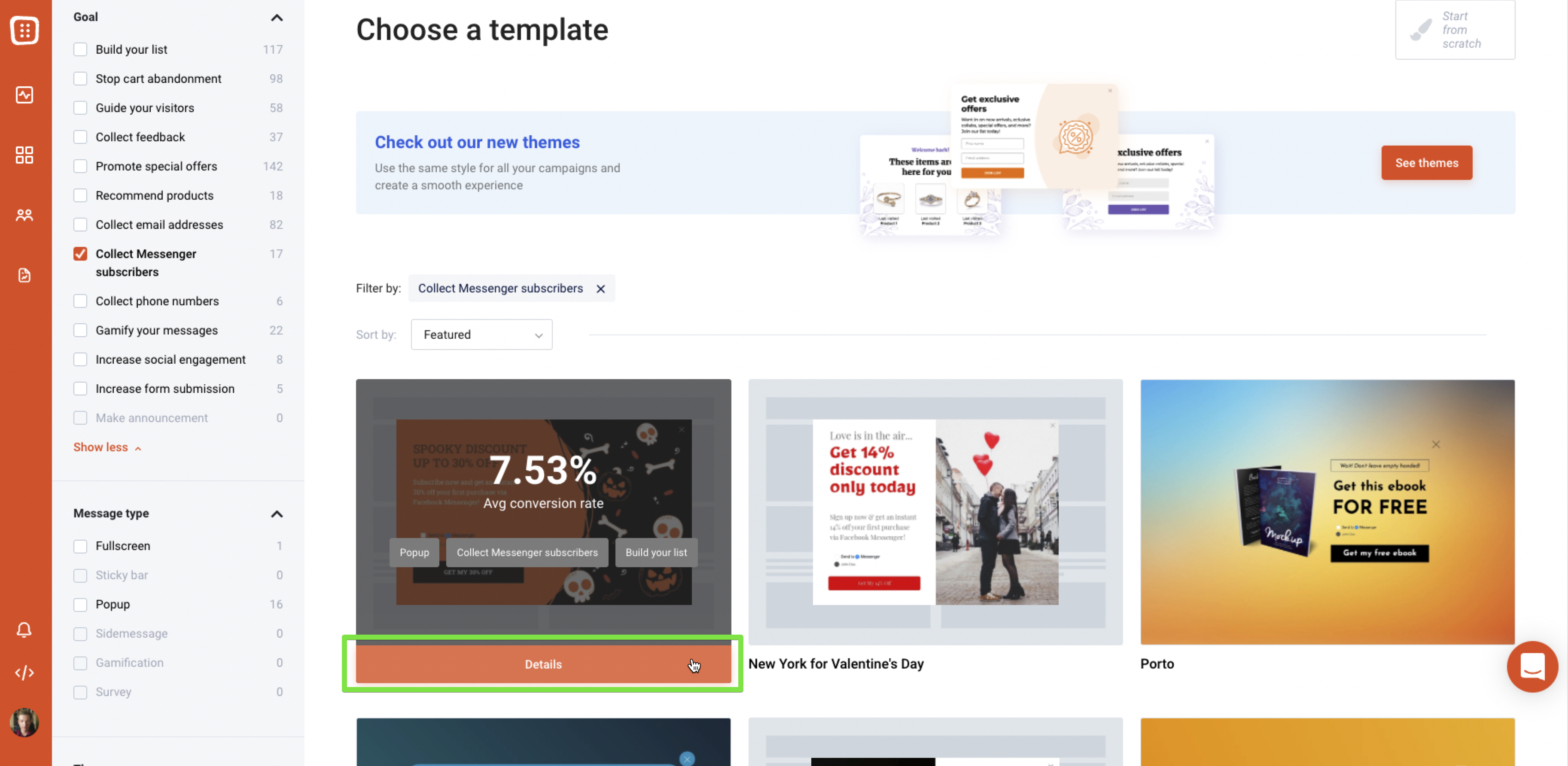 5. Click on Select template will take you to the Campaign Editor: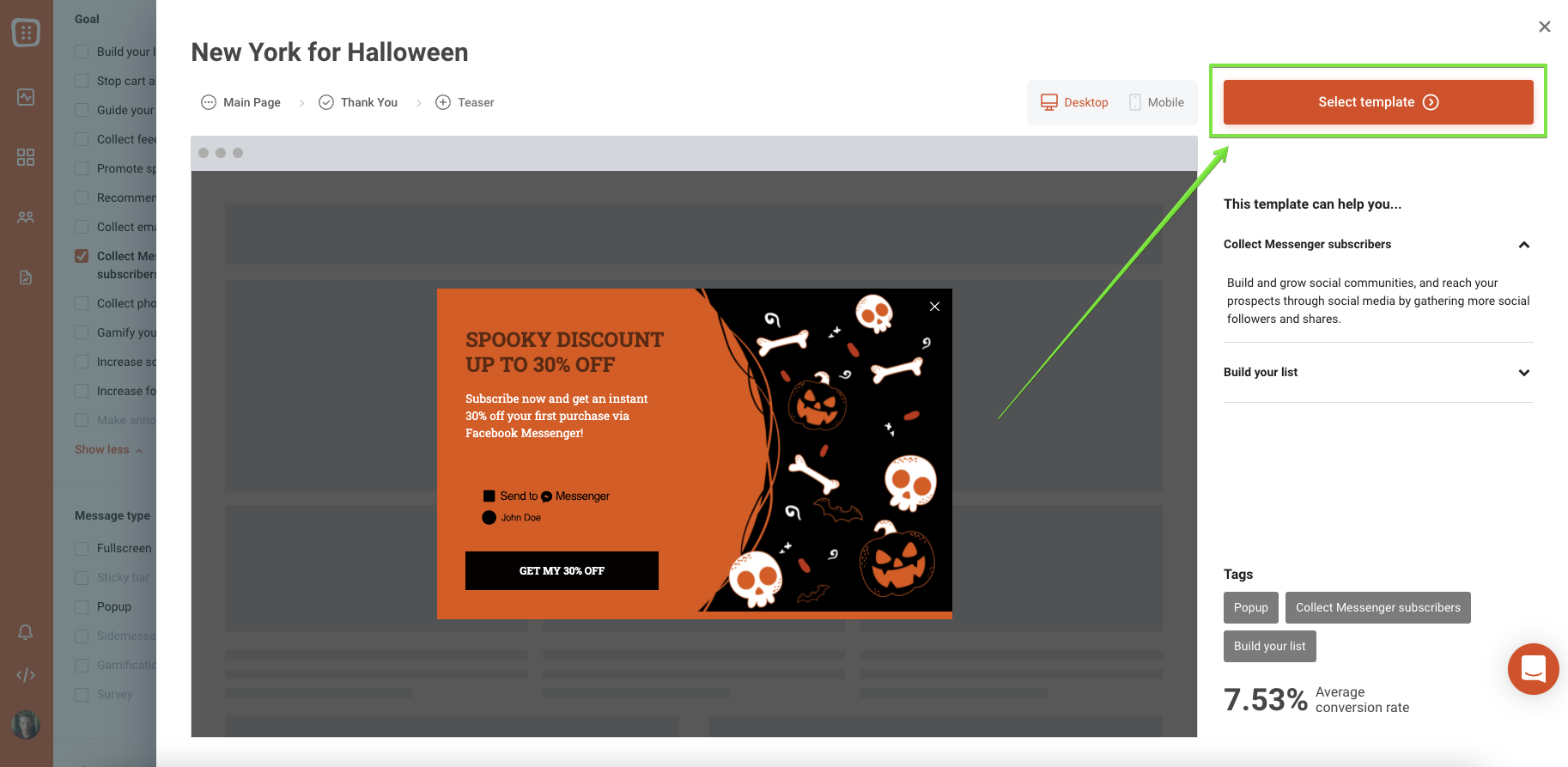 6. You can customize the look of your Messenger Popup in the Campaign Editor: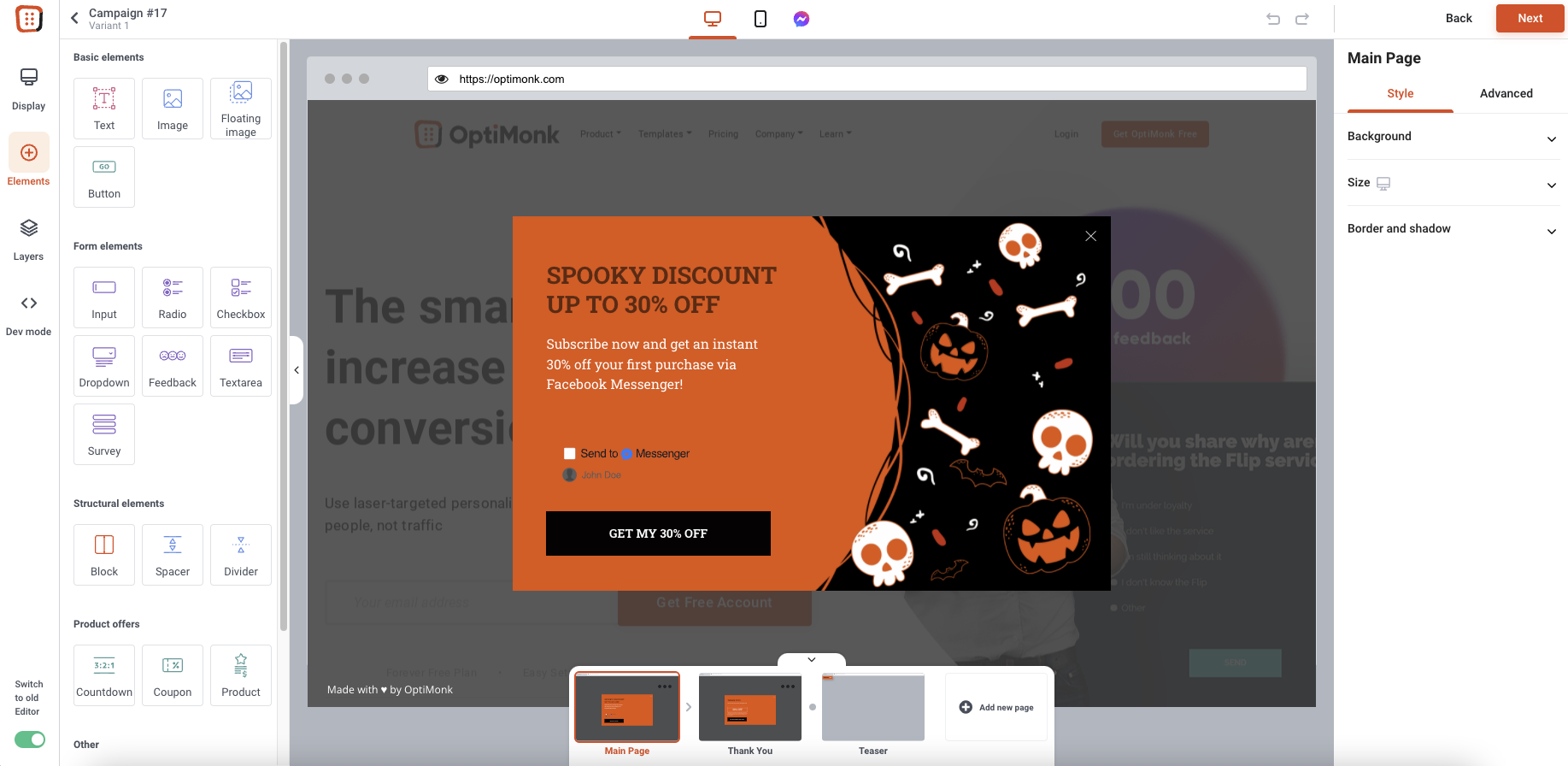 7. Once the campaign suits your needs don't forget to activate it:
That's it! After Facebook users signup via your OptiMonk popups, they will be added to your Messenger list, and you can send them messages with Recart.
You can send…
abandoned cart notices

order receipts

shipping notifications

welcome messages

and purchase follow ups
…all through automated campaigns right to their smartphones.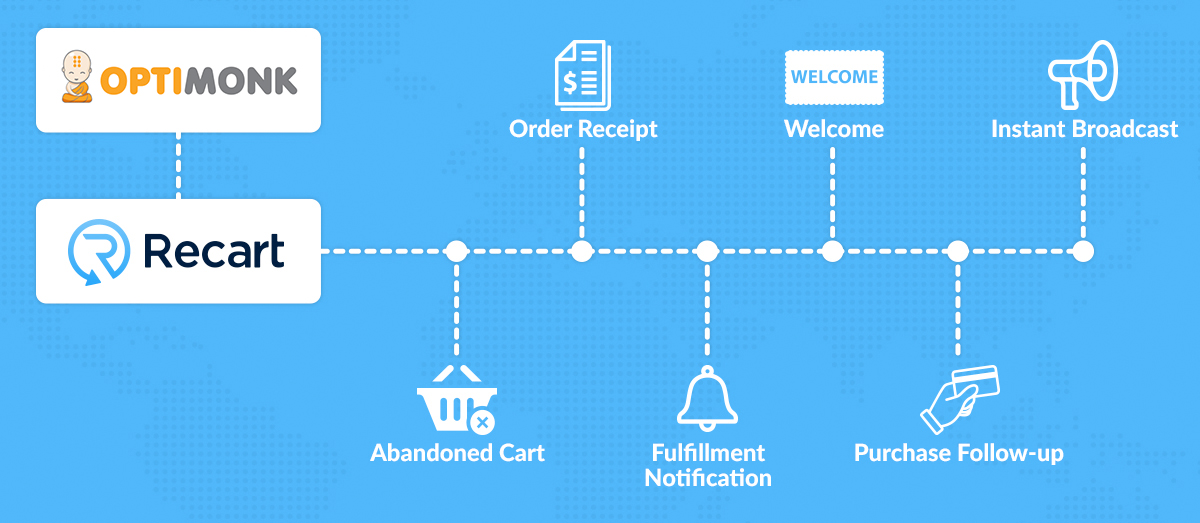 What are automated campaigns?
Automated campaigns provide you a pre-set autoresponder (basically, a chatbot) that will message your customers based on their behavior. The most commonly used automated campaigns are Abandoned Cart Notices and Order Receipts.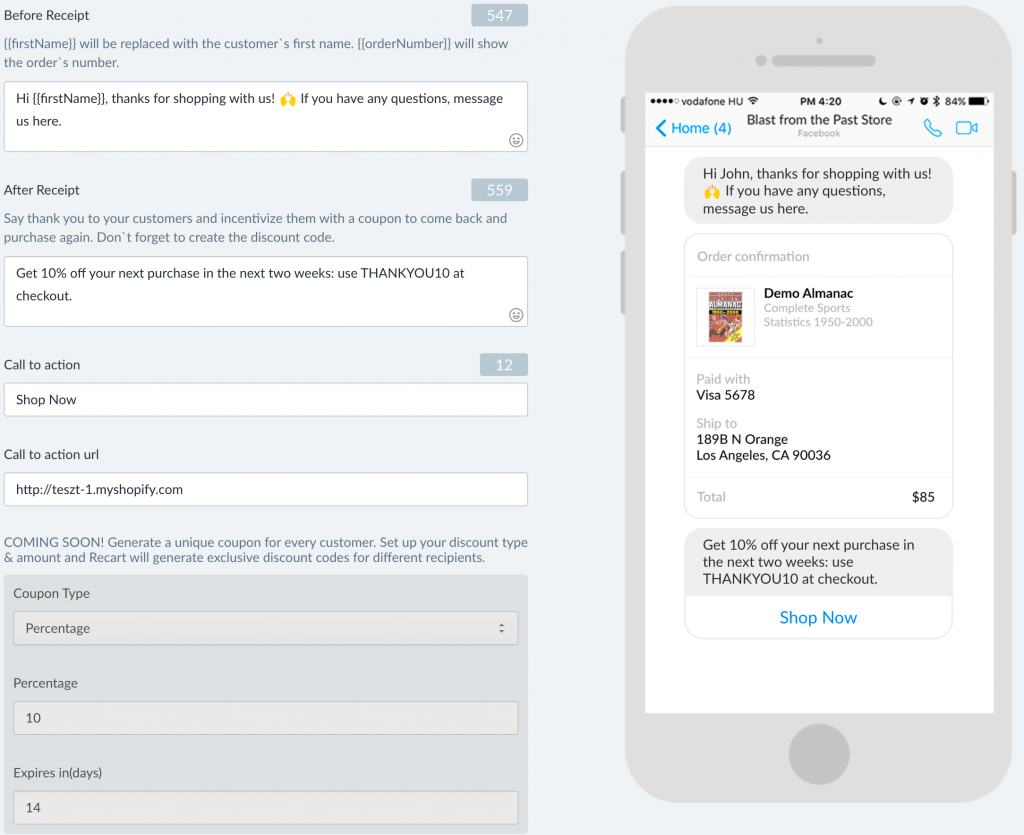 Automated campaigns can be easily turned on and off within your Recart admin. You can manage everything here.
Please find a more detailed guide here.
Where can I manage my autoresponders?
You can manage them in your Recart account under Recart >> Messenger >> Automated Campaigns
Learn more about automated campaigns here.
My number of subscribers is not changing? What's the problem?
Right now you can only see the number of your Messenger Subscribers within your OptiMonk account. It refreshes every 10 minutes.
Do I need to manage the campaign in my OM account or in my Recart account?
You might need both platforms. OptiMonk is responsible for displaying your offer while Recart takes care of your messages.
Whenever you wish to manage the look of your campaign, you can do it within your OptiMonk admin. Also, if you wish to change the segmentation options (when the popup should be displayed) use your OptiMonk Settings.
When you wish to set up new automated campaigns or wish to edit your existing messages and their timing, please do it within your Recart account.
Can I integrate it with my own newsletter provider?
As you are building your Messenger list you will not need to integrate the campaigns with any third-party systems as all communication happens through your Recart app.
This means that your visitors are subscribing to your Messenger List instead of your Newsletter List so they agree to be reached out via Facebook Messenger.
What campaigns should I set up?
The most commonly used campaigns are the Abandoned Cart and the Order Receipt campaigns.
Can I subscribe Facebook users? Or just Messenger users?
Absolutely! You can subscribe both Facebook and Messenger users to your list to start leveraging the power of conversational commerce.
How much does it cost?
OptiMonk has a free plan while Recart has a trial plan available. You can find up-to-date pricing information for the paid plans in the below links:
Learn more about OptiMonk Pricing.
Learn more about Recart Pricing.
Will Recart send Abandoned Cart Messenger automatically?
If you enable that campaign on Recart – Messenger – Auto Campaigns: Yes!
Learn more about our automated campaigns here.
How can my customers unsubscribe?
Your customer simply needs to type STOP and they will be automatically unsubscribed from your list.
Please note that Facebook temporarily paused certain sponsored message campaigns and made sponsored messaging unavailable in Europe to address new European privacy laws. For more information, please see this article.