How do I display my campaign on specific pages?
The "current URL" setting is perfect if you want to show the campaign only to those visitors who are browsing (or not browsing) a specific page on your site currently.
To activate this function, select "Campaigns" on the top menu bar, then choose your campaign you want to edit by clicking on its name. Scroll down until you see the "Settings summary". Click on the Edit button.

We need to edit the "Who to show" section, so click on the "Add new condition" button.

Choose the Current URL option under the Pages category.

An editor popup will show up, here you can give the detailed settings. If you want to show the popup to users who are on a specific page, choose the "Equals" option in the drop-down menu, and copy the page's URL. This way you can set up, for example, that only the visitors browsing your home page should see your popups. If you want only these visitors not to see the campaign, you can use the "Doesn't equal" option.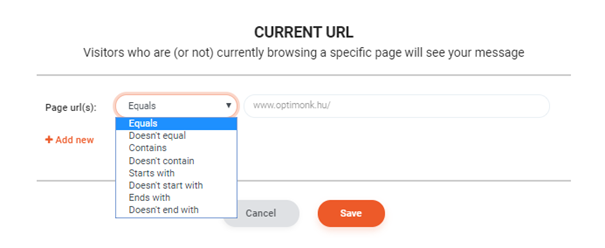 With this current URL, you can manage your campaign that it will only show when the user browses in a given product category. All you need to do is choose the "Contains" option from the drop-down and paste the URL part which is present in all the pages you want to show (e.g. category). In this case, the campaign will come up on all pages with "category" in their URL. Use the "Doesn't contain" option for setting up the opposite logic.