This article will show you how you can add domains to your account and how you can modify which domain your campaign should run on. It will also give you some examples of the issues that you may encounter while setting your domains up and how to fix them.
In order to set up the domain(s) in your OptiMonk account please log in to your account:
1. Click on your icon in the bottom left corner, then select Domains under Settings: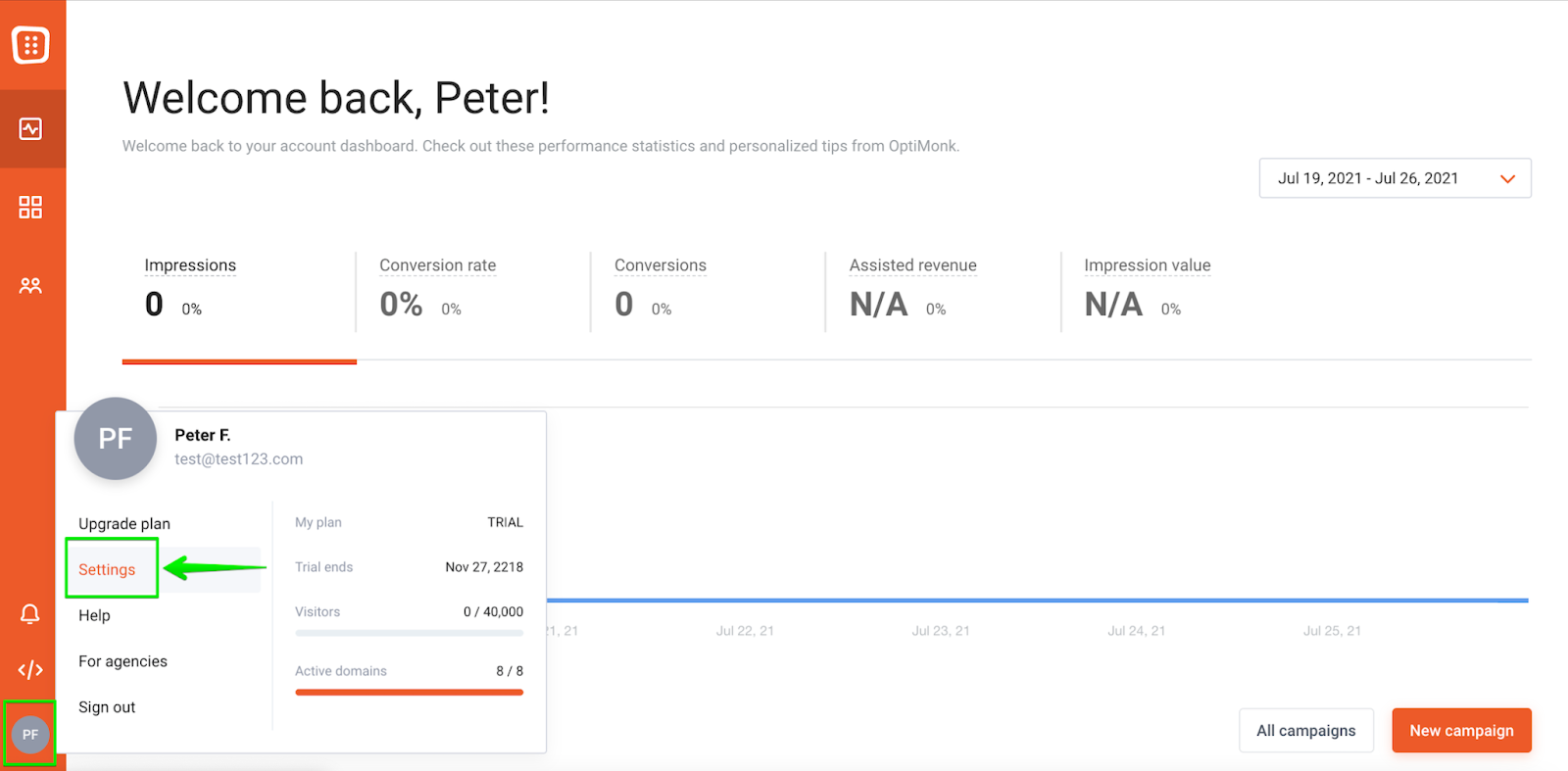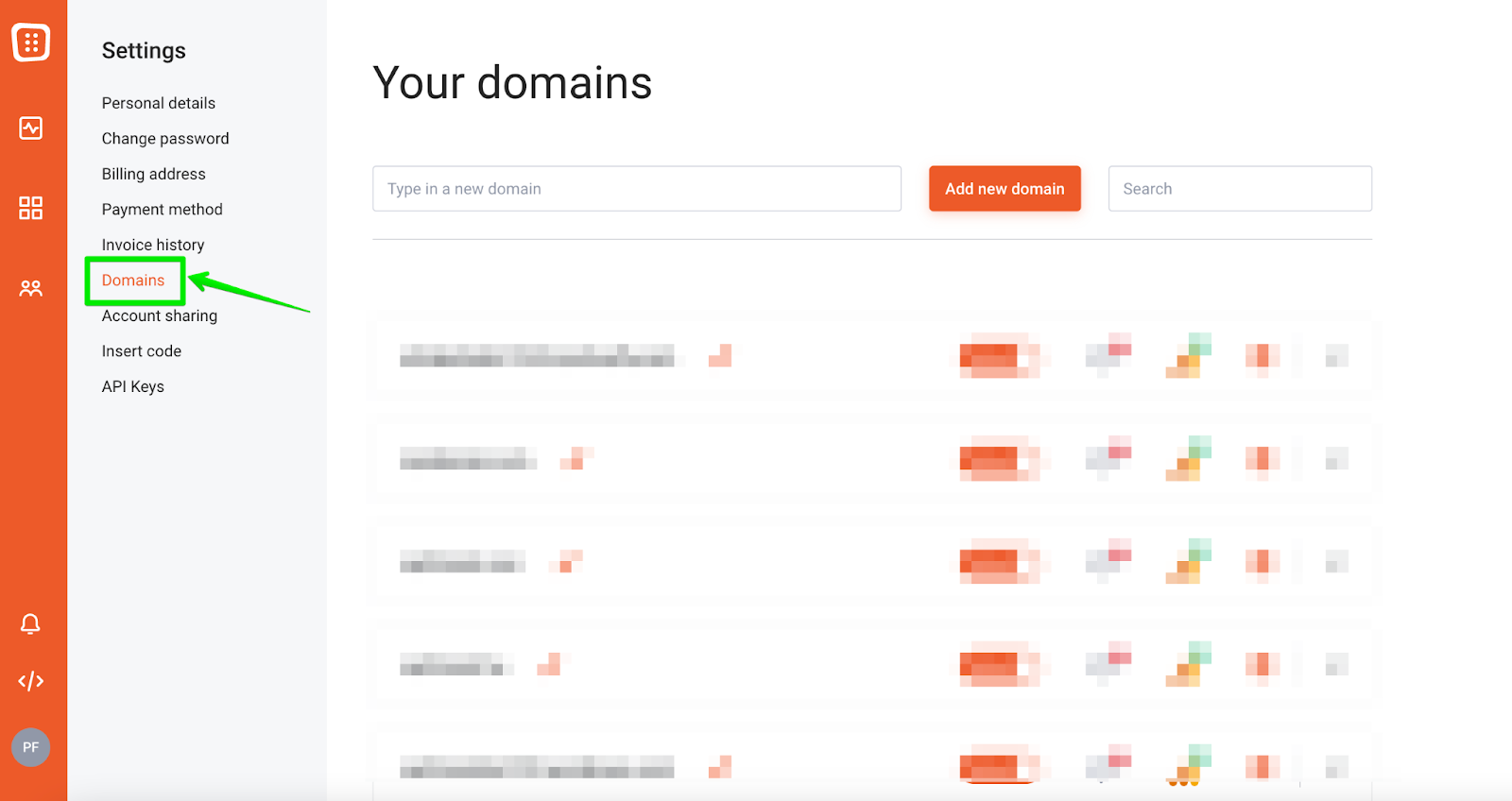 2. Under the 'Your domains' section you have a box with a 'Type in a new domain' message. Please type in here the name of your website, then click on the 'Add new domain' button to finish the setup: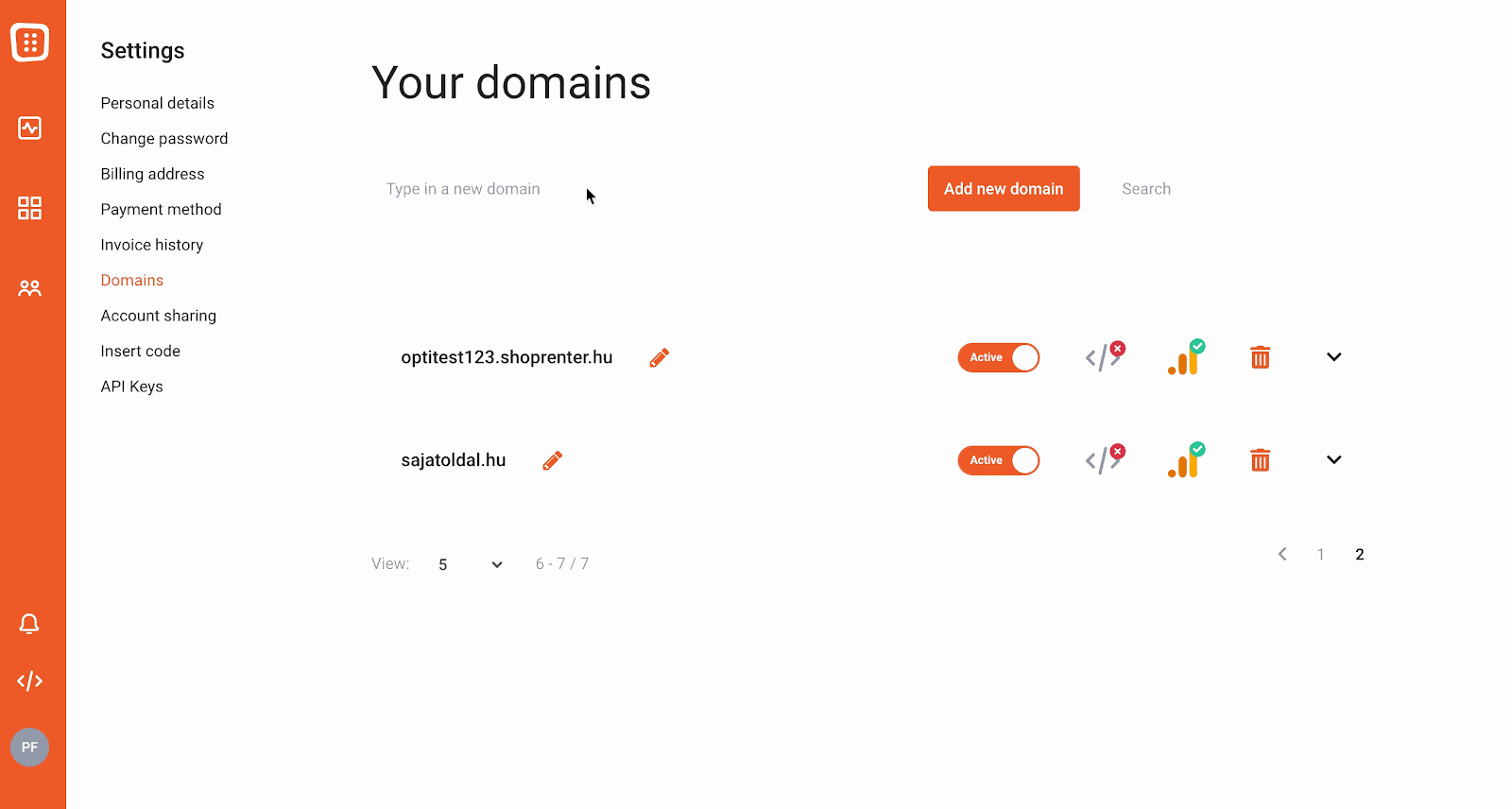 Just make sure that the new domain you add has the OptiMonk JavaScript code installed in the website's source code (this could be via manual code insertion or by using the OptiMonk app) as well.
If you are not sure if the OptiMonk JavaScript code has been inserted into the source code of your site or you would just like to double-check it, please take a look next right to the name of the domain, where you will see a tag symbol. If the code has been already inserted, then you will have a green checkmark on top of it, however, if it hasn't been inserted, then a red cross will mark it: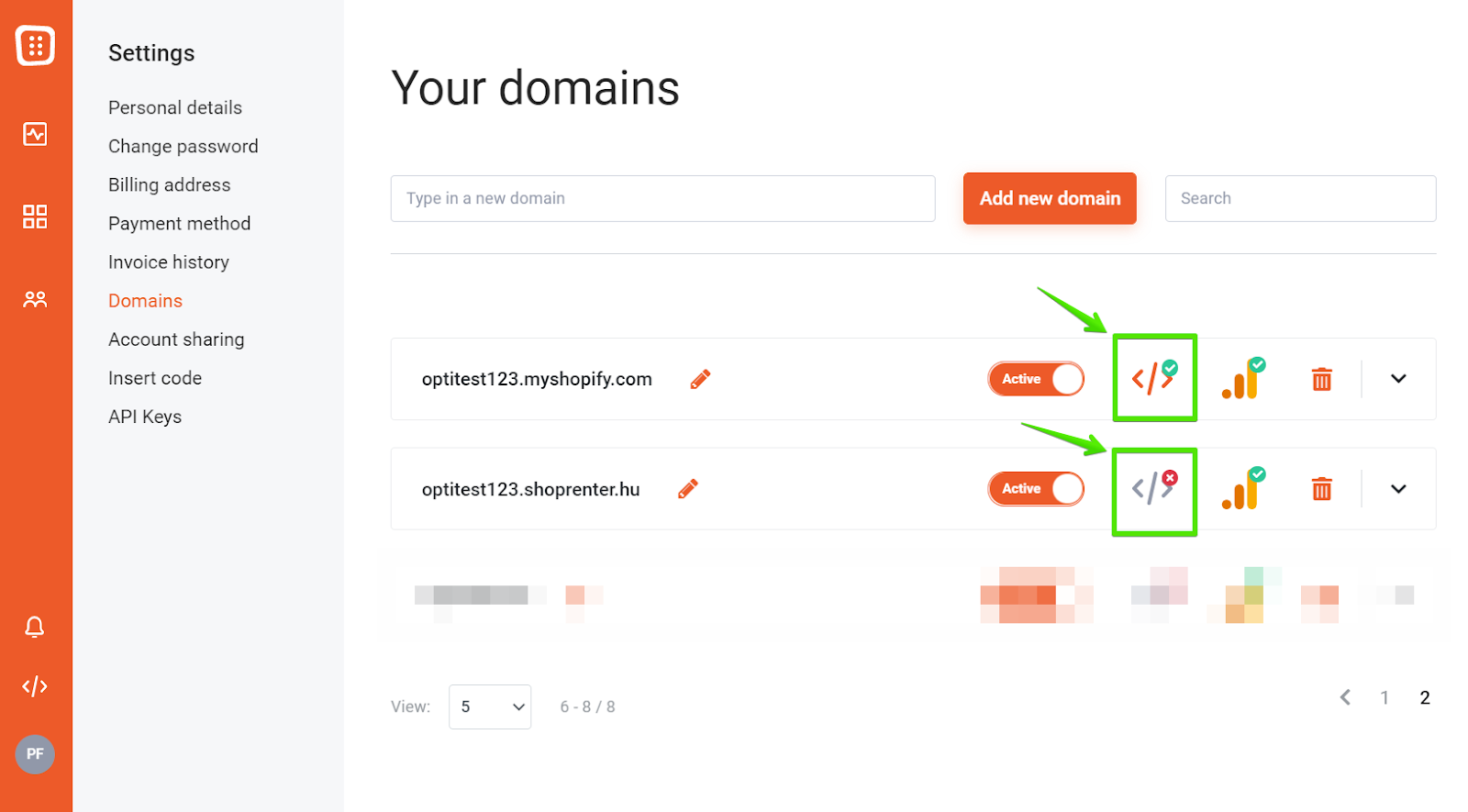 Please note that it is very important to add the URL the same way as it appears on your website in the URL box, after the website is completely loaded, as this can cause further issues, and your popups might not even come up.
A common issue that occurs for Shopify users:
All Shopify stores have a myshopify.com handle, but usually, this is changed in the display domain name.
For example, the store's original domain name is abrakadabra1245.myshopify.com but after the webpage has fully loaded it changes to abrakadabra.com, the displayed domain that the owner chose. In this case, please make sure to change the domain to abrakadabra.com.
How to add multiple domains?
In case you have multiple domains and you would like to add more to your account just simply repeat step number 2.
If you have issues adding a second domain, make sure to check which OptiMonk plan you have, as you are not able to add more than 1 domain if you have our Free or Essential plan.
You can add up to 4 domains with our Growth package, and up to 10 domains with our Premium plan, and you have unlimited domains with our Master plan, as you can see below: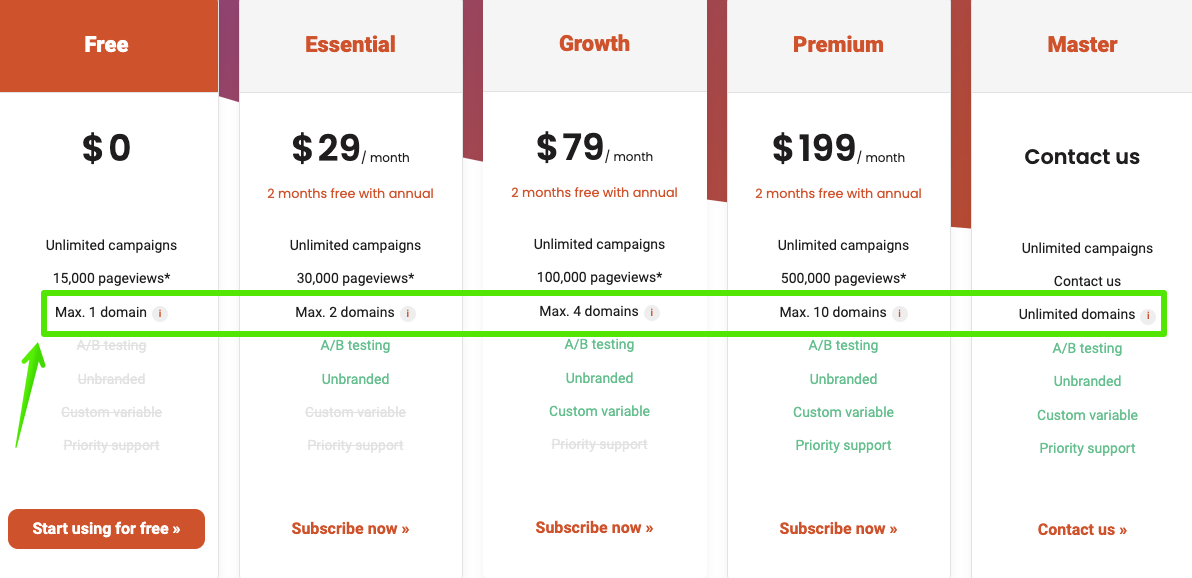 For more details about our plans and pricing please check out our page by clicking here.
How to add or modify a domain inside your Campaign?
If you would like to add a domain to a campaign:
Click on the 'Add domain' option, under the name of the Campaign

Type in the domain name

Press 'Save'
If you have already added a domain to your campaign, however, you want to change it to a different domain:
Click on the name of the domain under the name of the Campaign, as this will allow you to modify it. In case you have already added the domain, then a window will open up with a list of all your added domains

Type in the domain name or select the domain if it appears on the list

Press 'Save'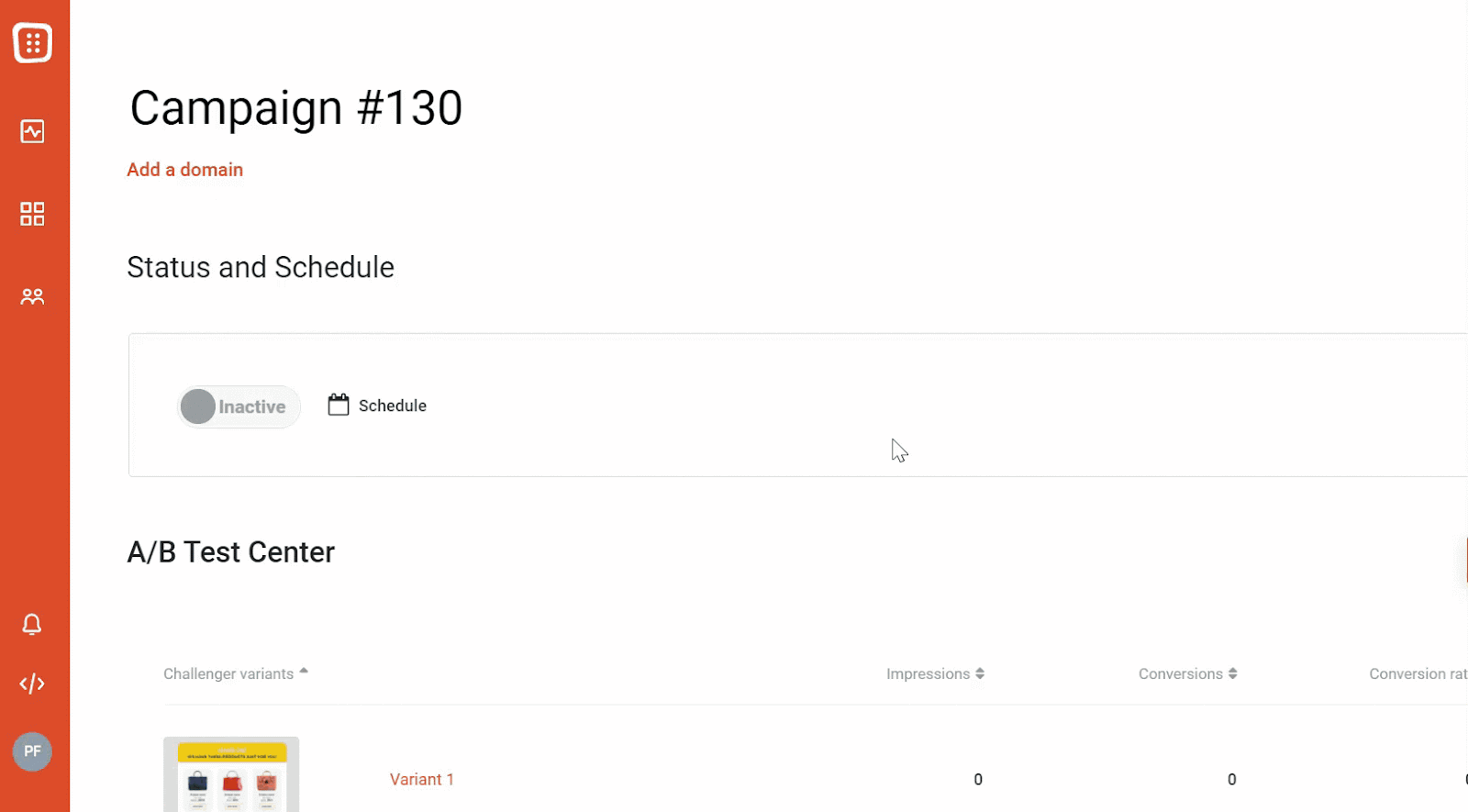 That's it! If you have any further questions or need any help, just let us know at support@optimonk.com, and we would be happy to assist you :)