In this article:
What is Dynamic Free Shipping Bar?
It is an advanced Smart tag feature available only for Shopify users (!). You can use Dynamic Free Shipping Bar to replace a part of your popup's text with the remaining cart value instantly when a visitor adds an item to the cart.
For example, you could display a message like: "Buy something for 30 USD to get free shipping" which is an effective way to increase cart value. If you don't use free shipping, you could use it to offer a gift once the customer spends a certain amount of money.
How does it work?
Insert the Smart Tag into the text element of the sticky bar or popup. Add a number, which will define the countdown target.
The popup will display the amount customers must spend to get free shipping or gifts
When the customer puts something into the cart, the amount displayed automatically updates
A must-try tactic with Dynamic Free Shipping Bar
👉Promote a free shipping threshold based on cart value
How to set it up?
1) Log in to your OptiMonk account at http://app.optimonk.com/
2) Select Campaigns on the left, then select a Campaign you want to use:

3) Select the Variant you want to edit to get to the Campaign Editor:

4) Customize the design and once you are ready, select Layers on the left and choose the Text Element where you want to use the Cart Value Countdown: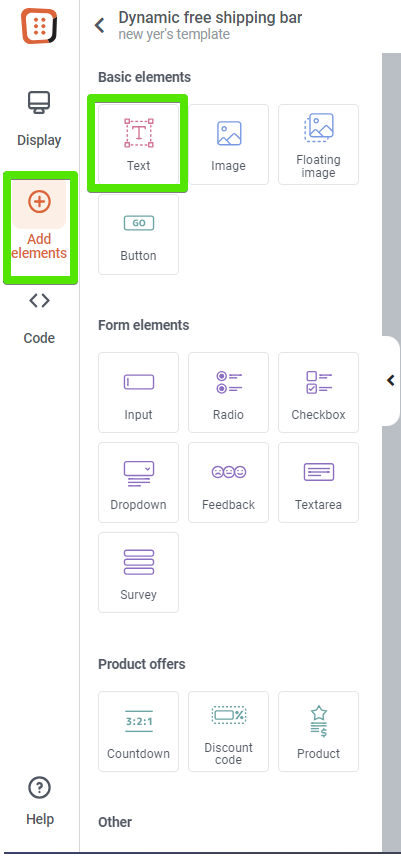 The Text Element will be selected, and you will be able to edit the Element: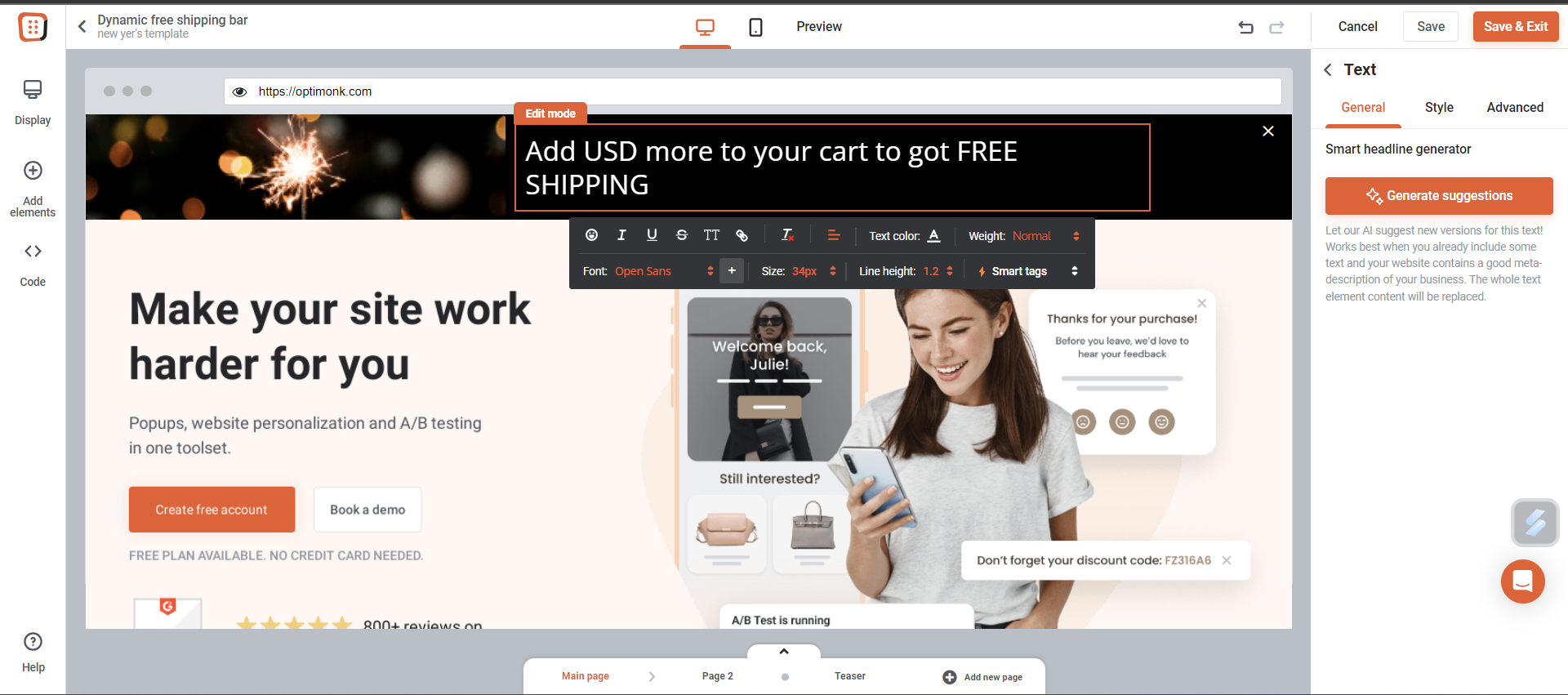 5) If you click on any text element, you will be able to choose a Smart Tag from the drop-down menu. Search for the Cart value count down Smart tag.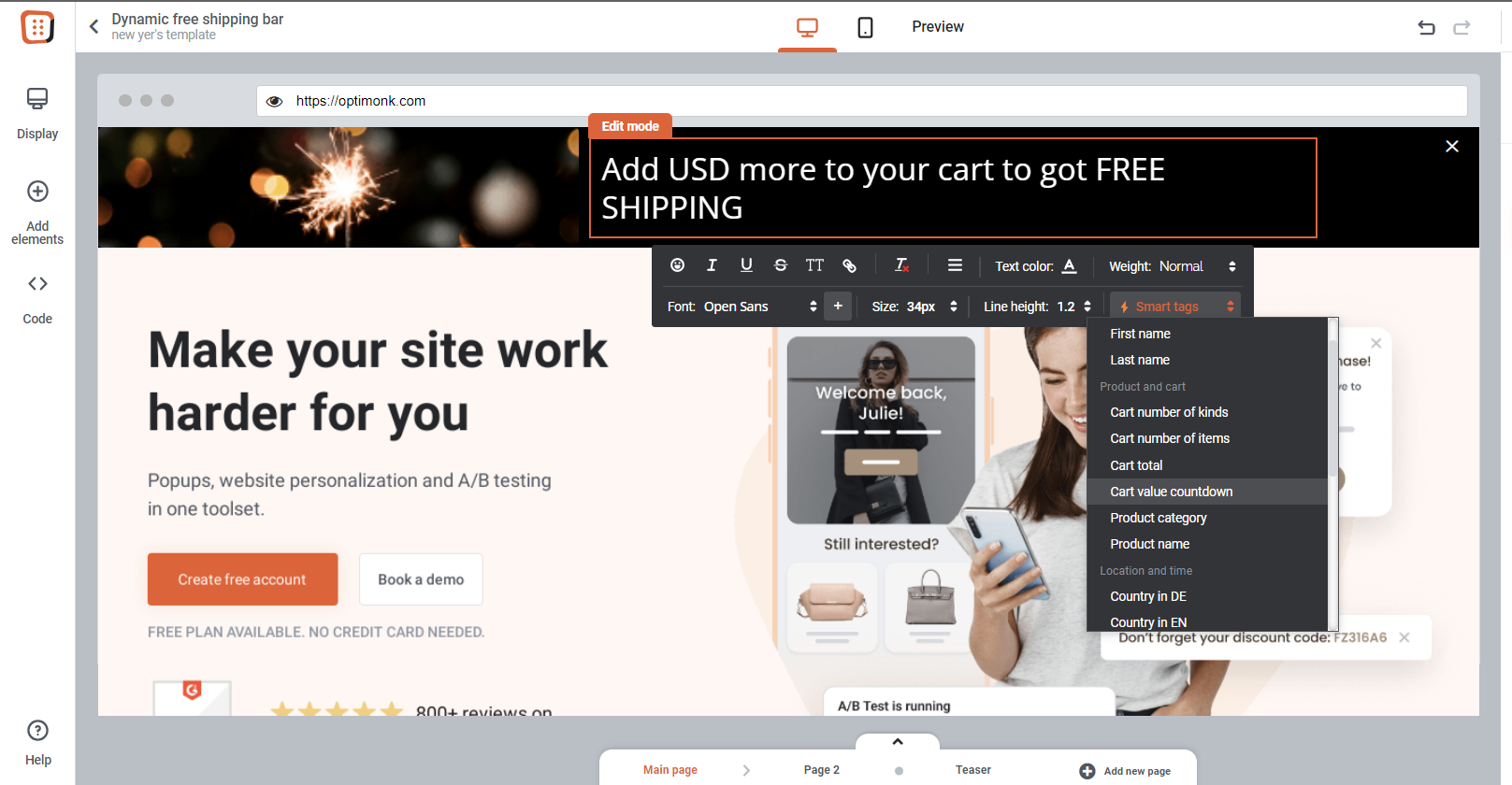 You need to enter a value to count down. Please note that the currencies aren't detected, so you'll need to type your chosen currency after the brackets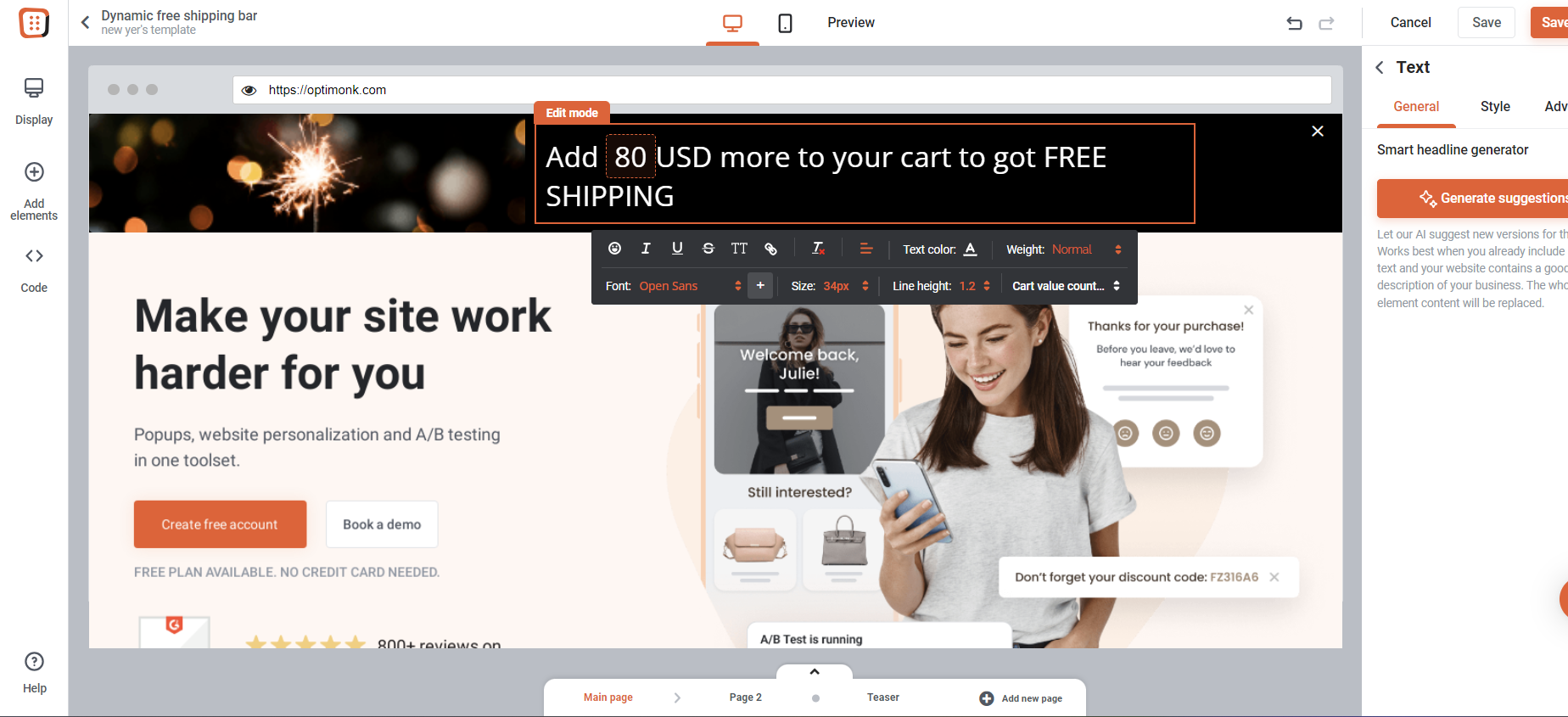 6) Set up a second page that will let the customers know when they have met the threshold. You could duplicate the Main page of your popup and replace the text. To do so, hover your mouse over to the Main page at the bottom, and click on the button with 3 dots and click on the Duplicate option:

Next, select the Duplicate option: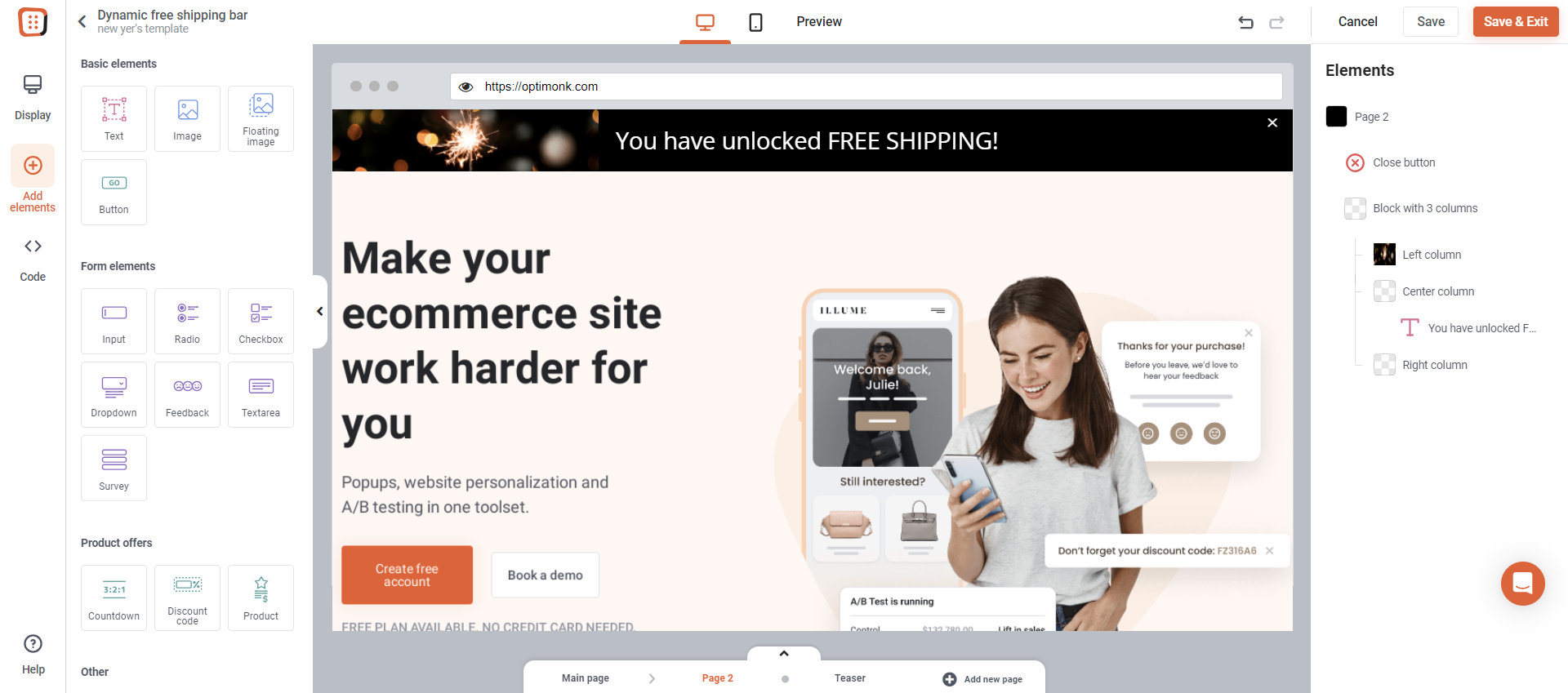 This page will show up automatically when the visitor has reached the limit for your incentive, so there is no further configuration needed to make this page show up.
7) If you do not want to use a Teaser page for your Cart Value Countdown, you can disable it by selecting Teaser at the bottom, then disable the options to show the teaser under General on the right: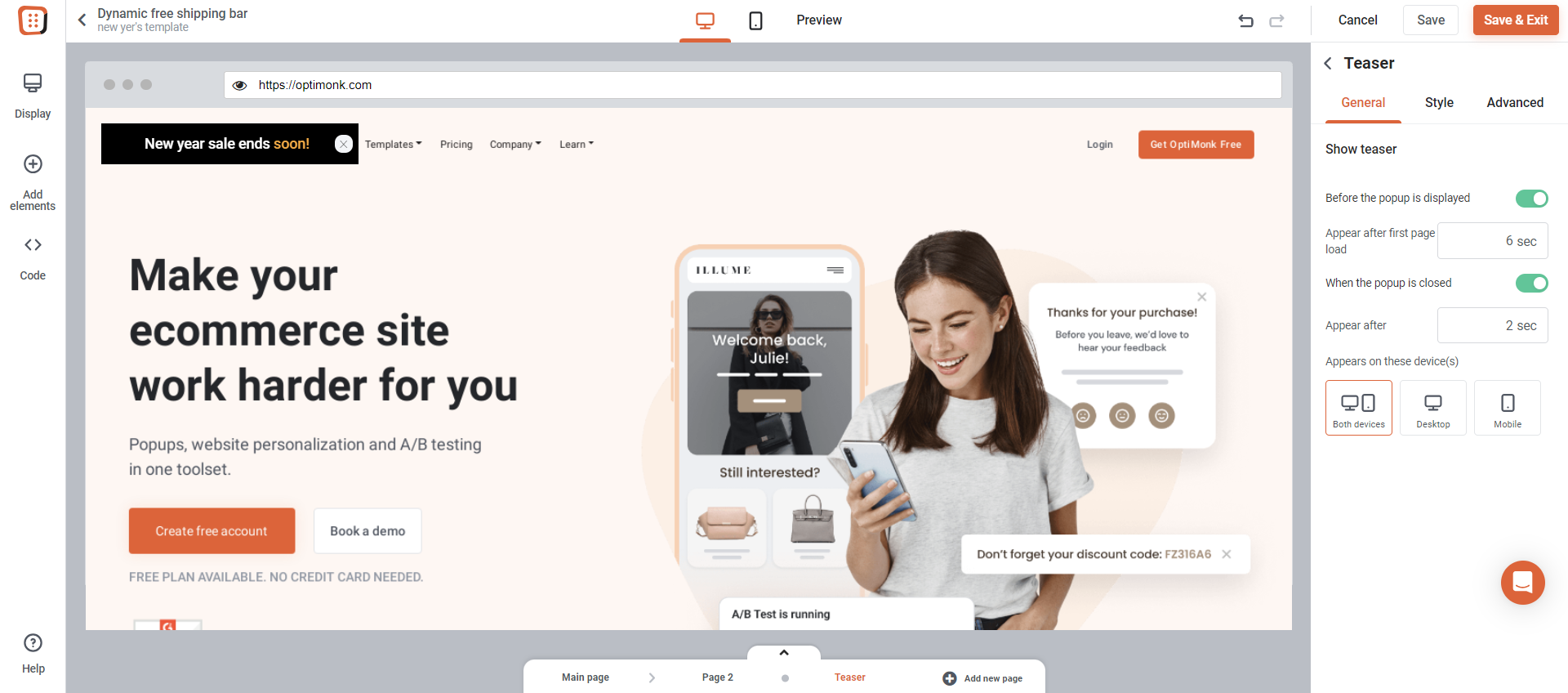 8) There is no further configuration needed in the Campaign Editor, so once you are ready with the design, click on Save & Exit in the top right corner: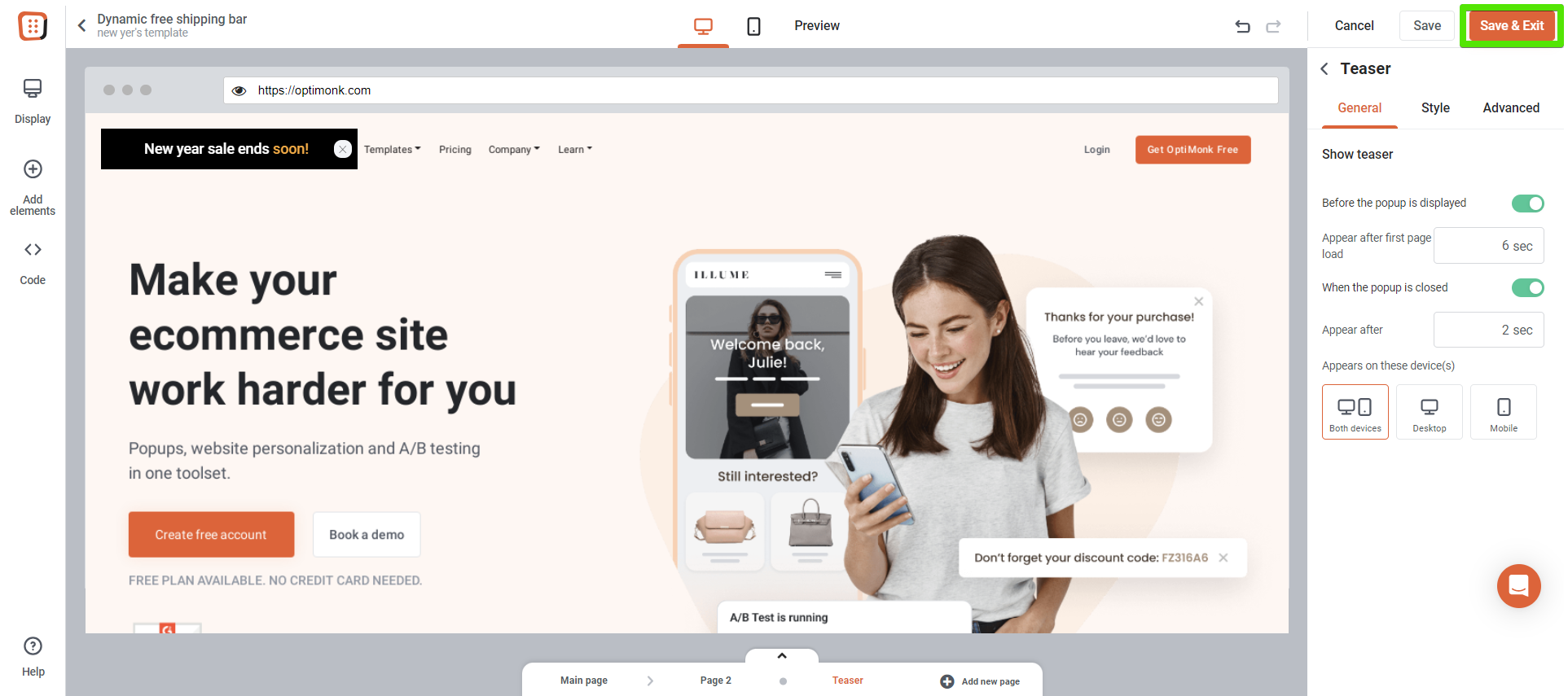 9) Click on Edit settings on the next page to edit the Campaign appearance rules:

10) Most of our templates will have a trigger for Exit intent or After X seconds by default. I would recommend using the After X seconds for the Dynamic Free Shipping Bar, with a value of 0. If you see a different trigger, you can delete it with the X icon next to it, then add the After X seconds trigger by clicking on the button Add more triggers:

Select After X seconds: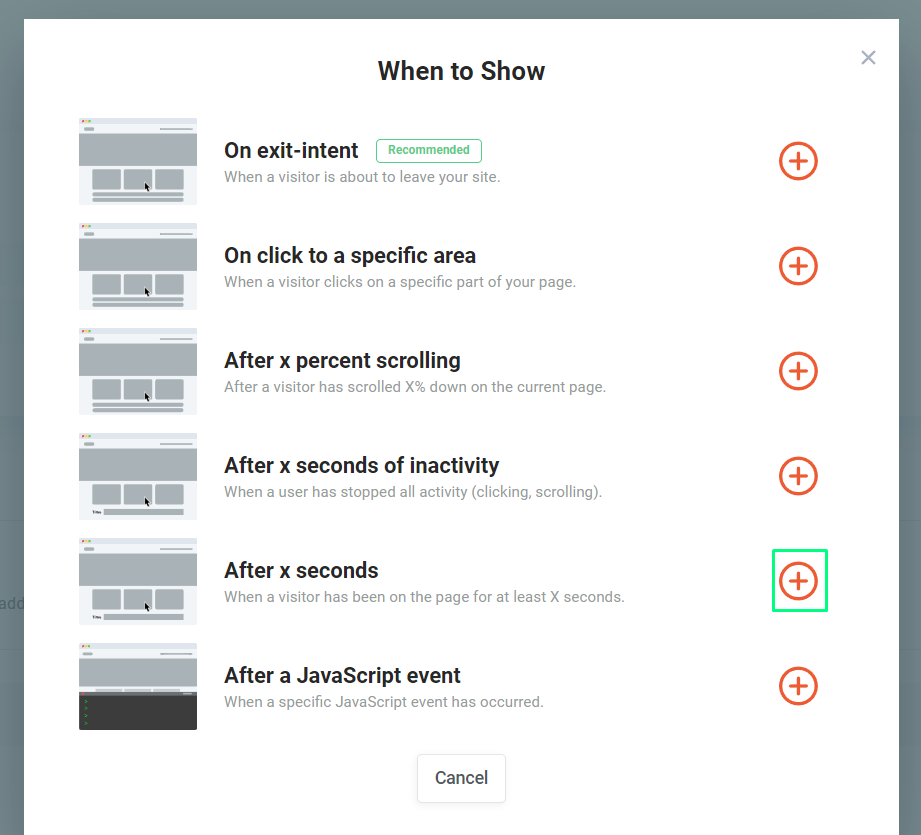 Enter 0 then click Save: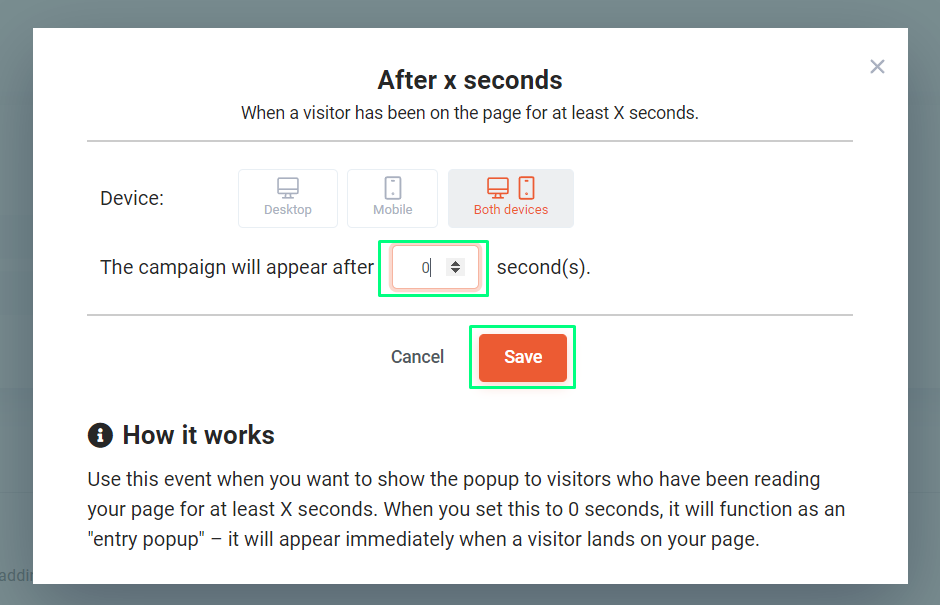 11) Click on Select who should see the popup to edit the segmentation rules. Most of our templates have a Frequency segmentation by default. For the Dynamic Free Shipping Bar, I would highly recommend removing the Frequency segmentation, so your visitors can see the countdown more than the default 2 times:

12) Click on Add new condition to add a new segmentation:

It is not mandatory to set any segmentation if you do not want to, but I will show you an example of setting a Cart content-based segmentation with Cart rules: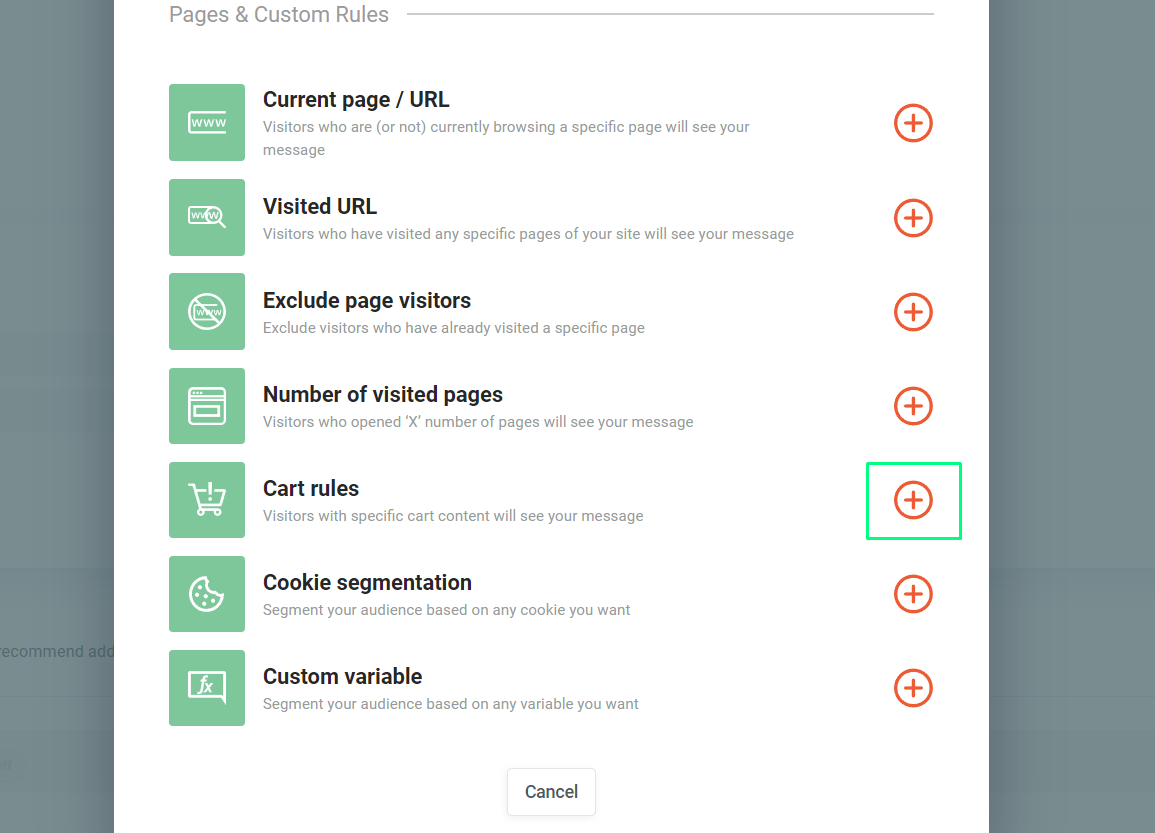 You can set up the cart rules however you want, but I would recommend setting an upper limit equal to the "X" value you used in Smart Tag. For example, I have free shipping on my website starting from 80 USD cart value, so I have added 80 in the Smart Tag. With this in mind, I could set up the segmentation the following way: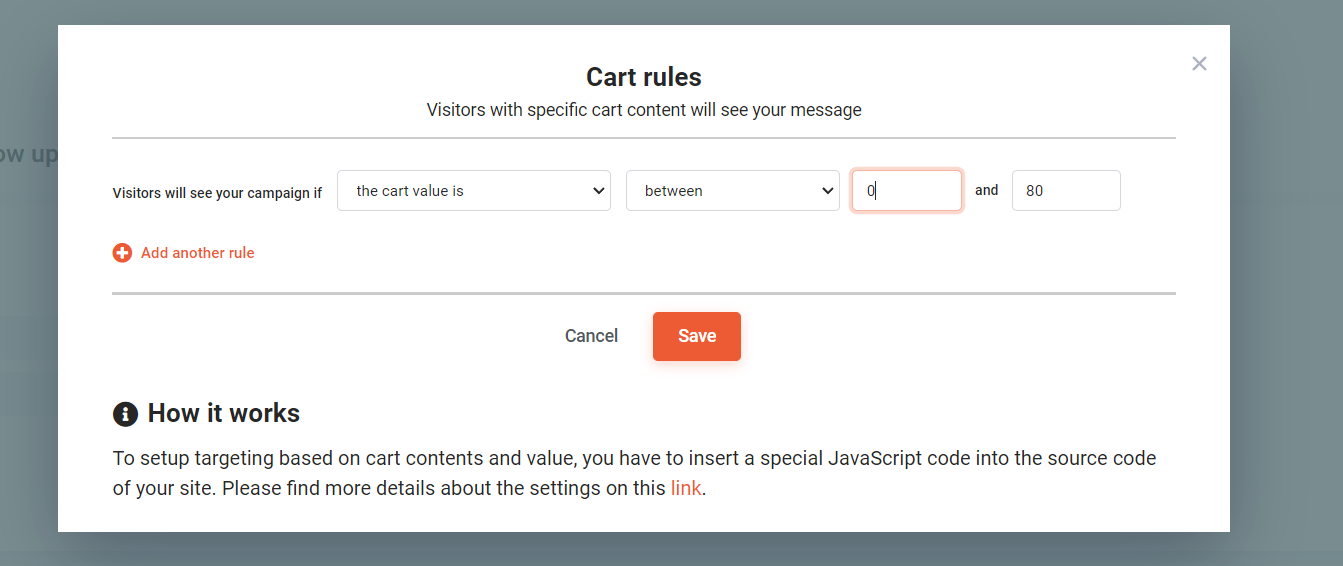 Once you are ready, click Save: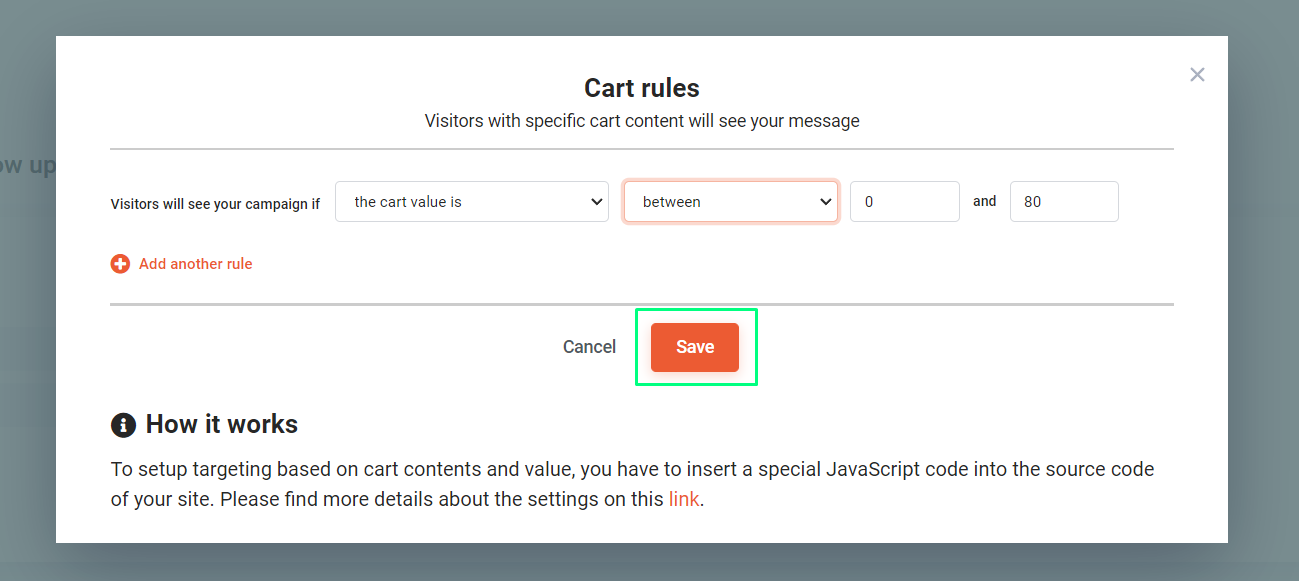 You can also add additional segmentation rules if you wish under Add new condition:

13) Once you are ready to finalize the changes, click Next in the top right corner:

Frequently asked questions:
Q: I have set up Dynamic Free Shipping Barwith X value. Once I have added more than X value to the cart, it says I have unlocked free shipping, but If I remove items from the cart and the value drops below X, why is it still saying I have unlocked free shipping?:

A: If you increase or decrease the cart value, the popup will update automatically until you reach the "X" value defined in the Smart Tag: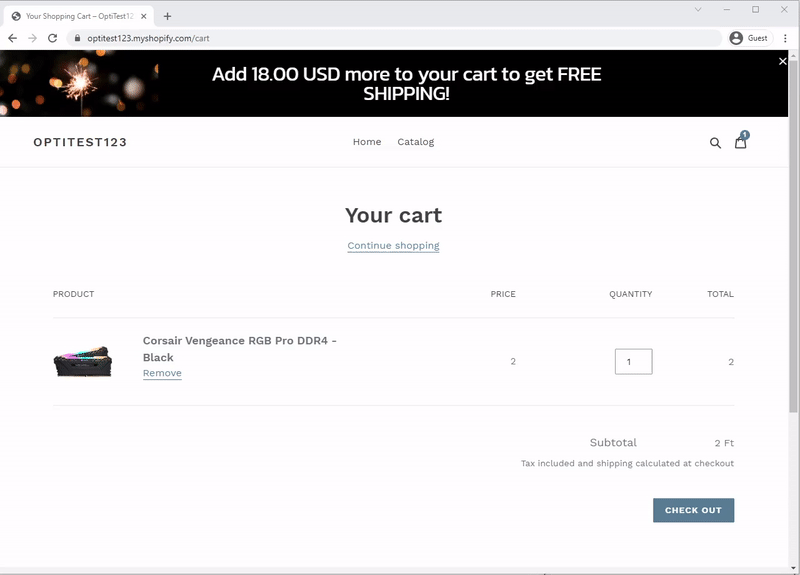 However, once you reach the "X" value defined in the Smart Tag, the countdown will only continue after the visitor refreshes the page: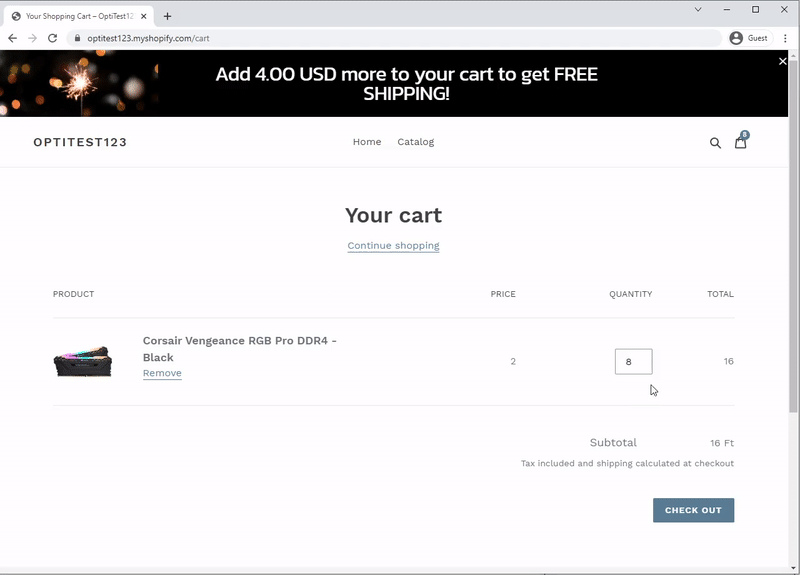 or navigates to another page on the website (so basically, on the next pageload):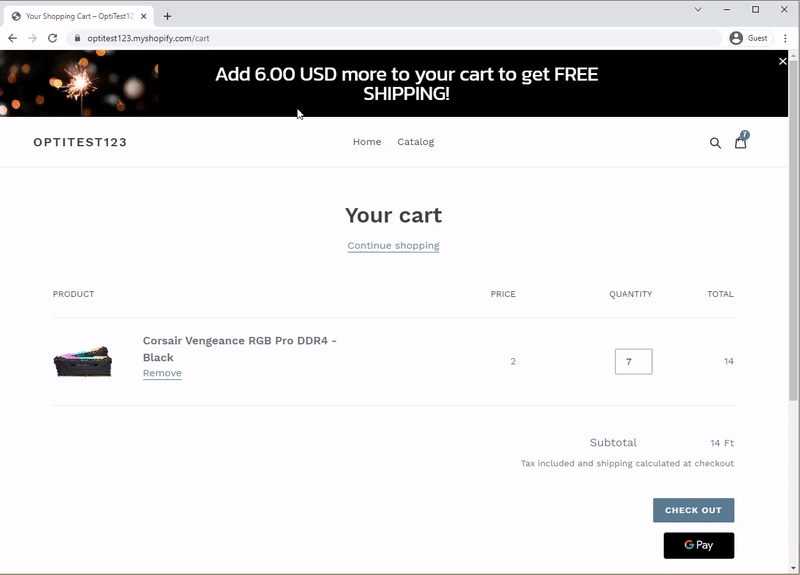 You can find additional tips on how to set up Dynamic Free Shipping Bar in our blog article: How to Boost Your Shopify Sales with Free Shipping Bars
That's it! :) If you have any further questions or need any additional help, just let us know at support@optimonk.com and we would be happy to assist you :)