Ever dreamed about creating a unified look for all your campaigns within just a few clicks? Tired of editing all the pages of your campaign one by one to match your brand identity? Then start using Themes immediately! 🔥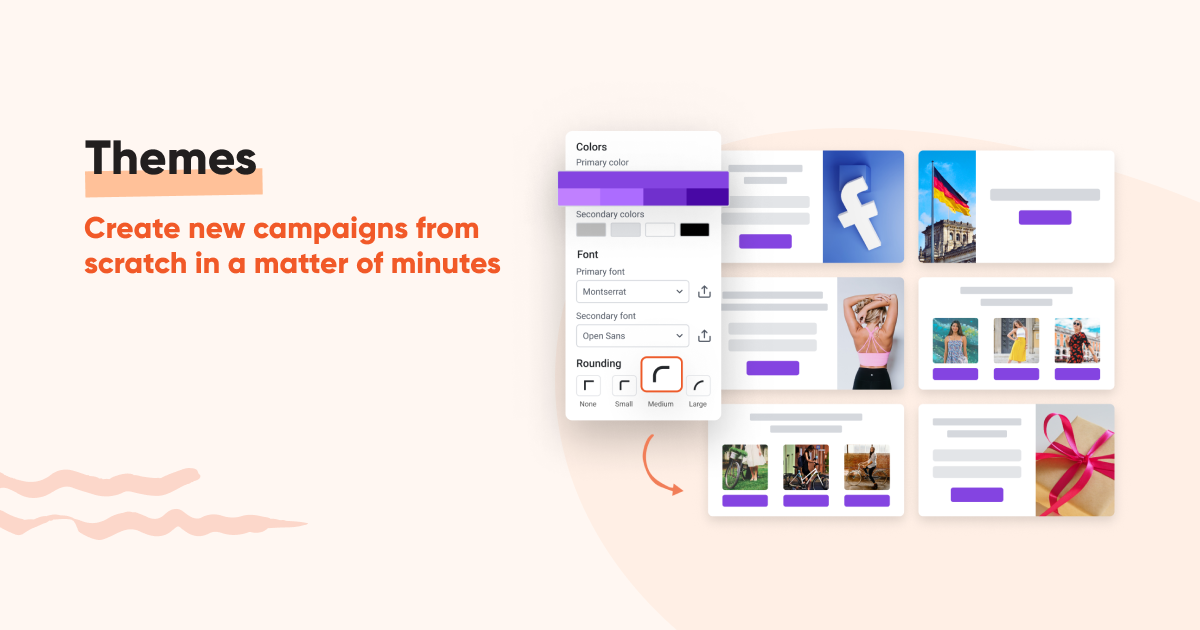 In this article you'll learn:
1. What are Themes?
Design is often the greatest challenge when it comes to scaling personalized messages efficiently. Marketers spend significant time and effort on designing campaigns and making sure they match the brand identity flawlessly.
With Themes, you'll have a template ready for all possible campaign goals right when you need it. What's more, OptiMonk Themes allow you to create a unified look for all your campaigns effortlessly by defining key elements of your brand identity - called Saved Styles - and re-using them in your future campaigns.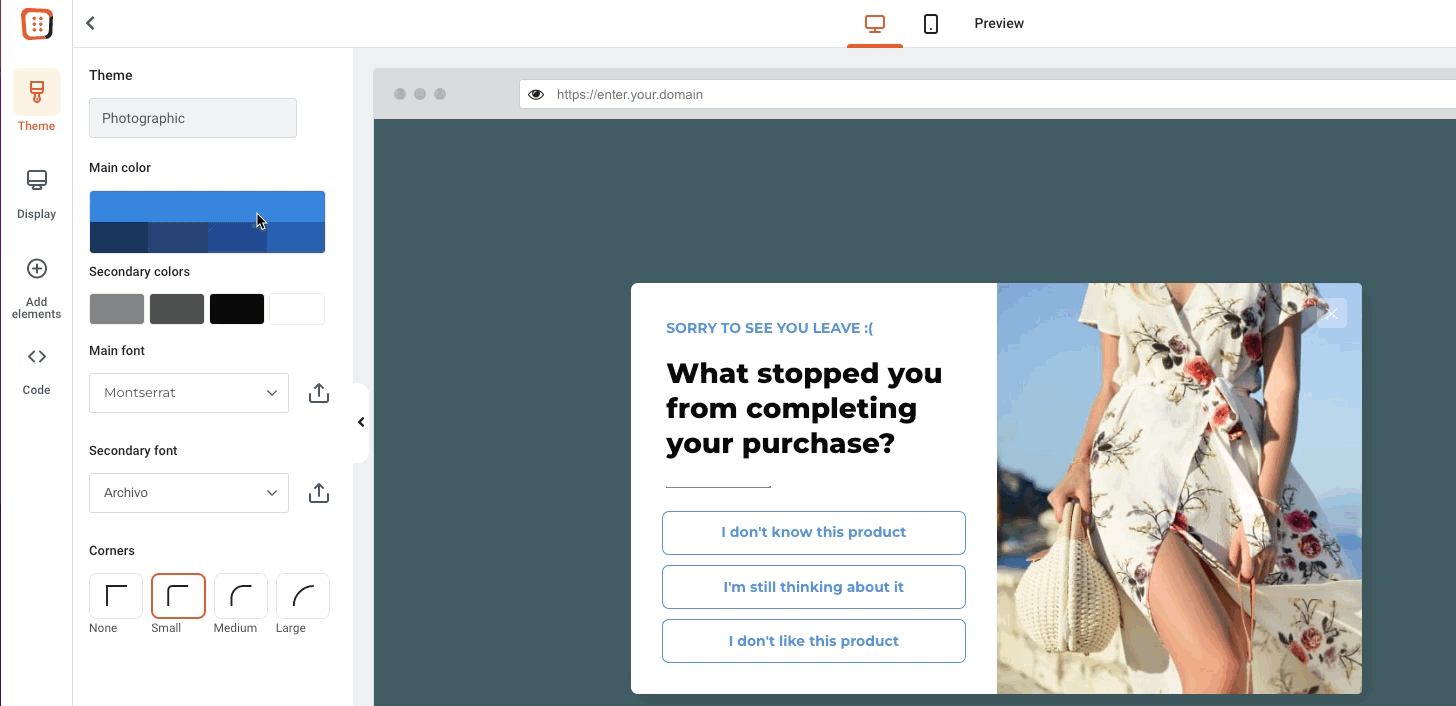 3 reasons to create your own Theme:
💪 Access several pre-built templates that match your brand
💪 Create new campaigns from scratch in a matter of minutes
💪 Create your own custom theme for each brand you manage
2. How to create your own on-brand Theme with Theme Kit?
To create your own on-brand Theme, you need to define elements of your brand identity first. This is exactly what Theme Kit is for.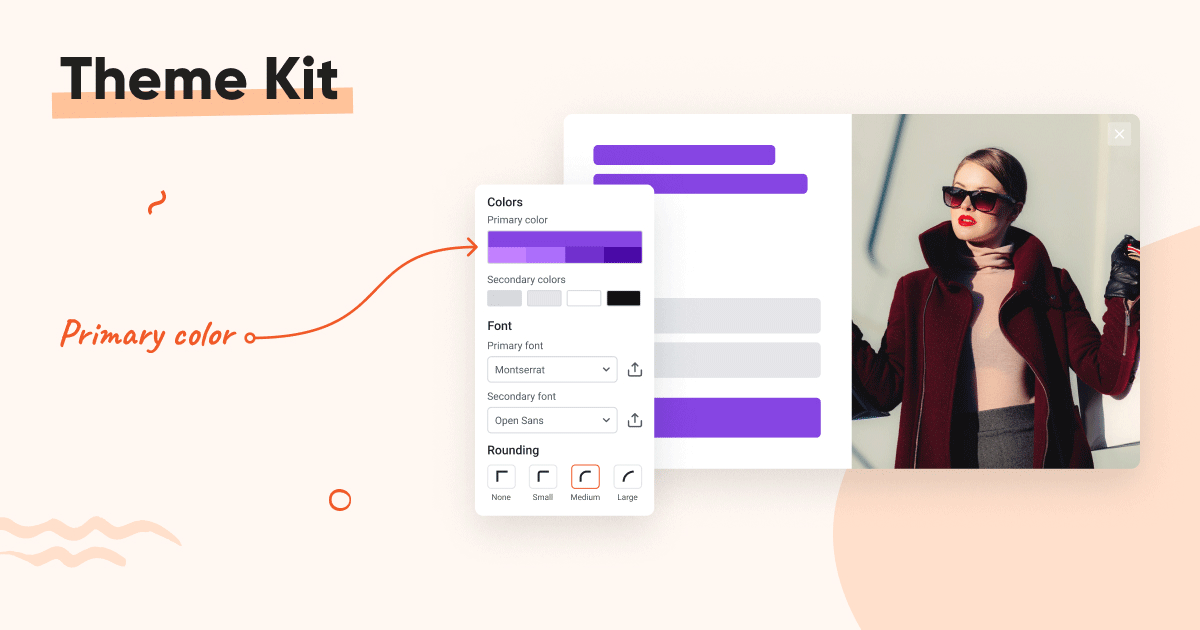 Theme Kit is the place where you can set your:
Brand Colors,
Primary and Secondary Fonts,
Preferred Border Style.
In other words, the Theme Kit tab in the Editor allows you to create a unified look for all your (future) campaigns. And what's the best part of it? Once you customize your Theme Kit elements to match your brand flawlessly, you will have access to your own custom, auto-generated templates that match your brand! ⚡️
How to access Theme Kit
Theme Kit settings can be accessed from the Editor when you create a new campaign. Simply select the Theme Kit tab from the top on the left sidebar to display your setting options.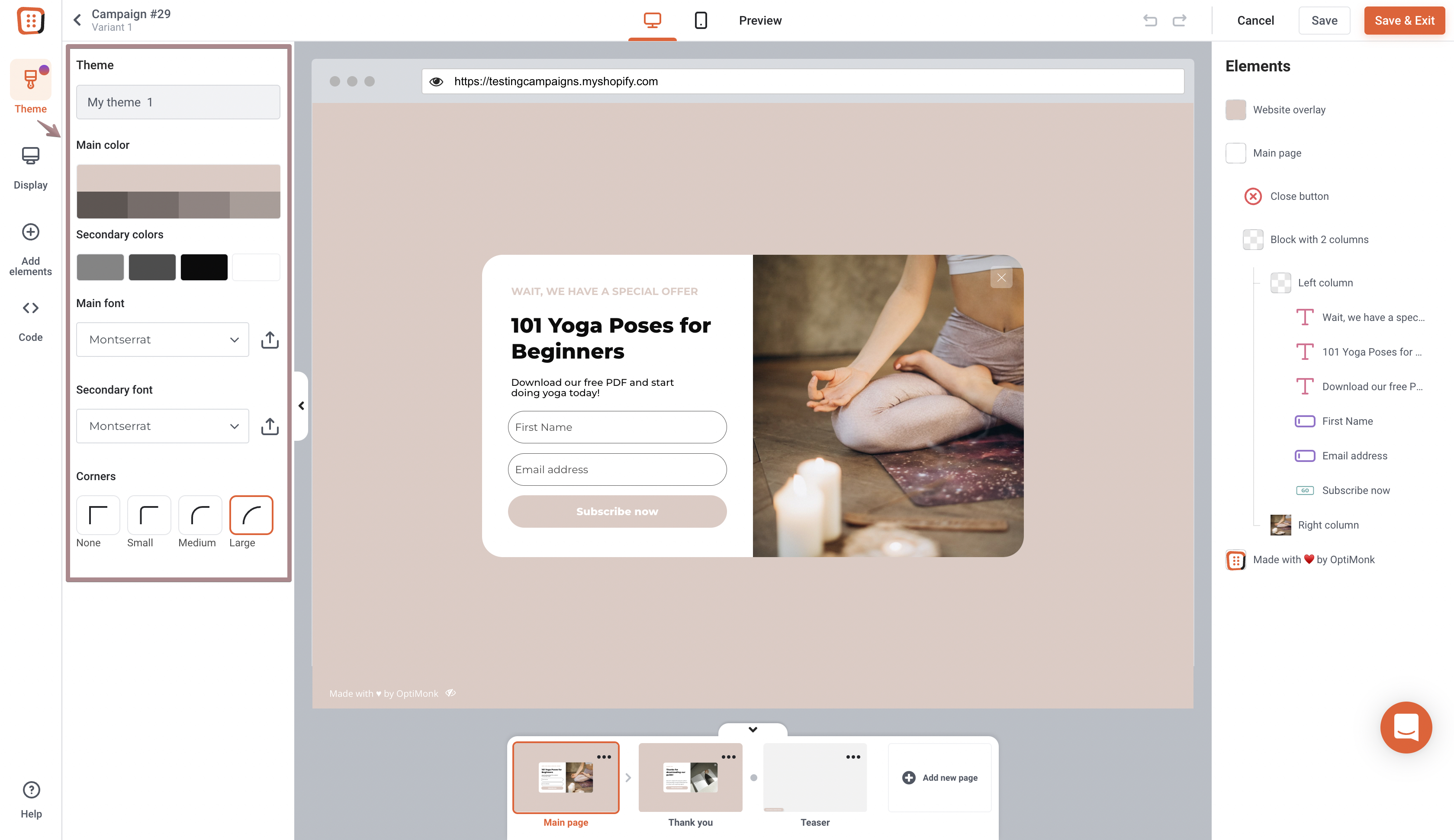 Once you define your brand identity elements, your settings will be saved as your custom Theme, so every time you are to create a new campaign from the same Theme, OptiMonk will remember your Theme Kit settings, saving you significant time on designing every page of the campaign (main page, teasers and thank you page) to match your brand. This way you can create new campaigns 5 times faster compared to building them up from scratch.
3. Which templates you can use Theme Kit with?
OptiMonk's Themes-compatible templates can be modified to reflect your design settings across future campaigns. Thus, predefined Theme Kit settings will be automatically applied to future campaigns when you pick a template from the same (custom) Theme family.
💡 Please, note that Theme Kit is only available for the following themes:
Clean
Photographic
Modern
Prestige
Minimal
Energetic
💡 In case, you cannot see this tab in Editor, you're probably using a theme unsupported by this feature.
4. What elements can be defined in Theme Kit?
Main color
You have the option to select a single main color. Our Theme Kit-compatible templates rely on multiple shades of your main color. OptiMonk automatically calculates 4 matching shades of the main color which are darker and lighter versions of the given color. The exact tone depends on the darkness/lightness of the original color to make sure that the colors on your personalized templates will be in harmony.
Secondary colors
You can choose up to 3 other secondary colors according to your brand book. Secondary colors must be defined in Hex color codes such as #ED5A29 or #272727.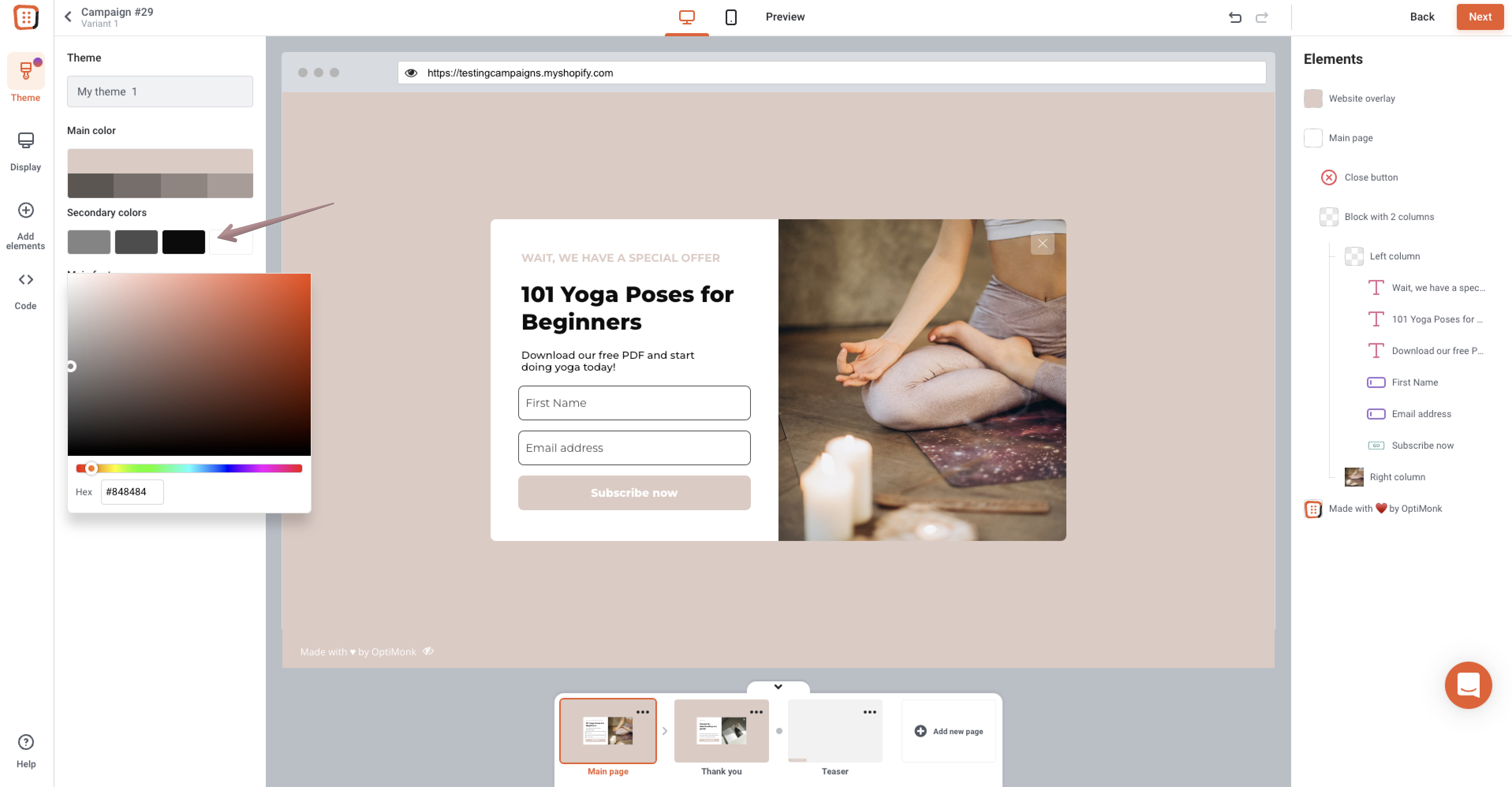 Main Fonts & Secondary Fonts
To pre-set the main and secondary font types used across your popup campaigns, you have two options:
Either select a font supported by OptiMonk from the list,
Or upload any custom font family.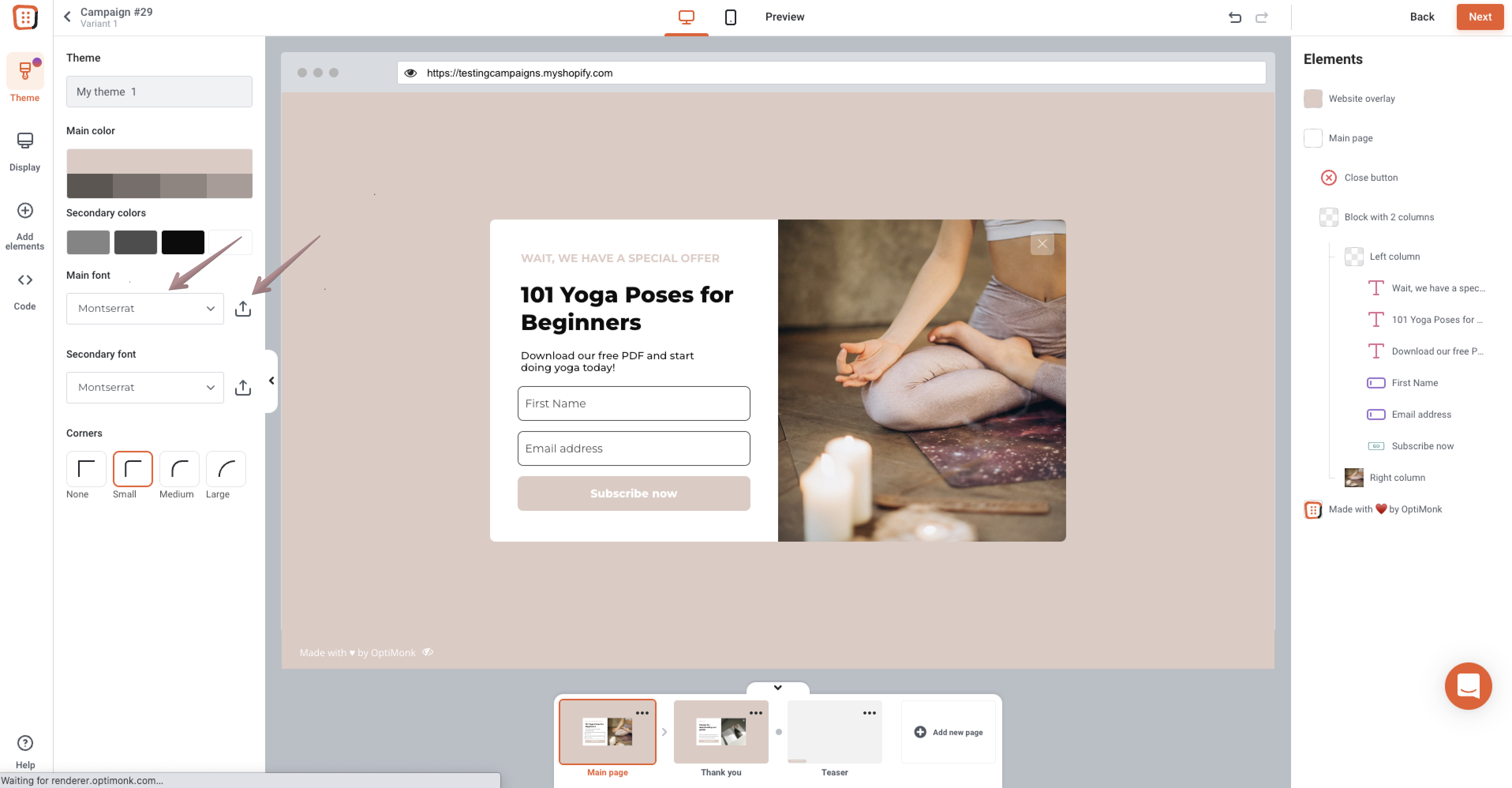 Corners
Theme Kits offers 4 options for corner style:
The selected corner style will be used for various form elements including, the corner of your popups, button elements, and teasers.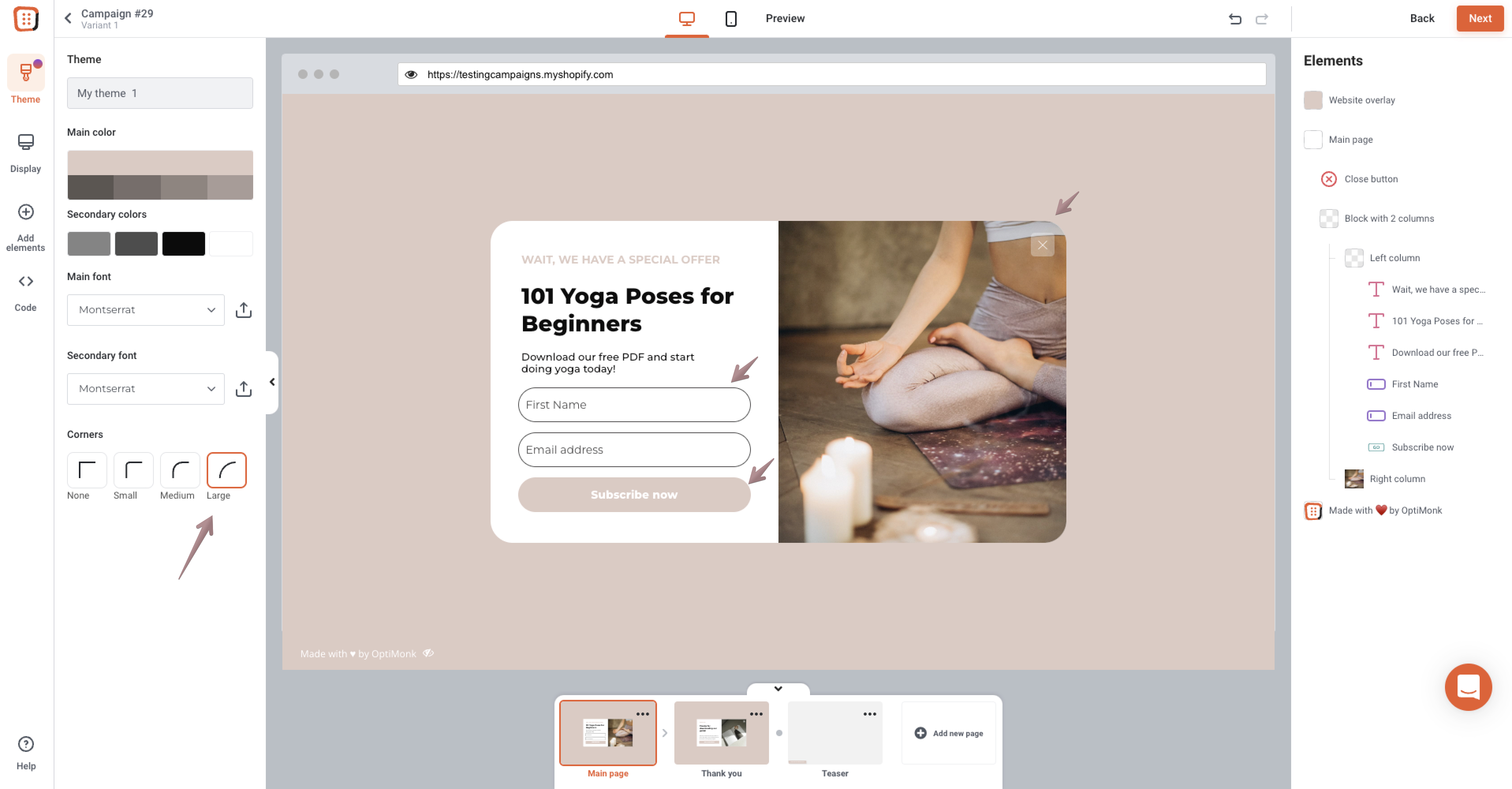 5. What to keep in mind when changing Theme Kit settings
Theme Kit will always remember your set of brand element settings and offer those to you by default when you create a new Theme Kit-compatible campaign.
If you change any default Theme Kit settings while you're creating a new campaign, your settings will be saved as a new custom Theme.
Changing the Theme Kit settings - by saving a new campaign with a different main color, font, or corner setting - will NOT affect any previously saved campaign.
As for older campaigns, your settings won't change once you make modifications to your Theme Kit. If you wish to update your older campaigns with new Theme Kit settings, you'll have to do that one by one for every campaign for cautionary reasons.
6. What are Saved Styles?
Design elements once, and reuse them forever with Saved Styles!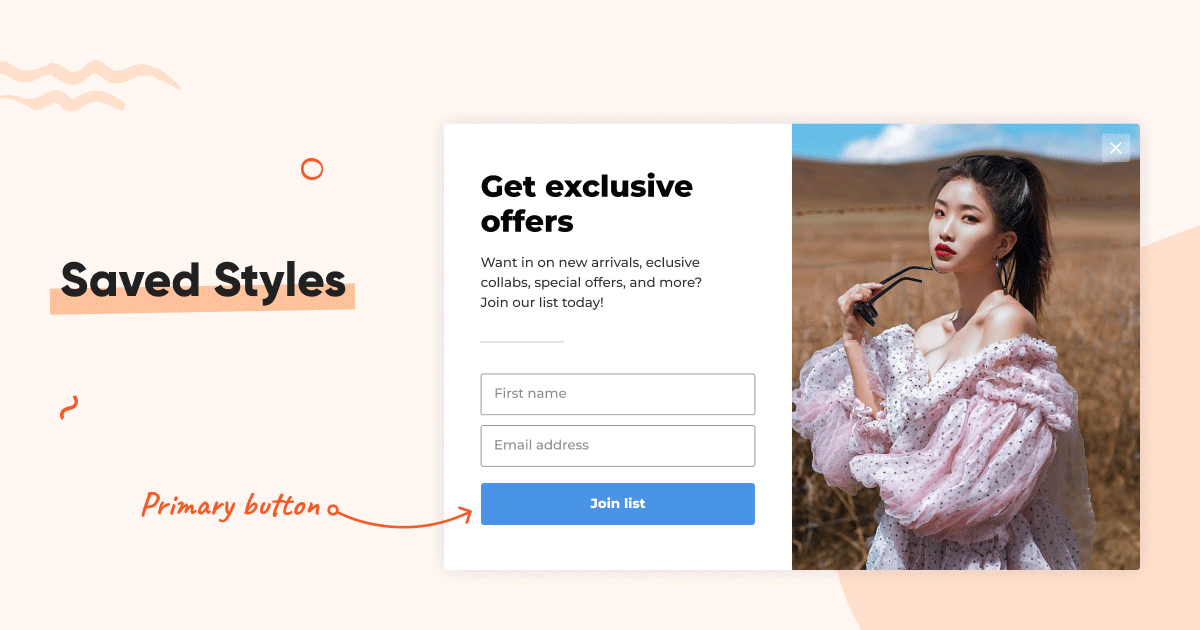 Saves Styles allow you to supercharge your productivity. Stop wasting time on designing a button the same way for every campaign. Choose from several predefined styles for any element or save your own styles that you canreuse over and over again.
Choose from primary, secondary, responsive, or link button options
Pick the right heading or text style for each text element or save your own
Create your own style for discount codes, countdowns, or product elements
7. How to save your own styles and reuse them in your campaigns?
Your Theme offers you several predefined styles for customizable elements, but if you prefer to create a different style and want to reuse it in future campaigns, you can save it as your custom Saved Style.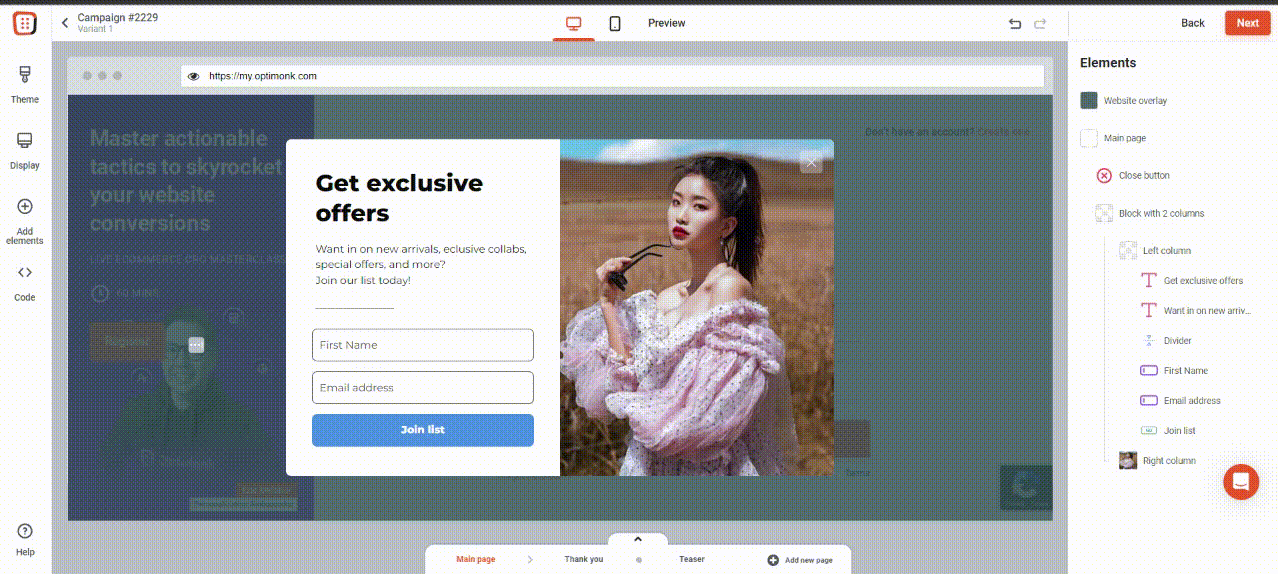 How to save your own style for any element as Saved Style?
1. Log in to your OptiMonk account at https://app.optimonk.com/
2. Select Campaigns on the navbar.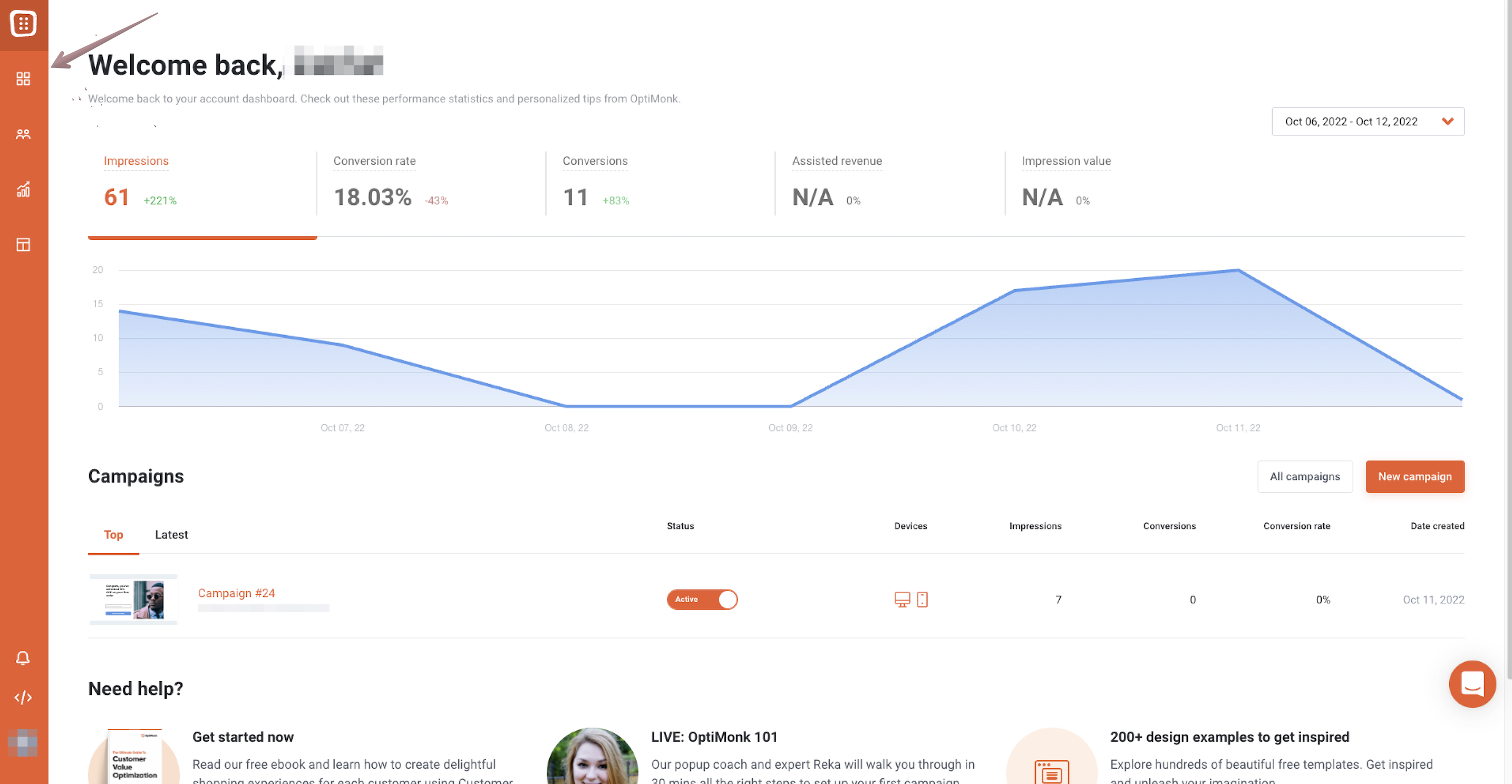 3. Select the Campaign you wish to edit or create a new one.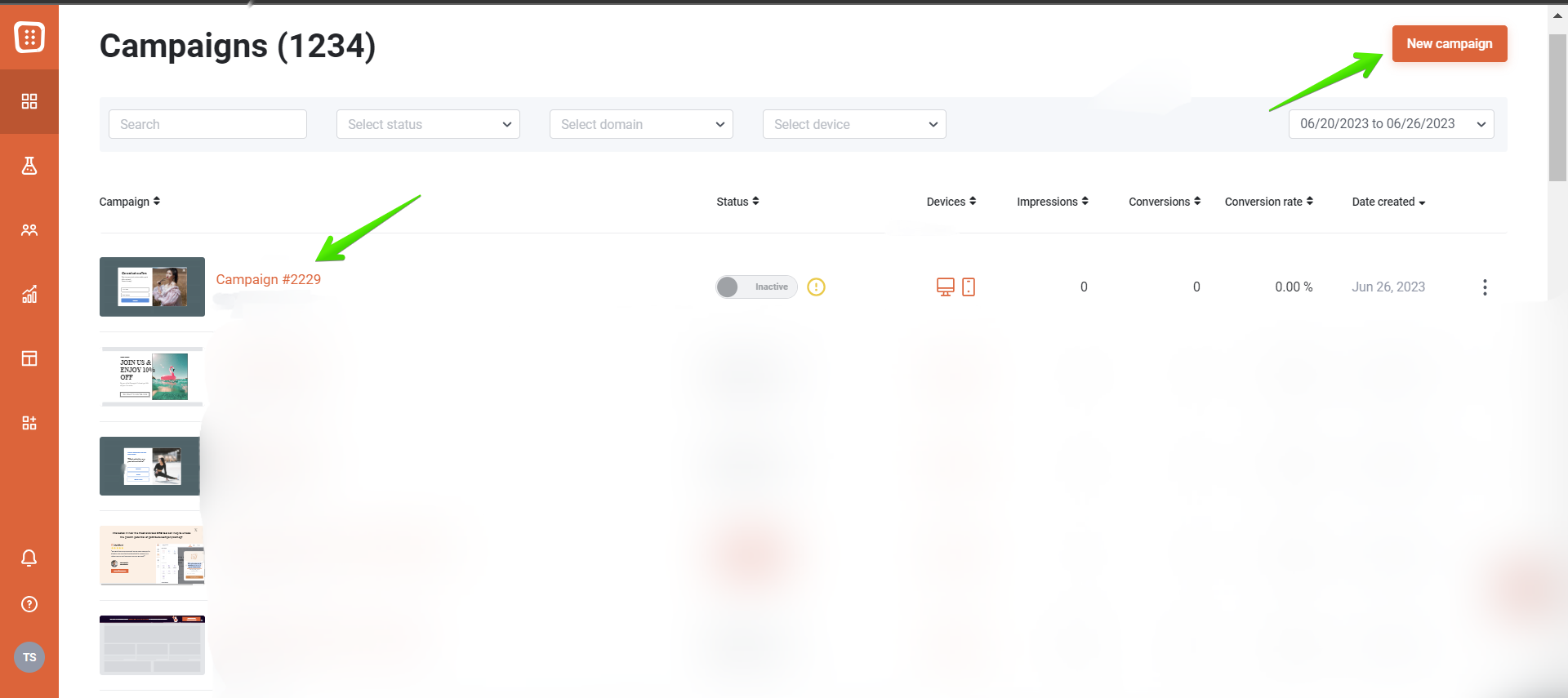 4. To get to the Campaign Editor, click on the Campaign Variant you wish to edit: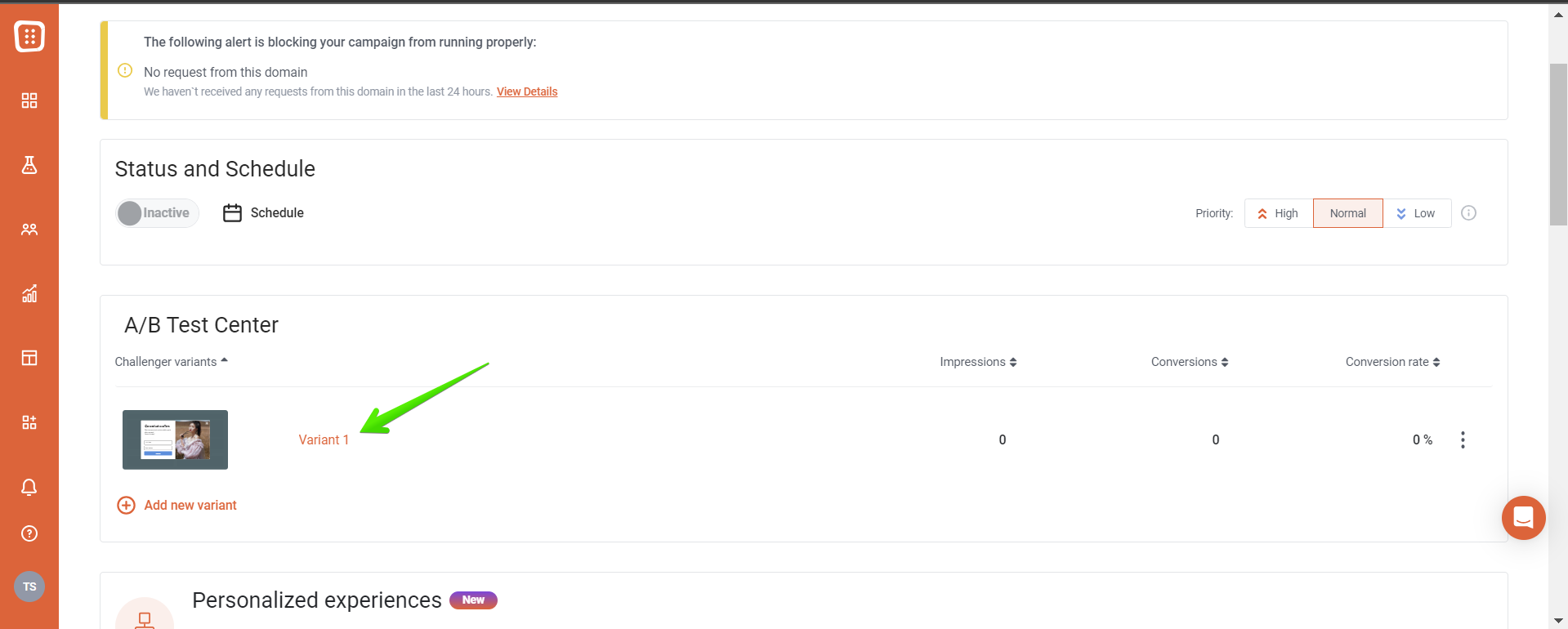 5. When selecting an element, navigate to the Style tab on the right-side panel and click on the Save as new button.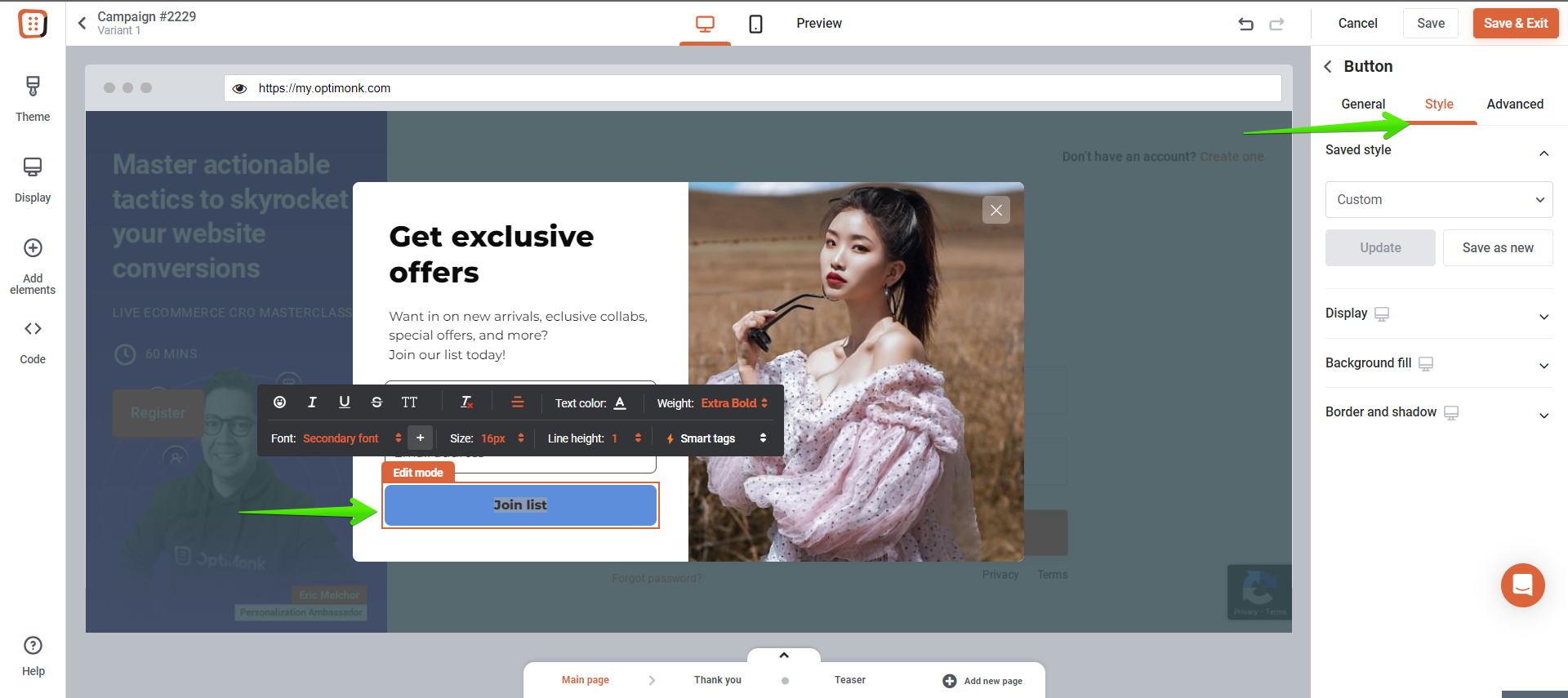 6. Give a name to your custom Saved Style and click on Save.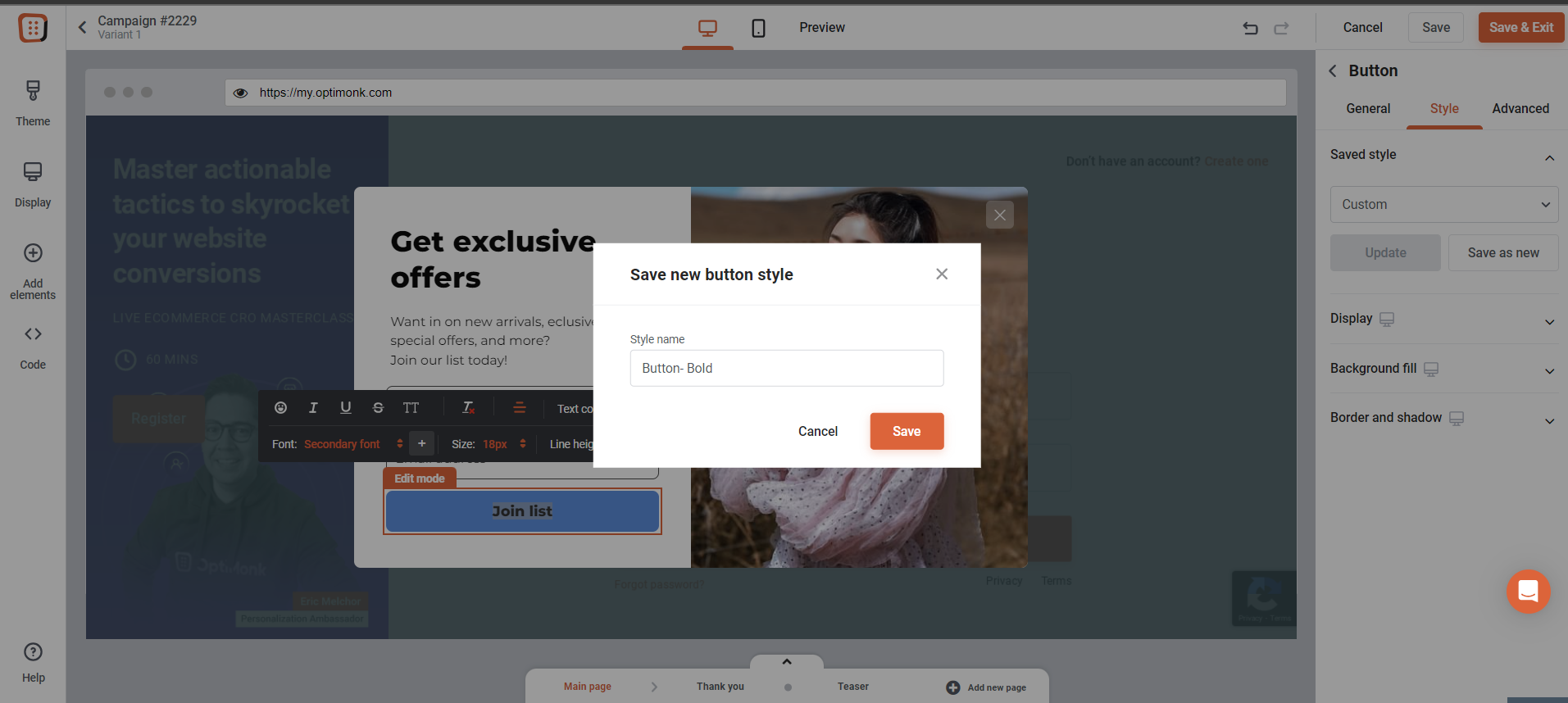 7. That's it! Your custom Saved Style will appear on the dropdown list and you can reuse it anytime.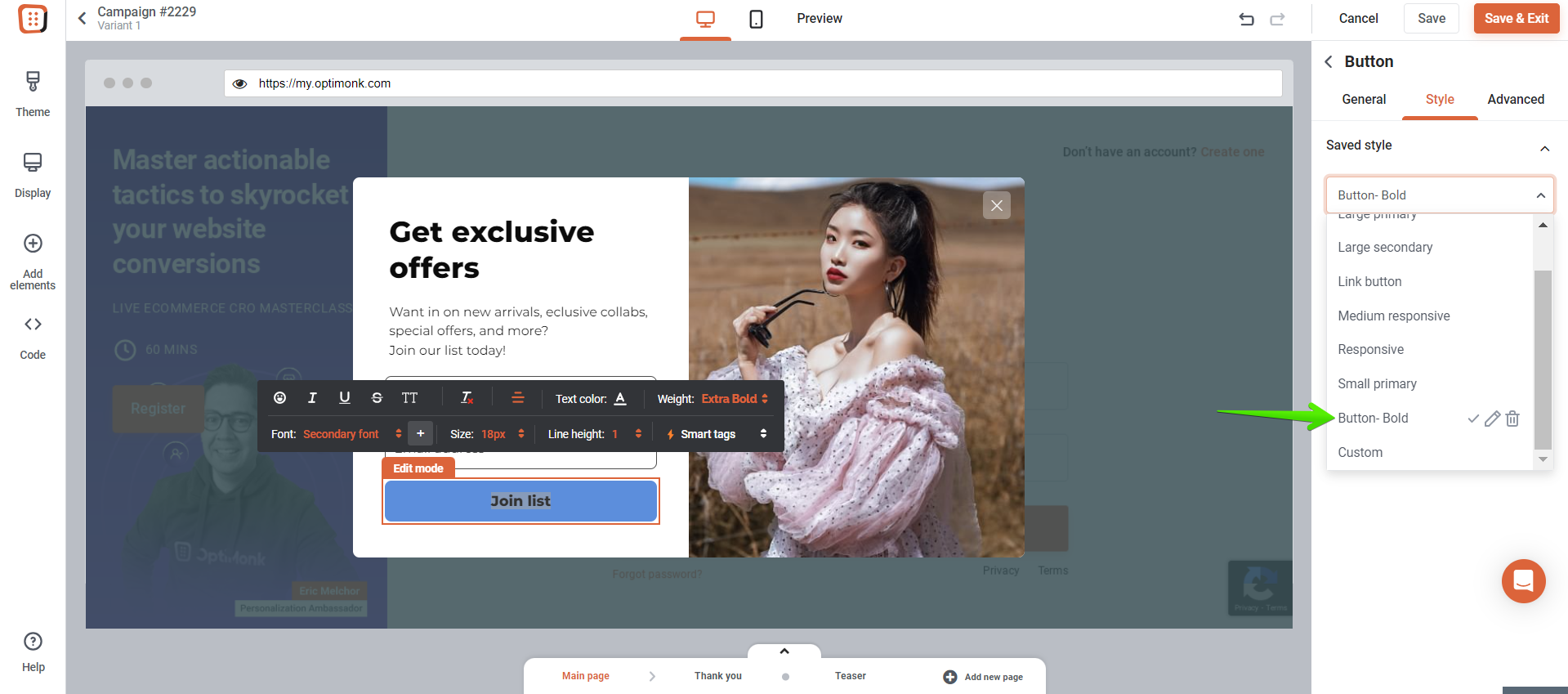 ✉️ If you need any further help or have any questions, please let us know at support@optimonk.com, and we would be happy to assist you :)