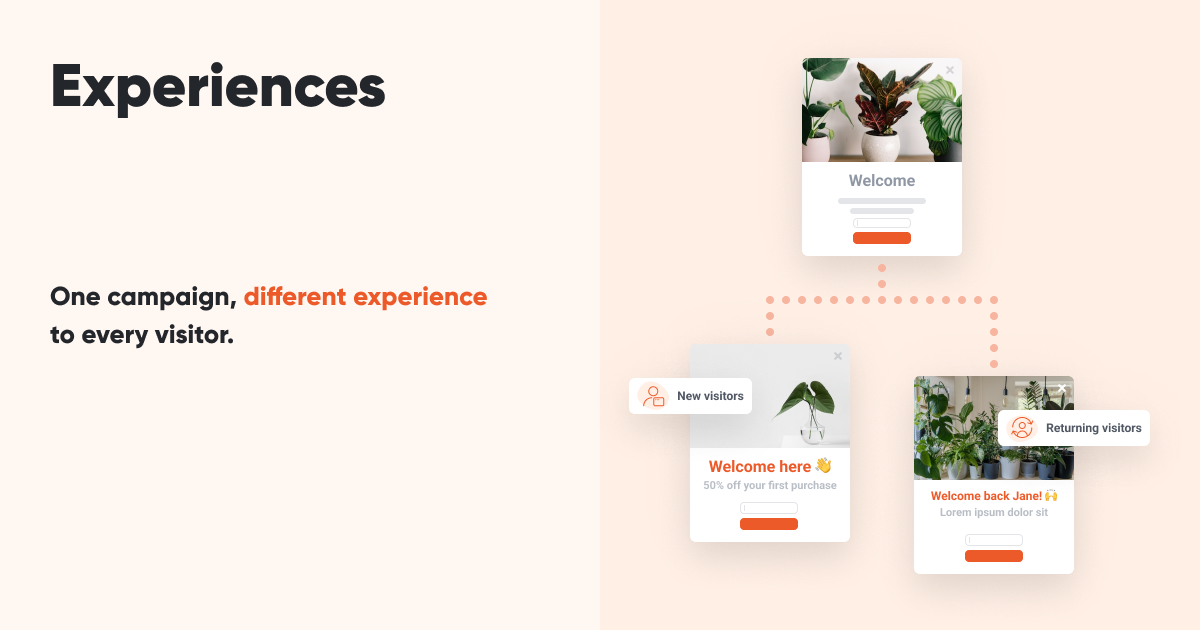 One campaign, personalized for multiple segments using Experiences
The era of the one-size-fits-all approach is officially over. Customers expect a highly-relevant experience everywhere online. However, living up to these expectations is not always easy if you're not, let's say, Amazon and your resources are somewhat cough limited. We believe that presenting a highly-relevant message to each segment shouldn't be difficult. This is why Experiences is one of the most powerful features of OptiMonk.
In this article, you'll learn about:
What's Experiences going to help me solve?
Marketers are accustomed to creating different customer journeys for various segments. When running search campaigns, for example, it is common to have multiple versions of the same message, landing page, or popup with different headlines.
Editing a small section of a landing page, message, or popup can be a tedious task, as you need to modify each one individually. This can become overwhelming, just thinking about it.
So we had an idea: What if there was only one message that could provide a different experience for each segment? Within THE SAME CAMPAIGN, you could display a different headline to returning visitors, such as "Welcome back," and to new visitors, "Browse this season's favorites."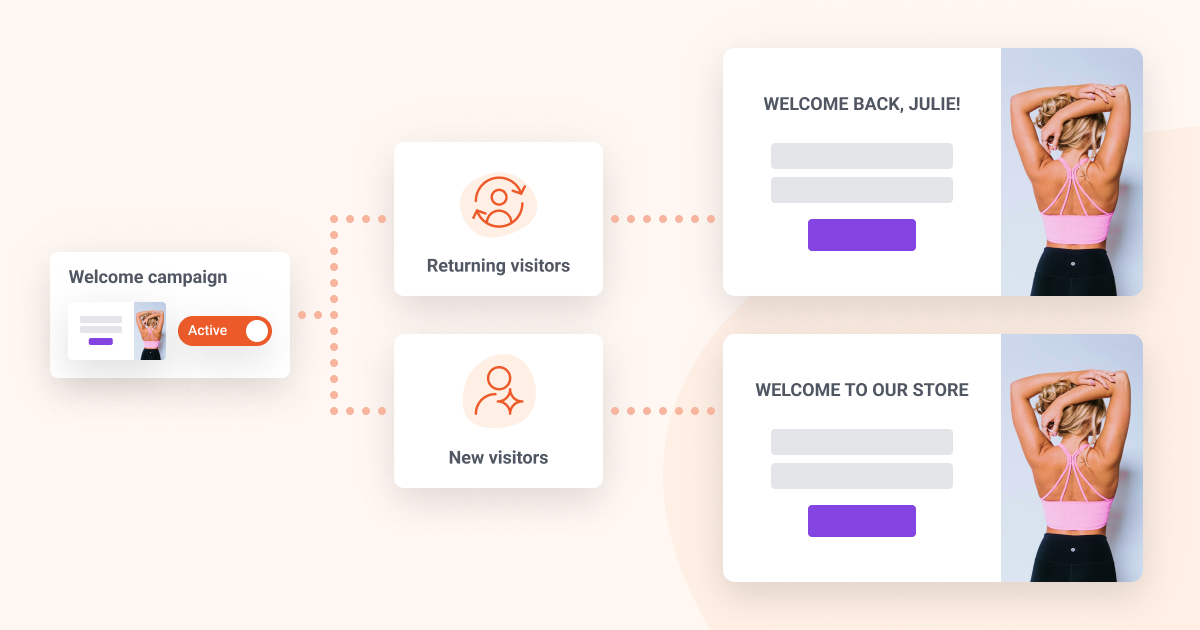 How do experiences work?
The key aspect of experiences is targeting. With this tool, you can micro-target messages to different segments within the same campaign.
For example, you may have a basic message that you would like to modify for a certain segment of visitors. Perhaps you want to greet returning visitors by their first name. Experiences allows you to pick targeting rules and apply them on the message variant level, enabling you to precisely target a sub-segment of visitors.
How to create an experience step by step
1) First, log in to your OptiMonk account at https://app.optimonk.com/login/en
2) Select Campaigns on the left.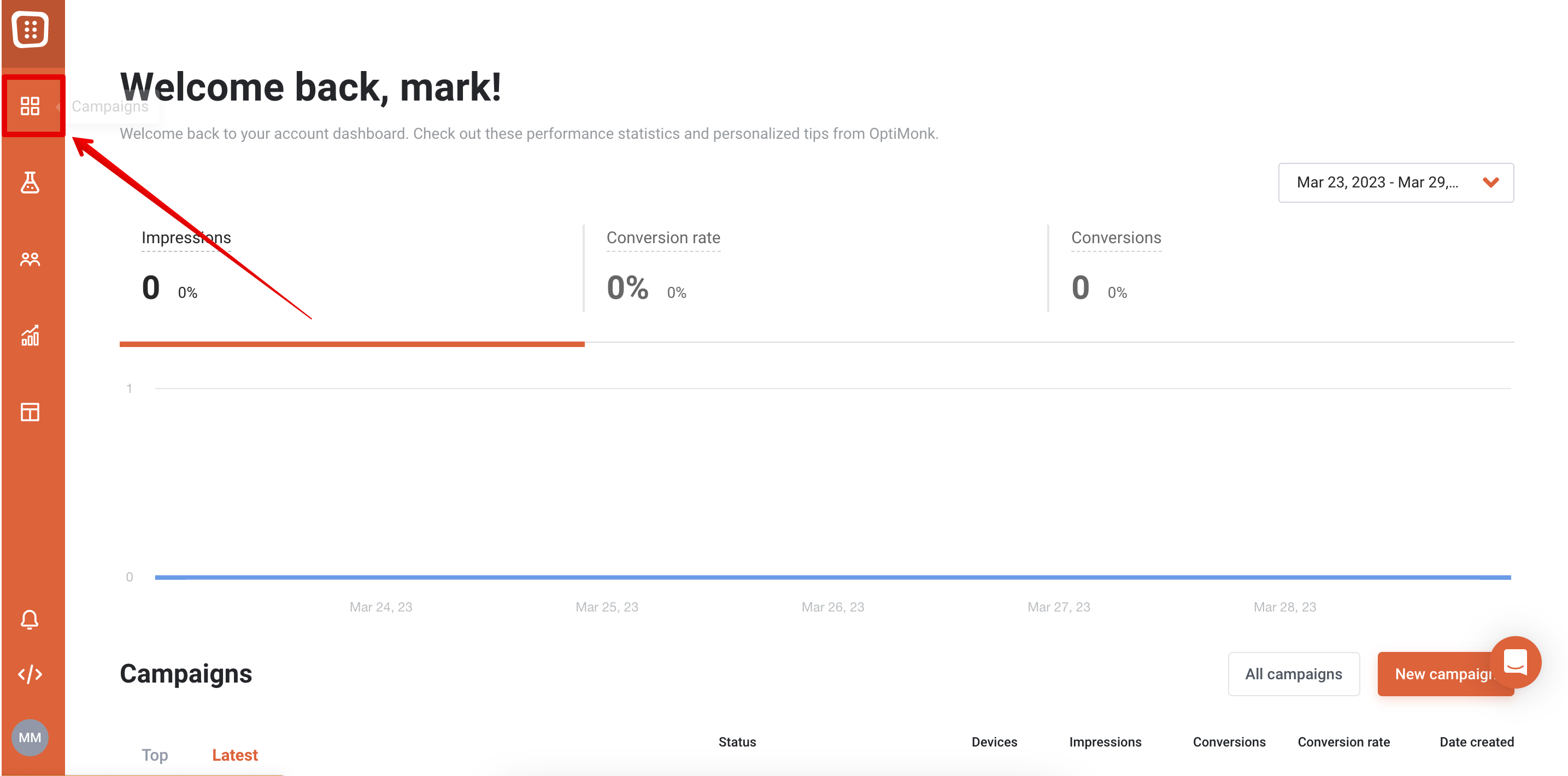 3) Select the Campaign you want to set up by clicking on its name.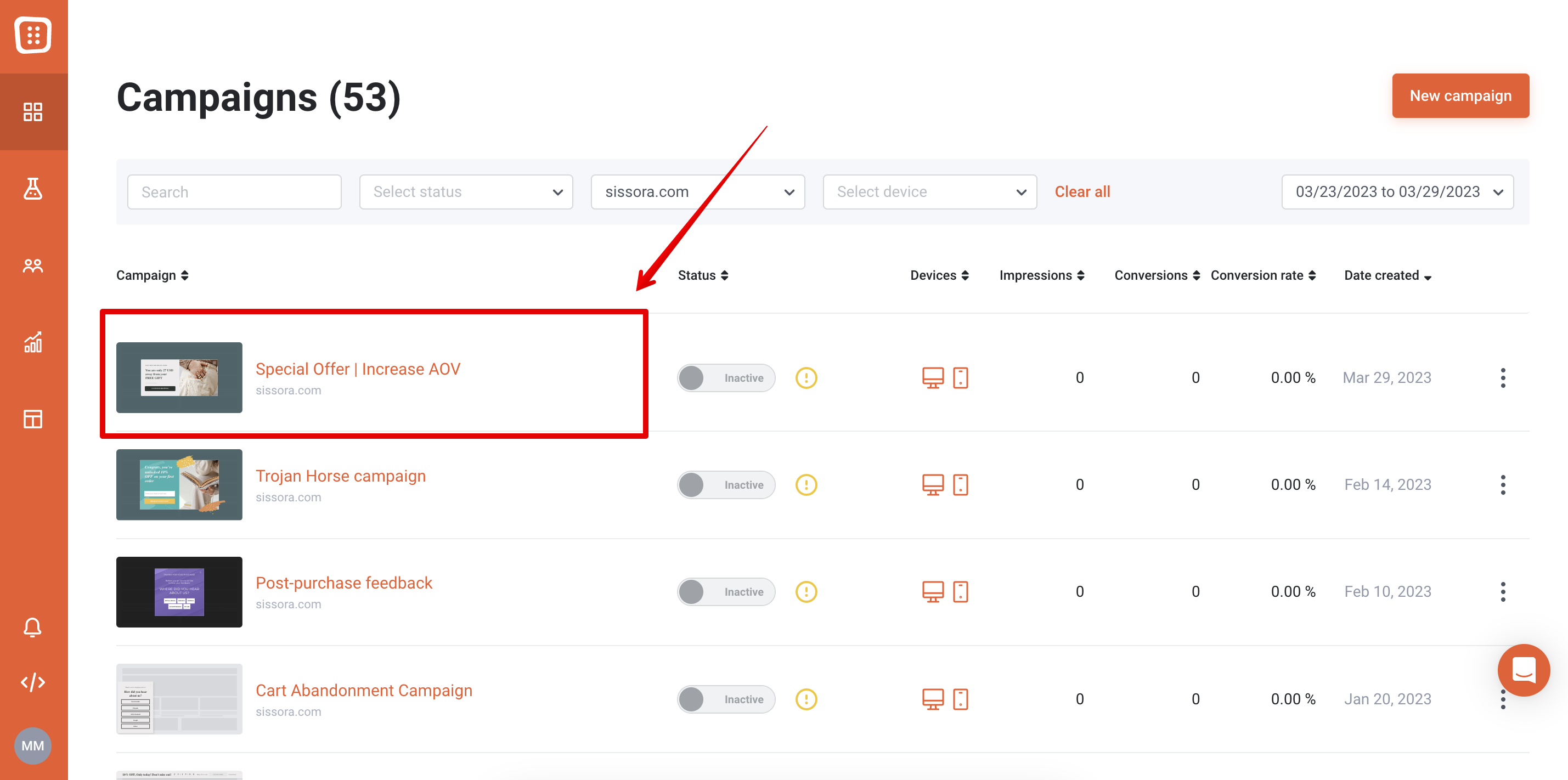 4) Scroll down to find Personalized experiences and click on Start personalization.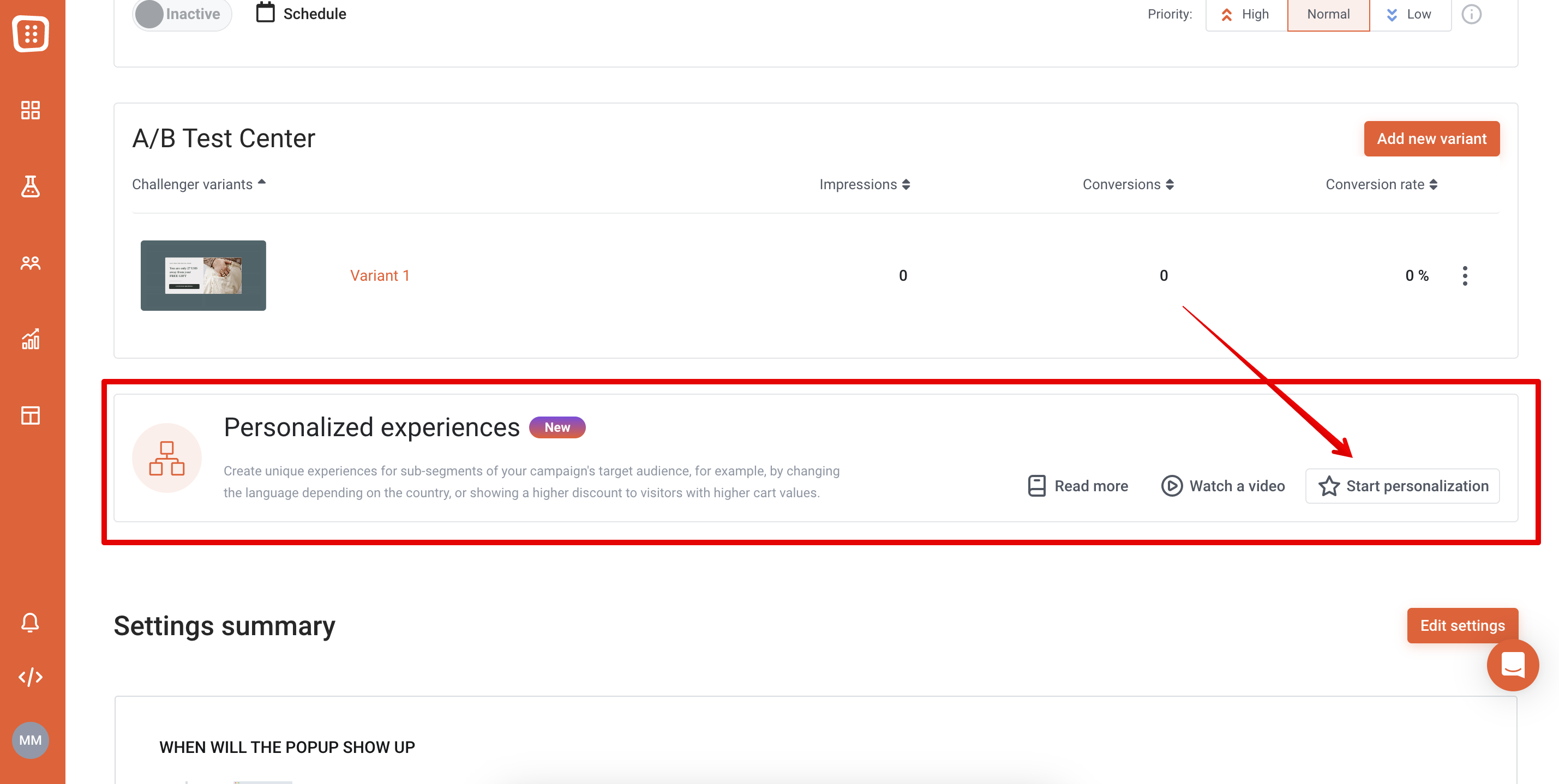 5) You will find yourself in our experience editor. To personalize each experience, you have two input options: the variant of the campaign that your visitors should see, and the rules that define the specific micro-segment that you want to show this experience to. To create your first experience, click on Add Variant and add your first personalized variant.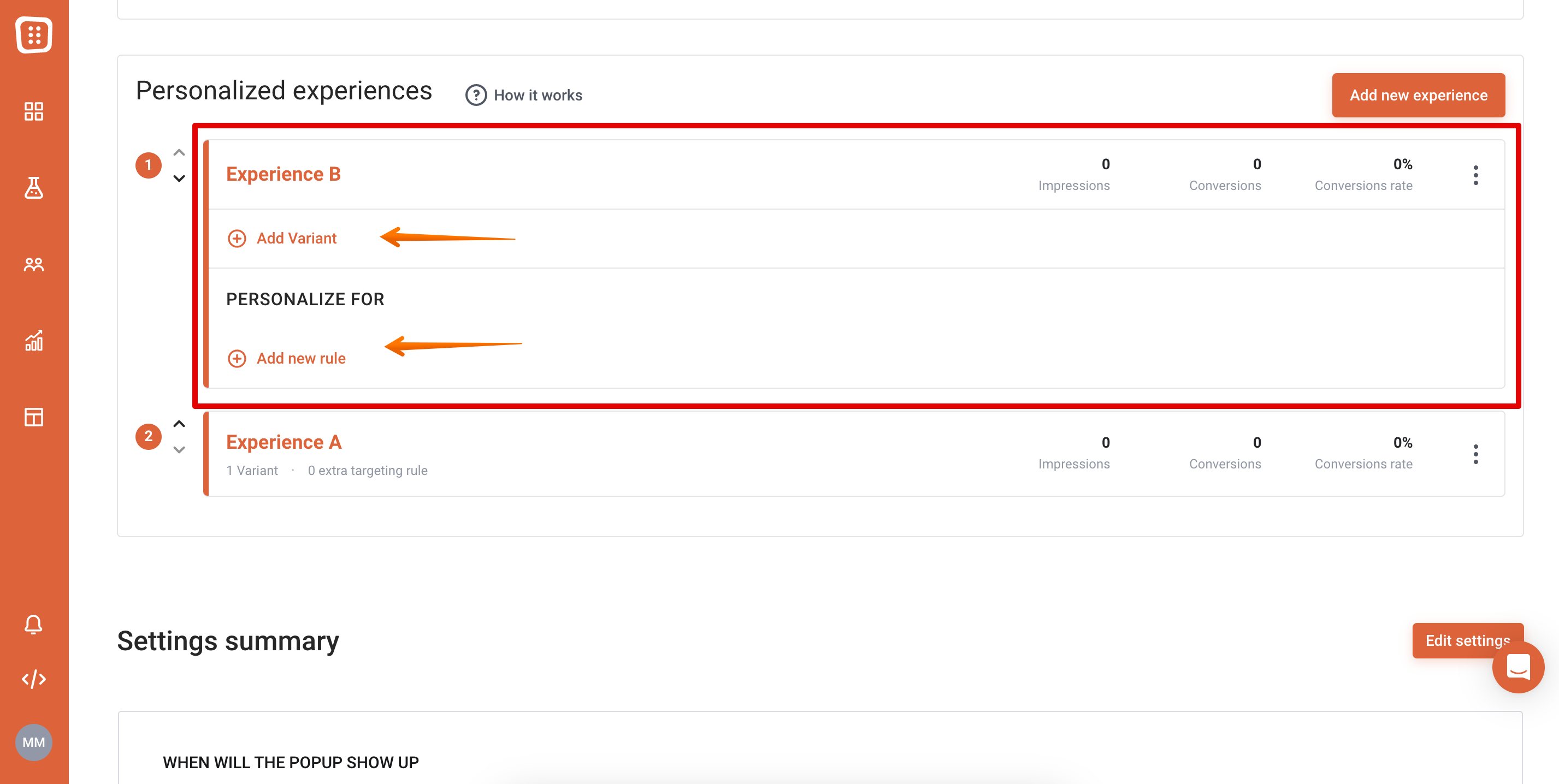 6) The first time you add a new Variant, it'll be a duplicate of your original Variant that you can edit to your liking. For instance, change the text on the popup to a different language.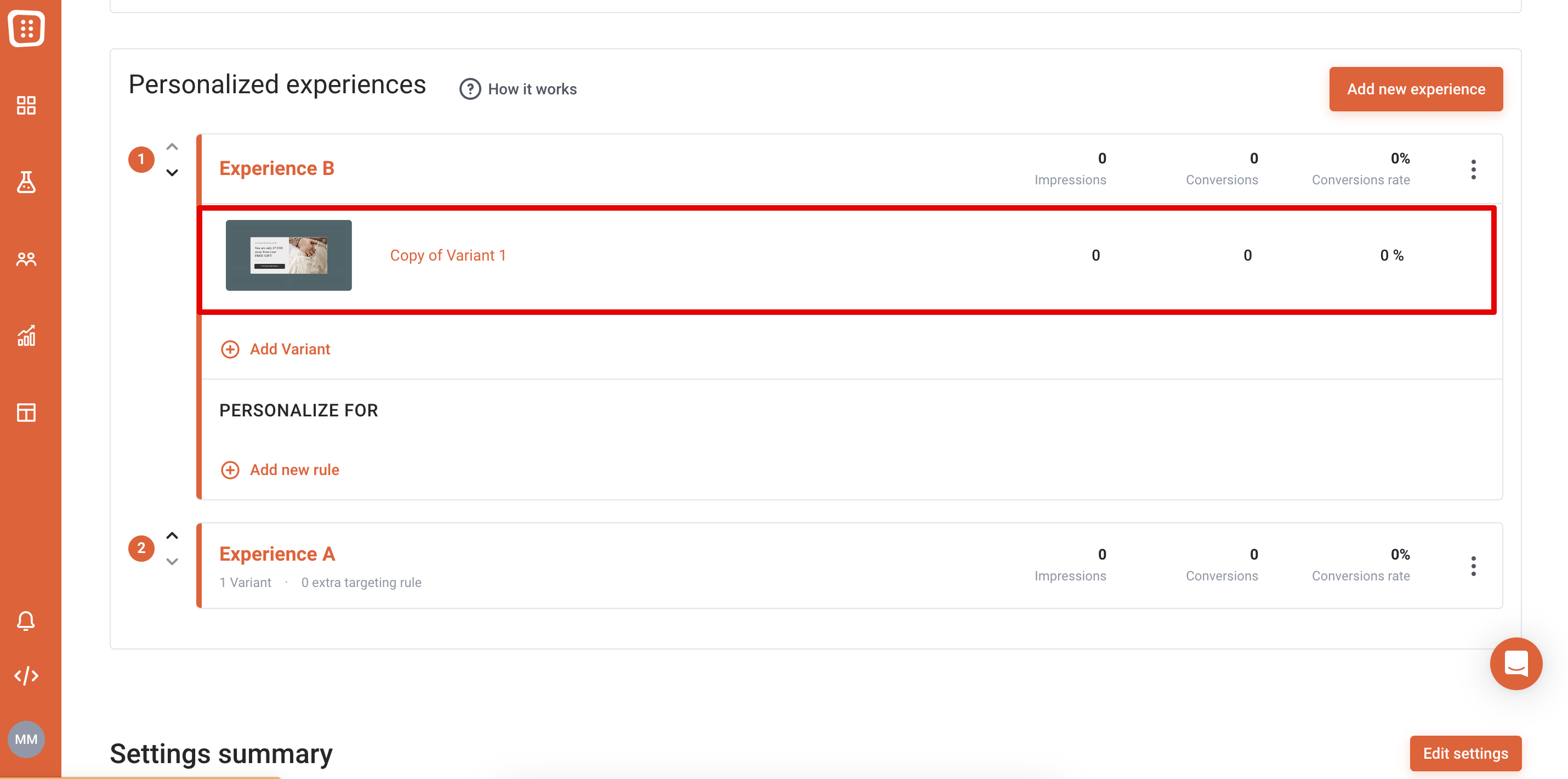 7) We recommend renaming both these variants and experiences to help them identify later. To rename an experience, click on the three dots on the right and select Rename from the dropdown.
8) Repeat the same process for the experience.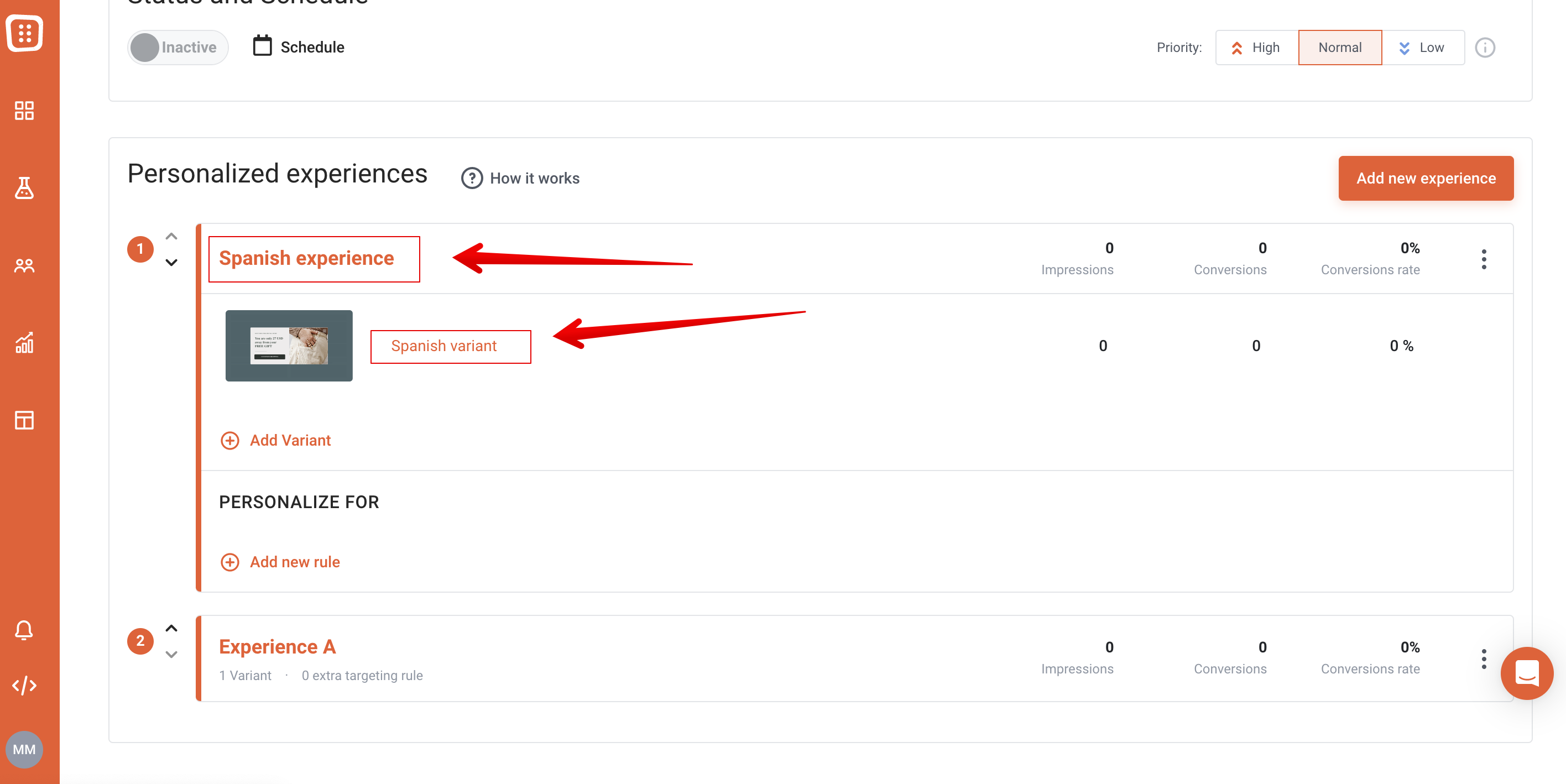 9) Next, add the targeting rules that will define the experience by clicking on Add new rule under Personalize for.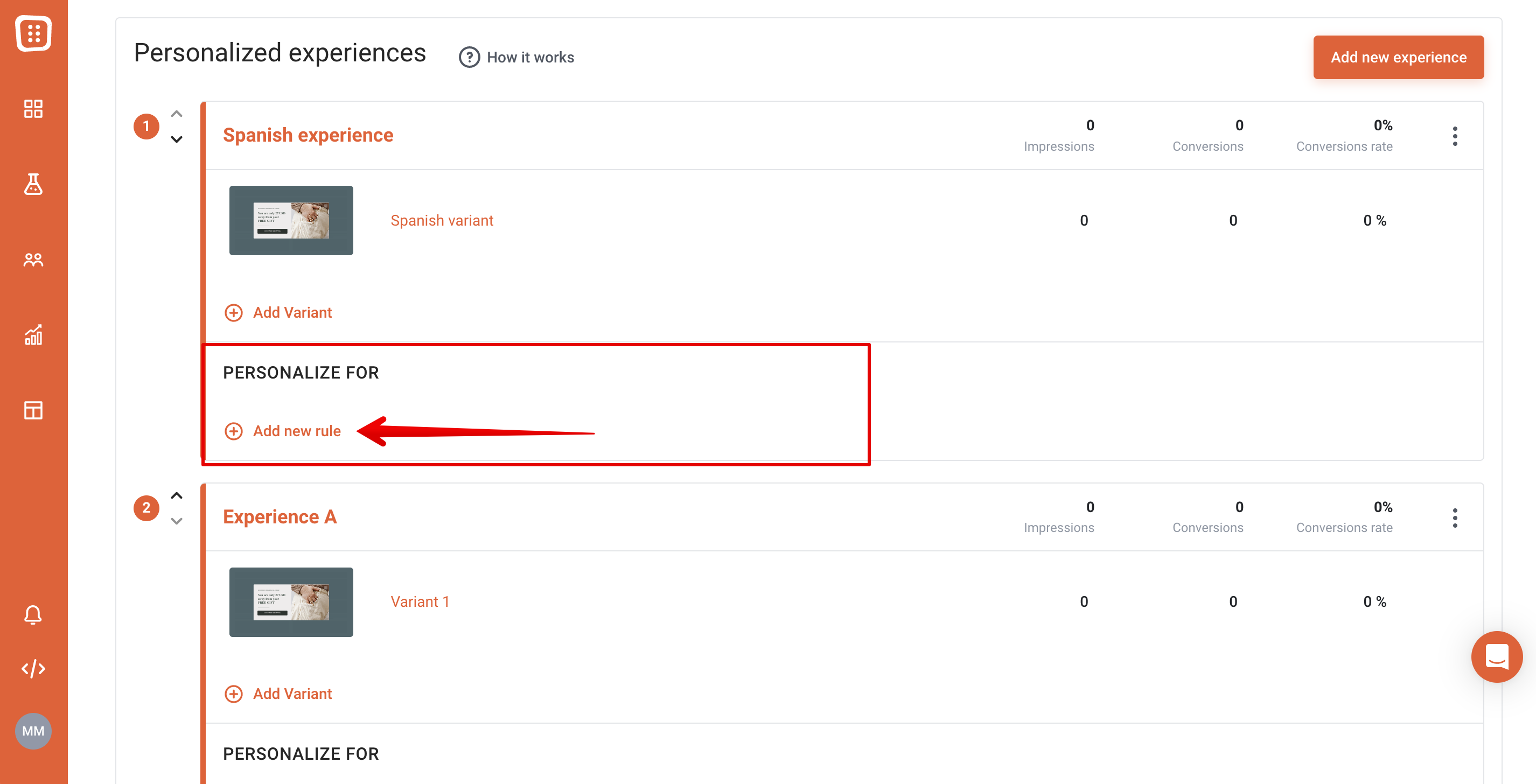 10) From the list, select the targeting rule that best describes the microsegment you'd like the experience shown to. In case of a language variant we have here, you might want to choose the Country rule, Browser language based on Other Visitor Attributes or pick the URL rule if your website has a Spanish language version /es/.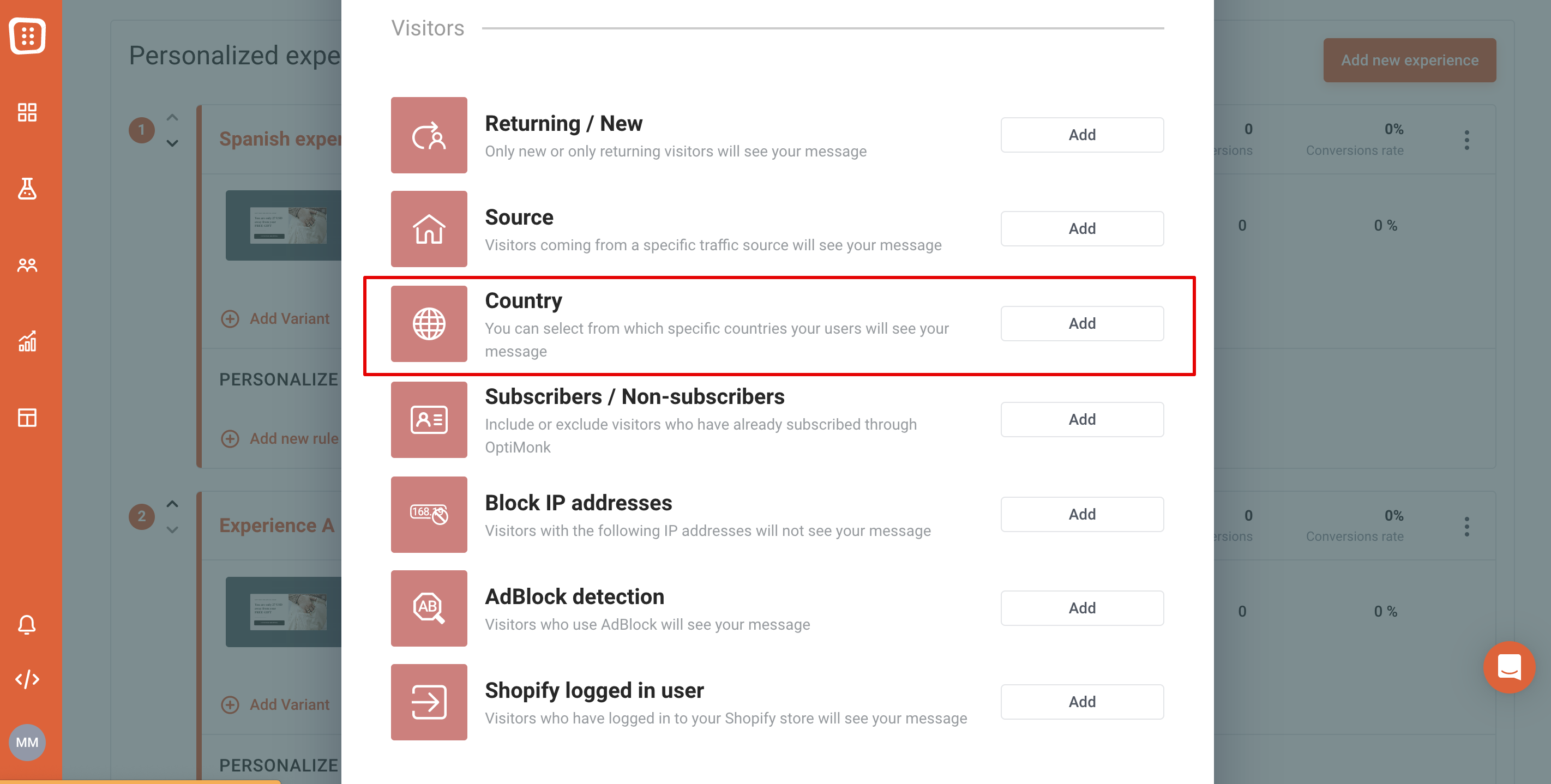 11) Next, add all the countries, you'd like to personalize for.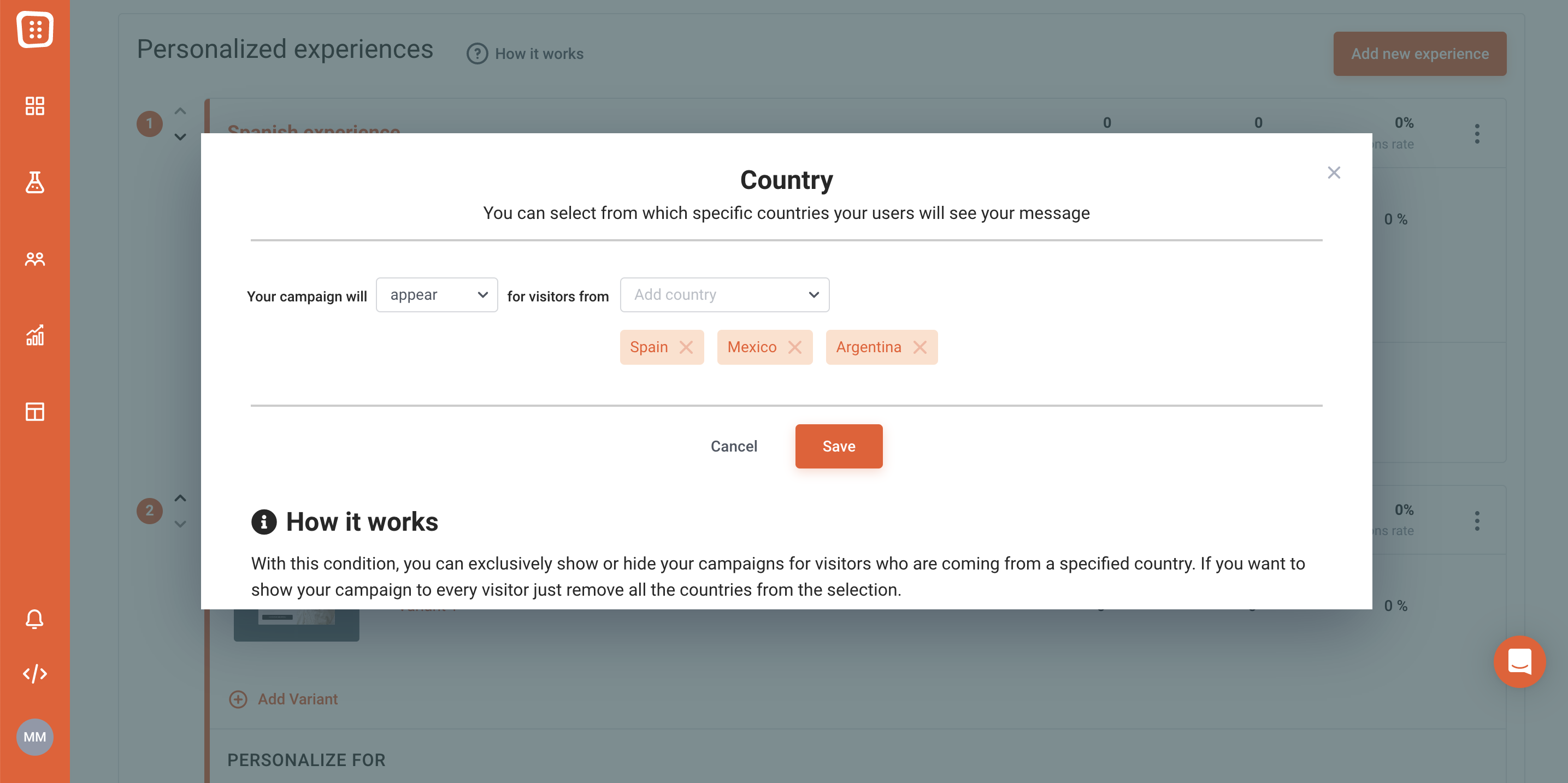 12) Repeat the same process to create as many experiences as you'd like. Under each experience you'll see how many variants and targeting rules you've added.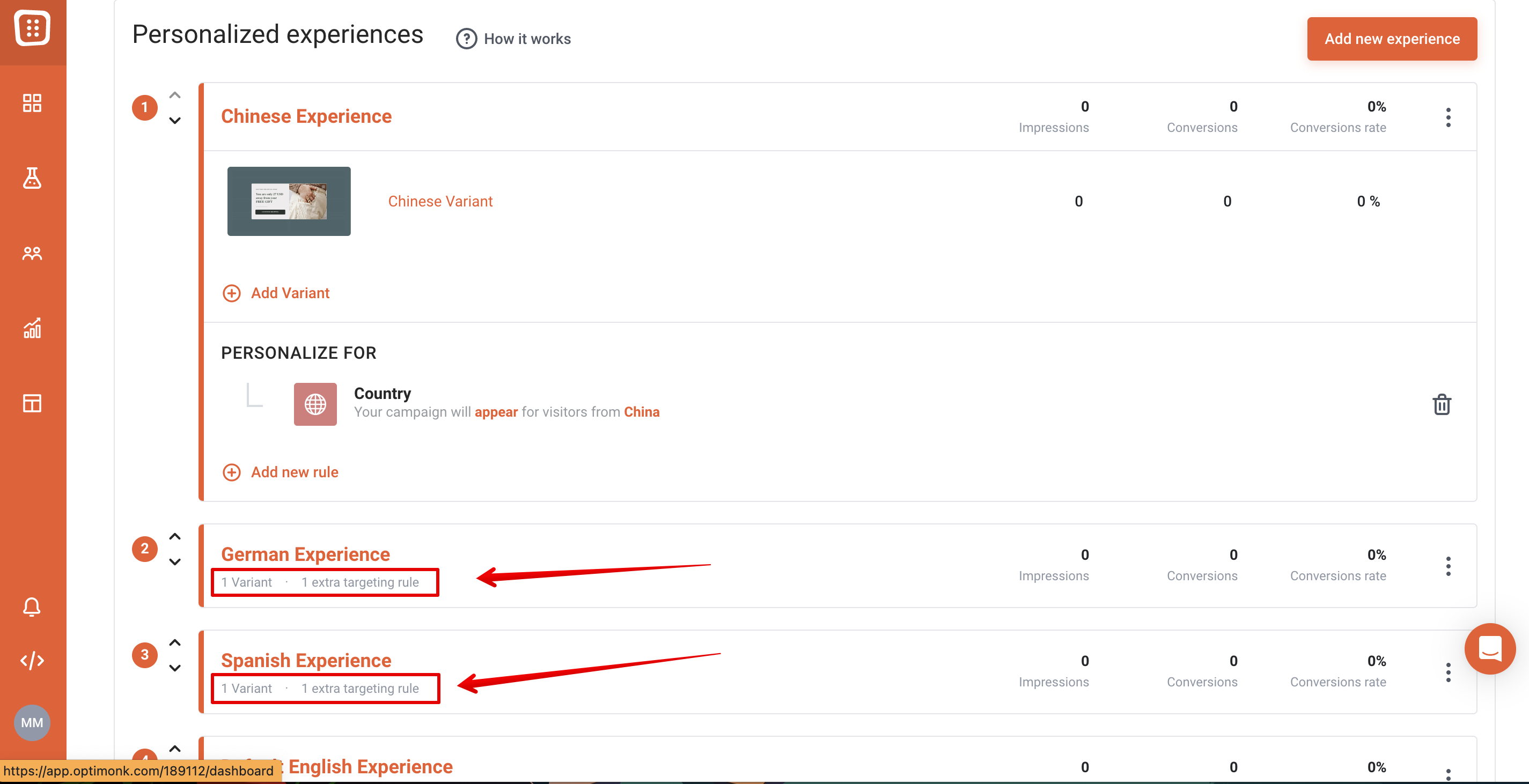 13) Adjust the hierarchy / order or experiences in which you'd like them to appear for visitor by moving them up or down with the arrows beside the experience.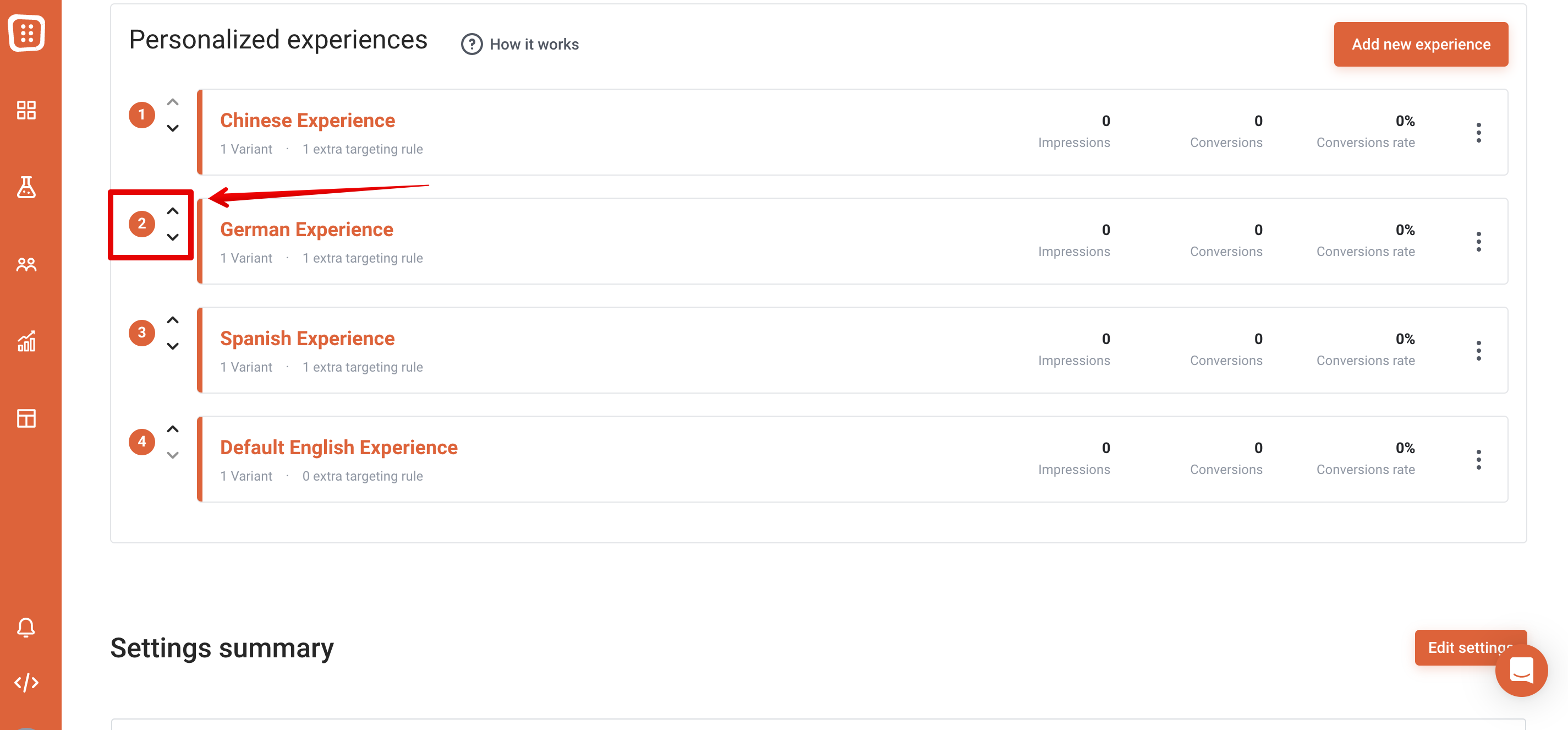 14) Once you have finished editing your experiences, scroll down to the Settings summary. Here, you will find the triggering and targeting rules that will be applied to all experiences. If you want your campaign to only show on a specific page or to visitors who have previously visited a certain page regardless of the language variant, you can add that rule here.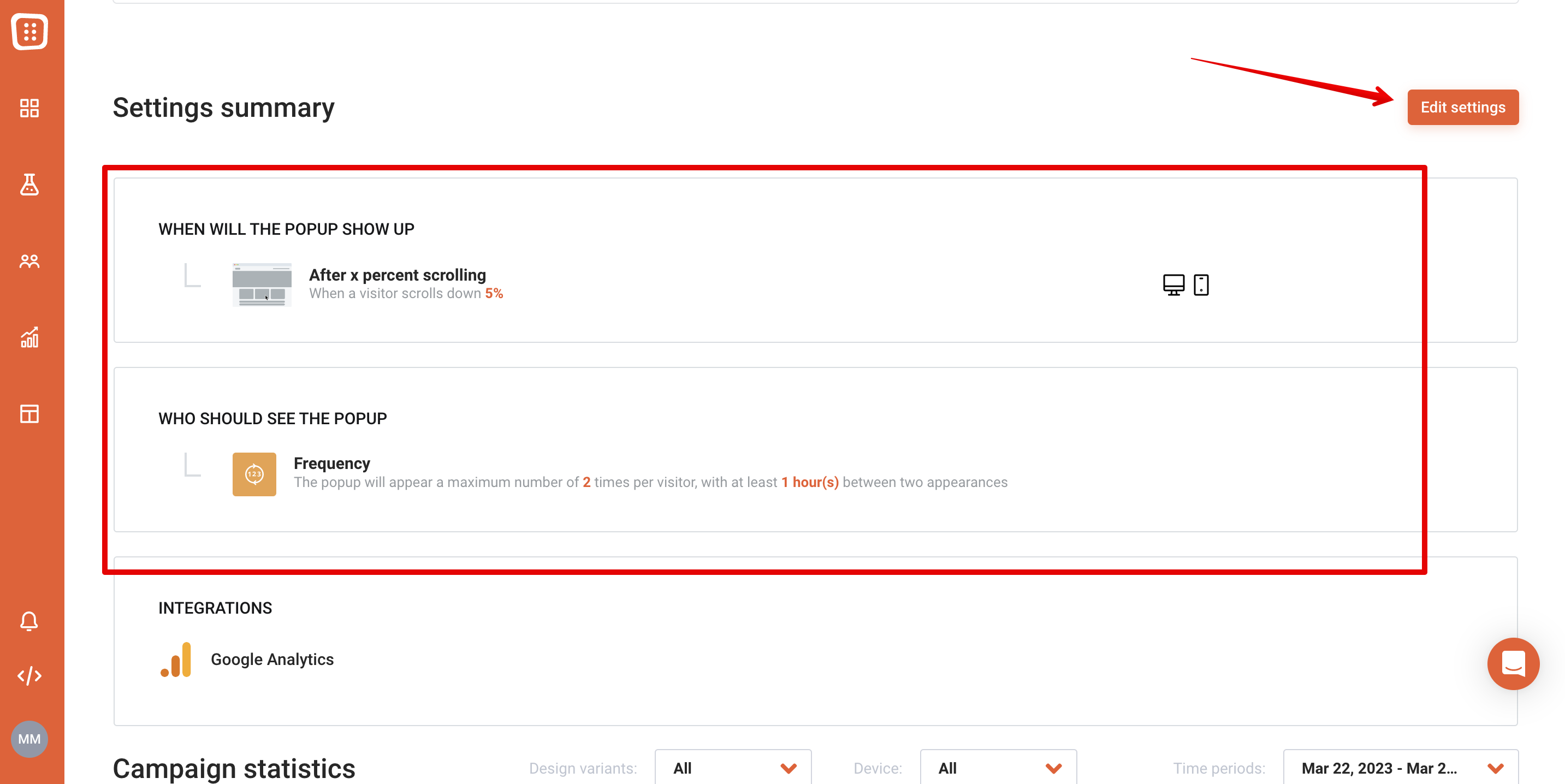 15) After clicking on Edit setting, we added a Returning visitor rule as an example because we only want to display the special offer to visitors who have already been on the site. Once, you're done, click on Next.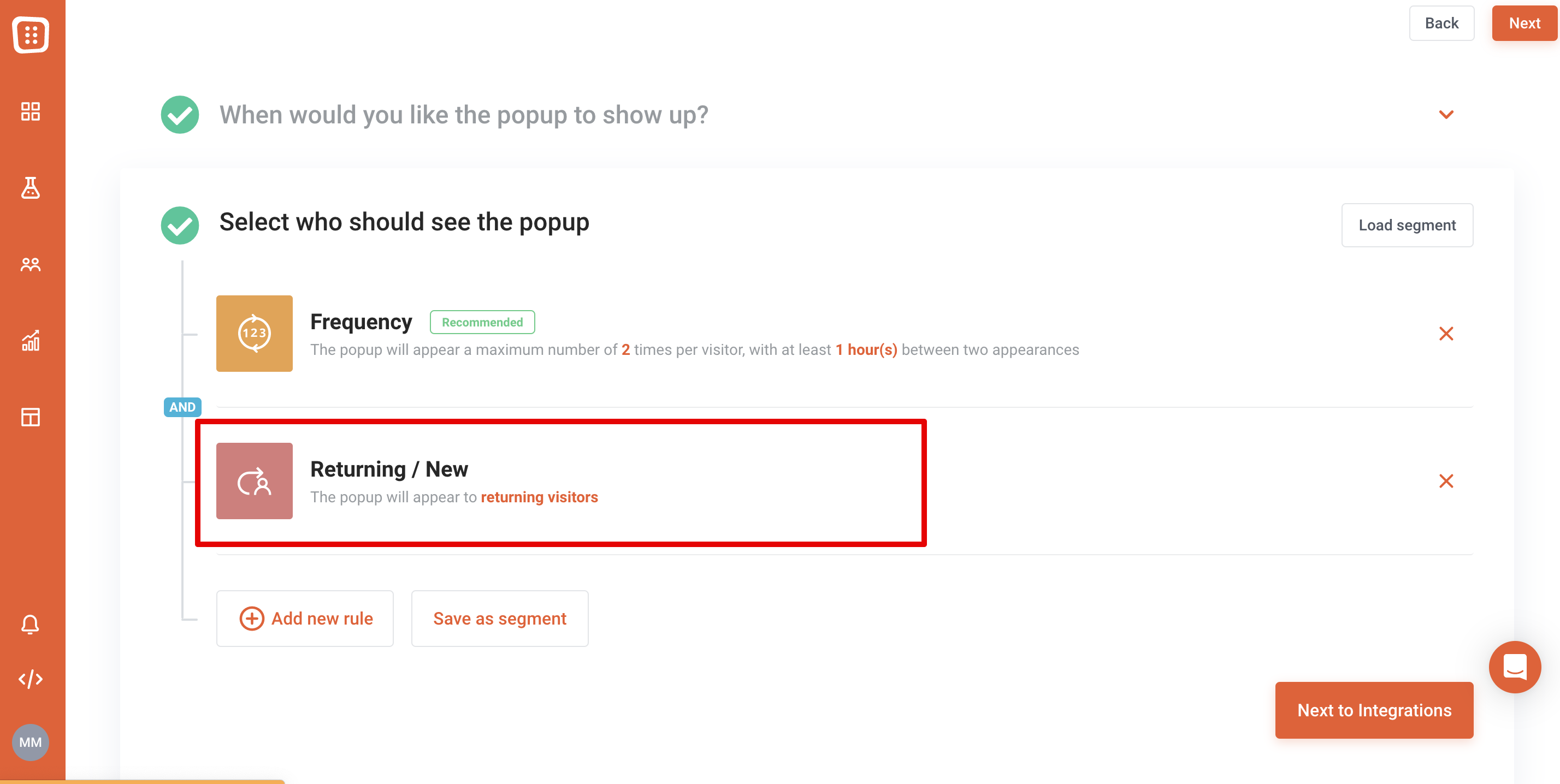 16) To activate your experience campaign, set the Status toggle Active.
You can track results broken down to experiences beside each experience, while the campaign list page will show you aggregate data reflecting the performance of all experiences.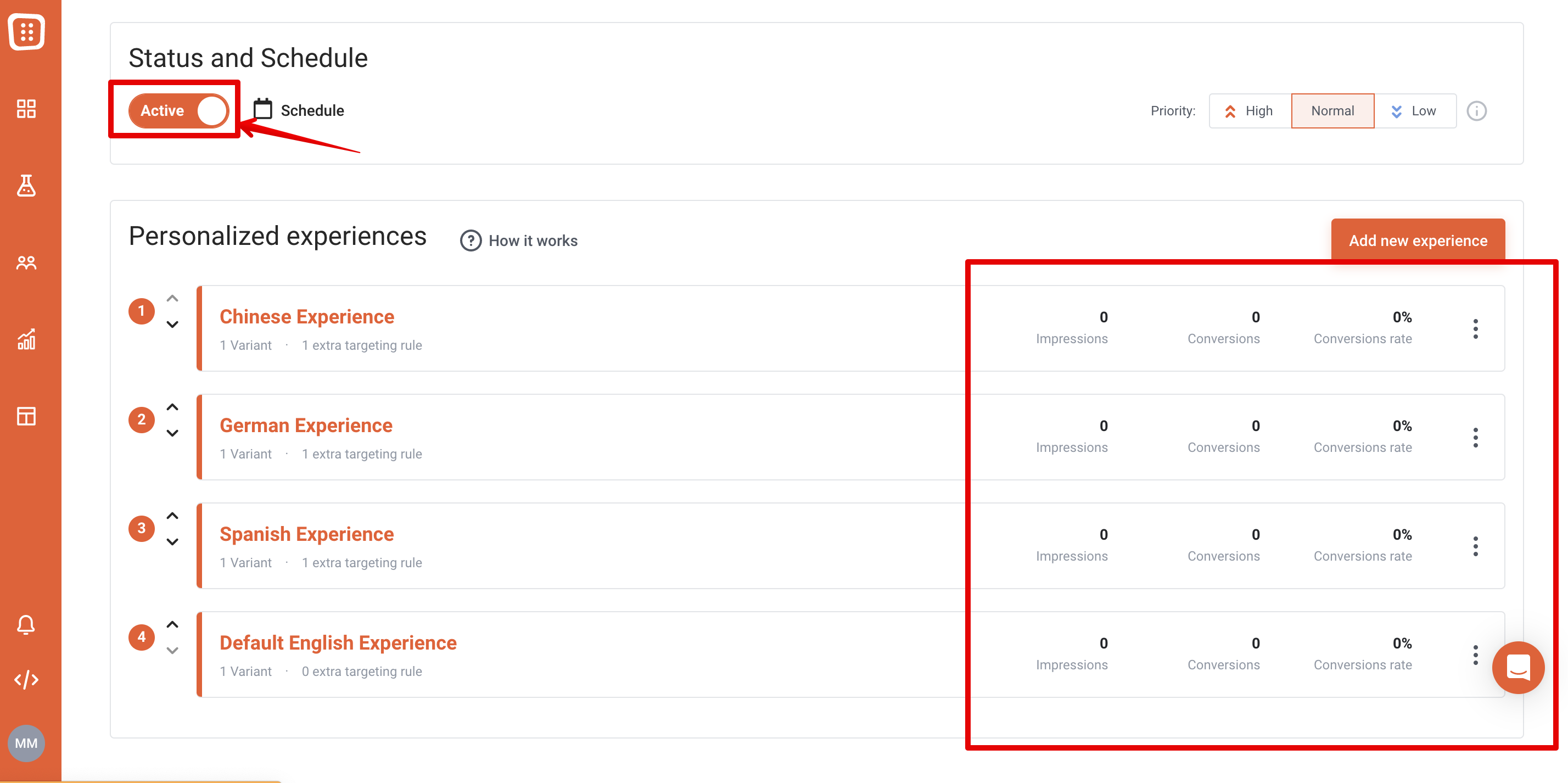 Hierarchy of experiences: How to create a fallback version
Hierarchy of experiences
On the left-hand side, you will see a number next to each experience. These numbers define the hierarchy of experiences, i.e., the order in which OptiMonk will try to match your visitors. If a visitor matches the rules defined in the first experience, they will be shown experience #1. If there is no match, OptiMonk will try to match them with the next set of rules. If OptiMonk fails to match all experience versions, your visitors will be shown the default/last version among your experiences.
Changing the hierarchy of experiences
To change the order or hierarchy of experiences, simply click on the arrows beside the numbers and move an experience up or down based on your preferences.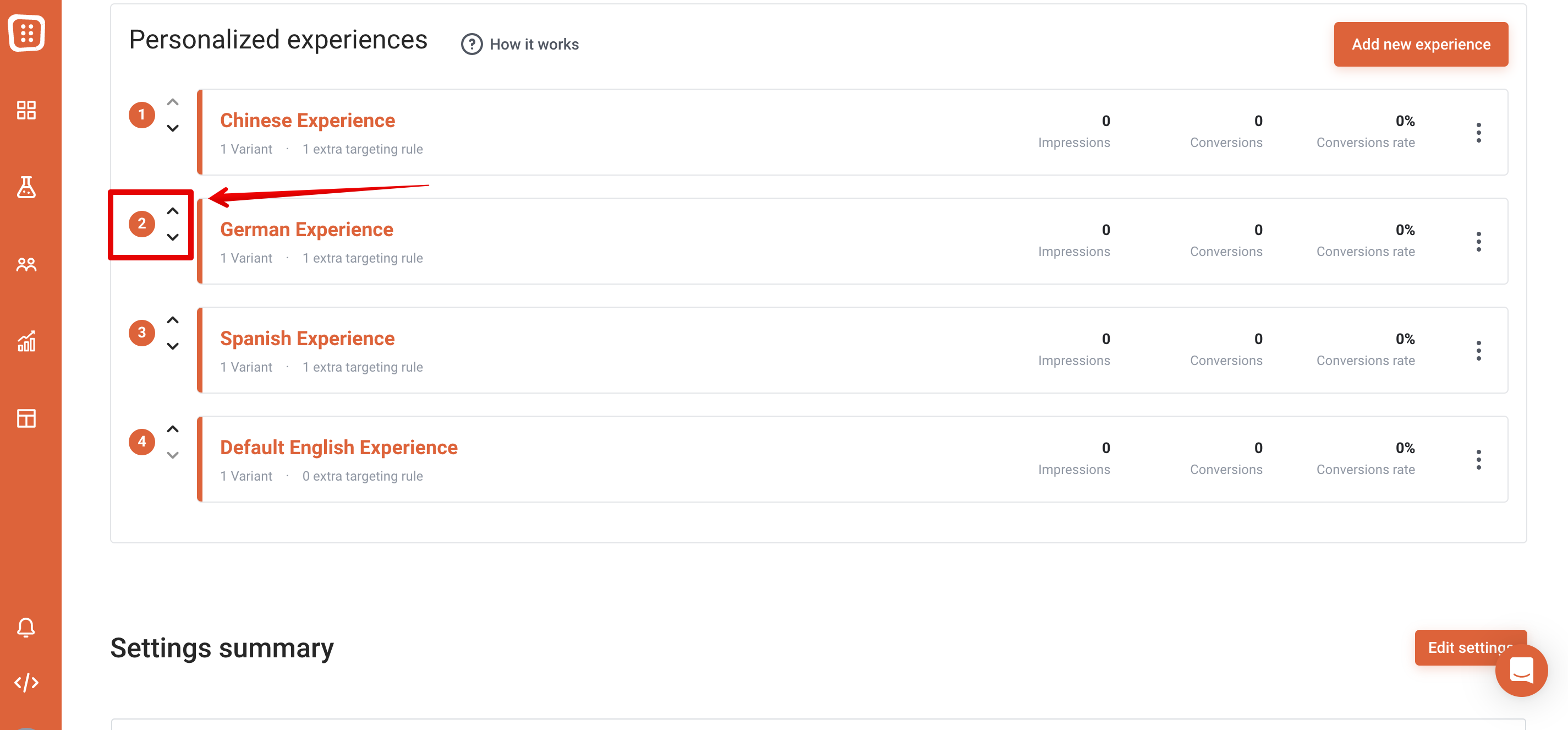 Default experience
We recommend creating a default experience without specific targeting rules as the final experience. This will be shown to all visitors who did not match any previously defined experiences.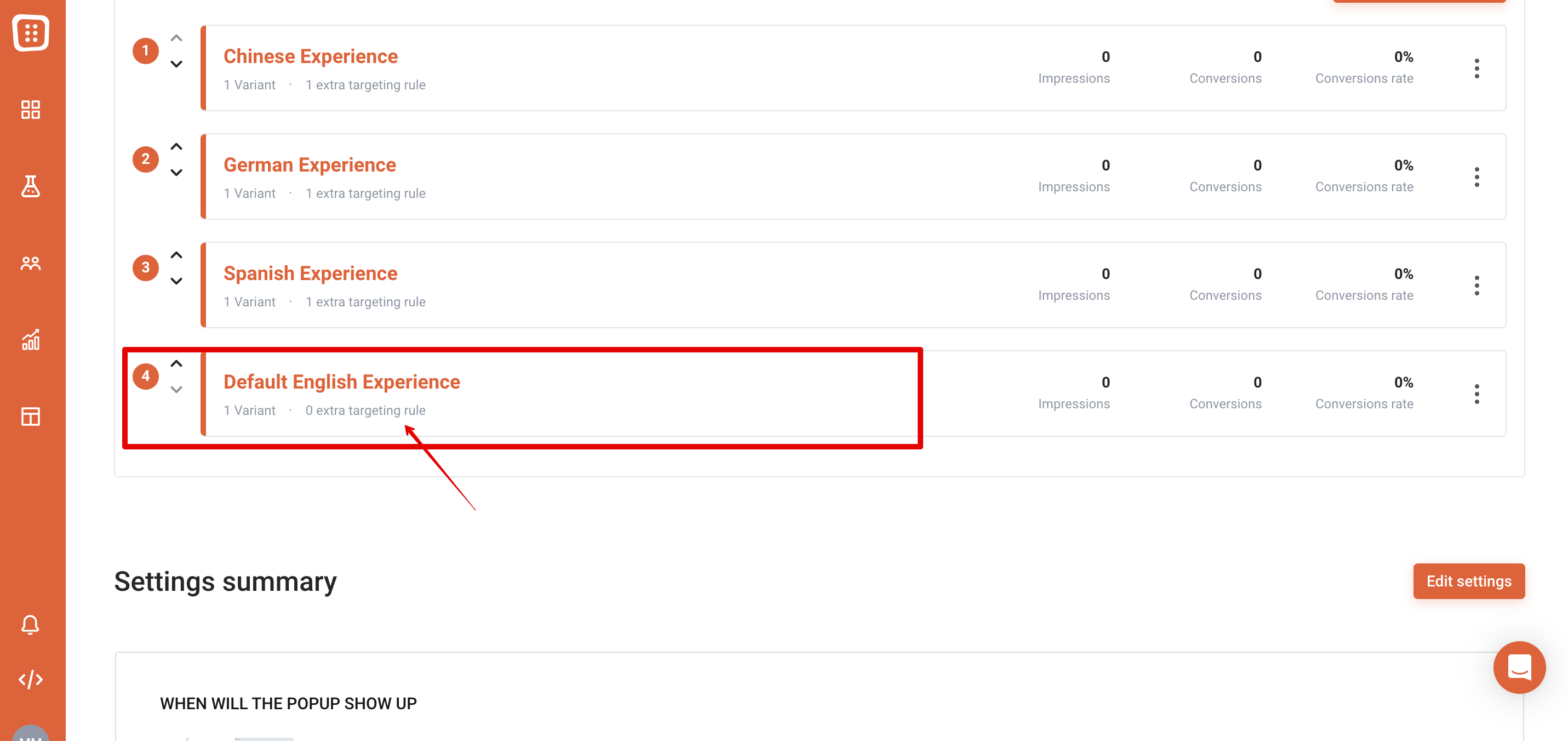 Curious about what experiences will enable you to do? Here are some examples: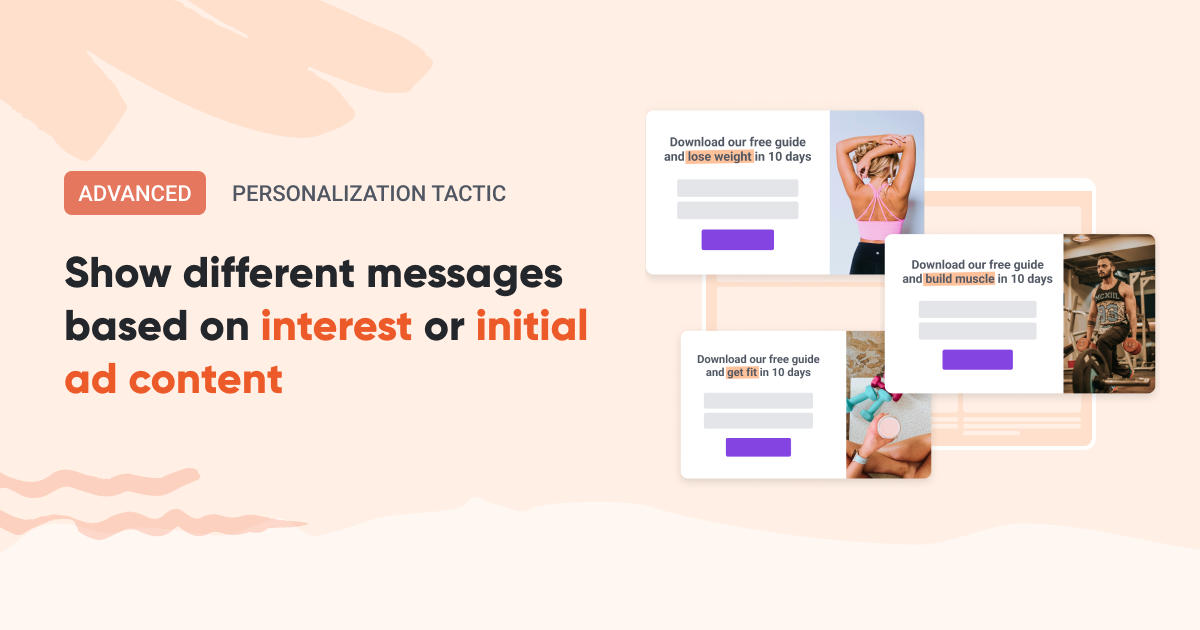 Step by step guide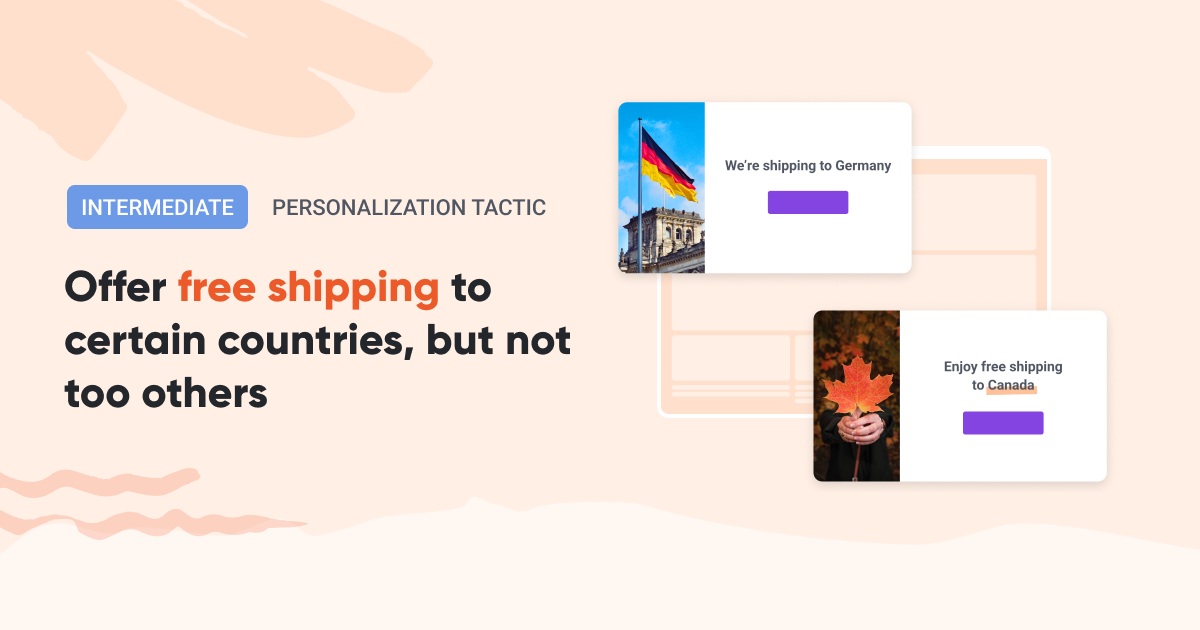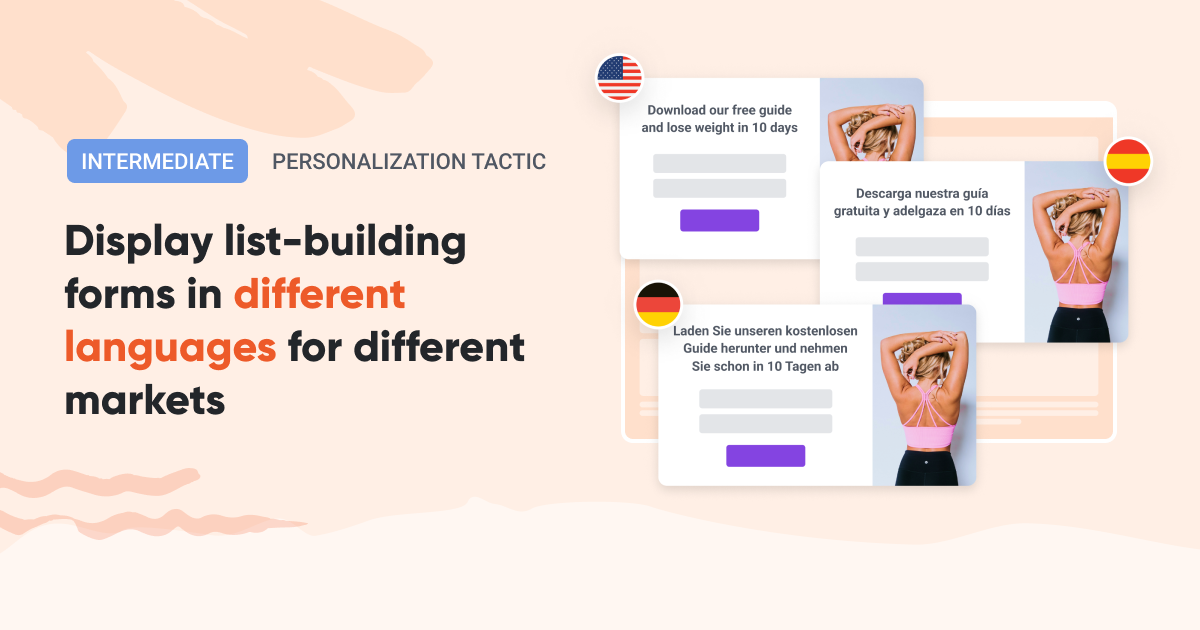 What to keep in mind regarding experiences
☝ In experience targeting, some targeting rules apply only at the next pageview, including the
Spent on site rule,
Engaged with OptiMonk campaigns rule and
Cart rules,
meaning that the user will be shown the given experience variant at the next pageview.
That's it! If you have any further questions or need any help, just let us know at support@optimonk.com and we would be happy to assist you :)