Maximize your landing page's performance through strategic A/B tests on headlines, product descriptions, and calls-to-action. By testing landing pages, popups, or complete multi-step journeys against each other, A/B testing is the ultimate strategy to boost your homepage conversion rates.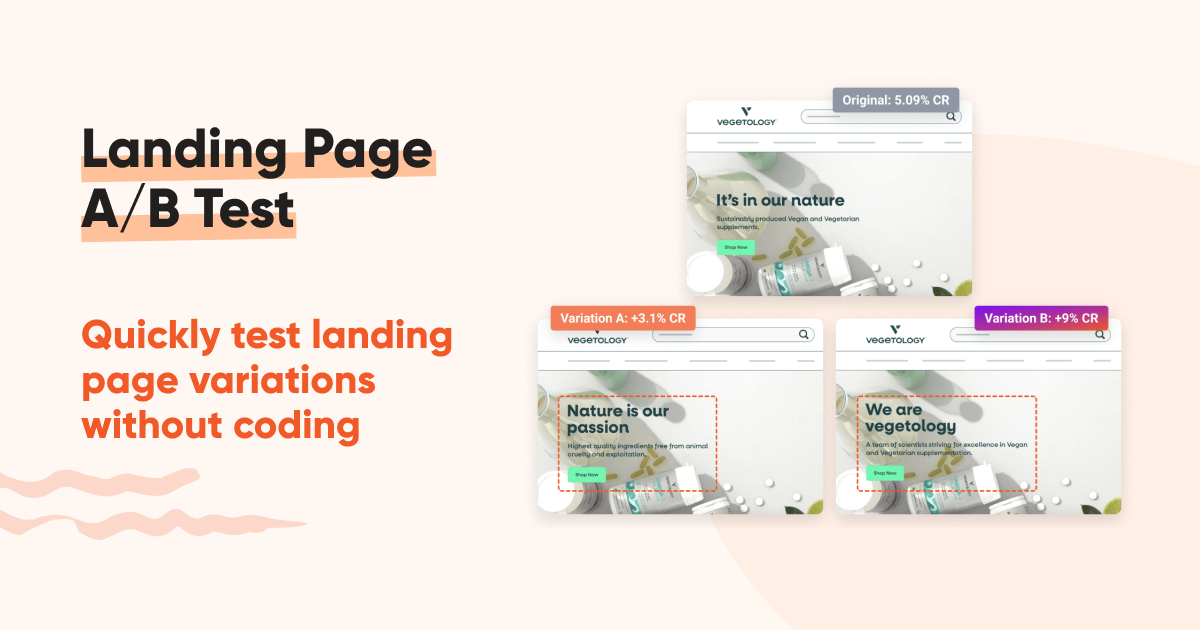 In this article you'll learn about:
What is Landing Page A/B Testing?
Struggling with low conversion rates? Unsure about the perfect headline that will resonate with your target audience?
If you wish to optimize a single-page element, such as headlines, product descriptions, or calls-to-action, running A/B tests is the way to go.
With Optimonk's Landing Page A/B Testing, you can hide or test different versions of any textual component without involving developers, including:
Headlines
Subheadlines
Product descriptions
Social proof
CTA buttons
Must-try tactic with Landing Page A/B Tests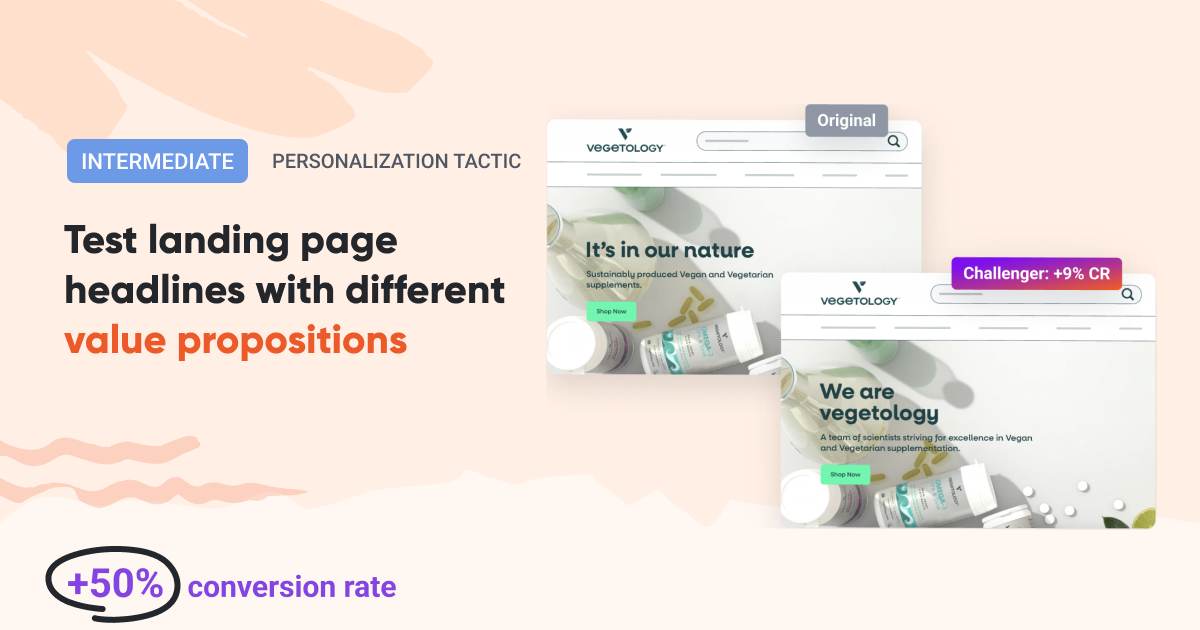 How to set up a Landing Page A/B Tests
1) First, log in to your OptiMonk account at https://app.optimonk.com/login/en
2) Once logged in, click on New campaign on the right.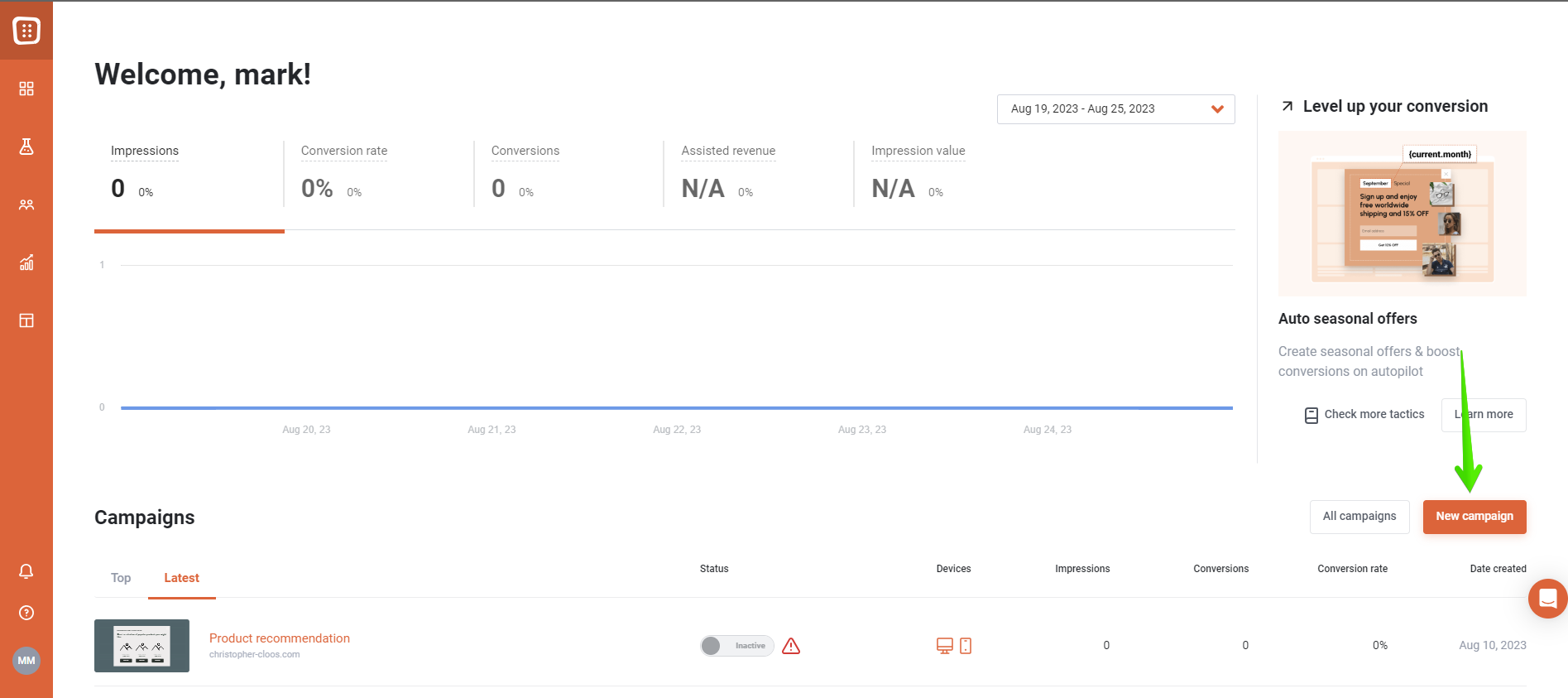 3) When selecting a template, choose "Page A/B Test" as your message type.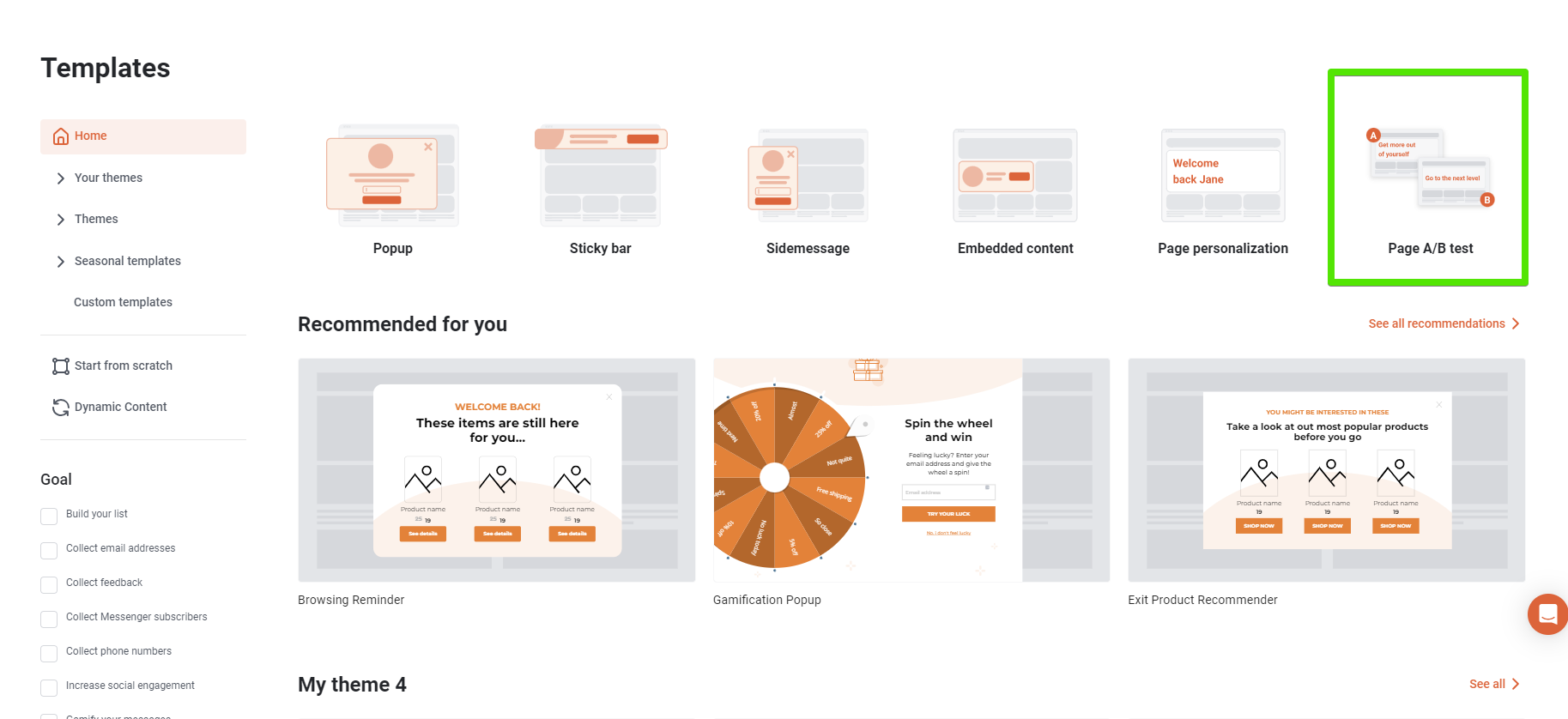 4) Select the domain or an exact URL on which you would like to make the changes and click on Next.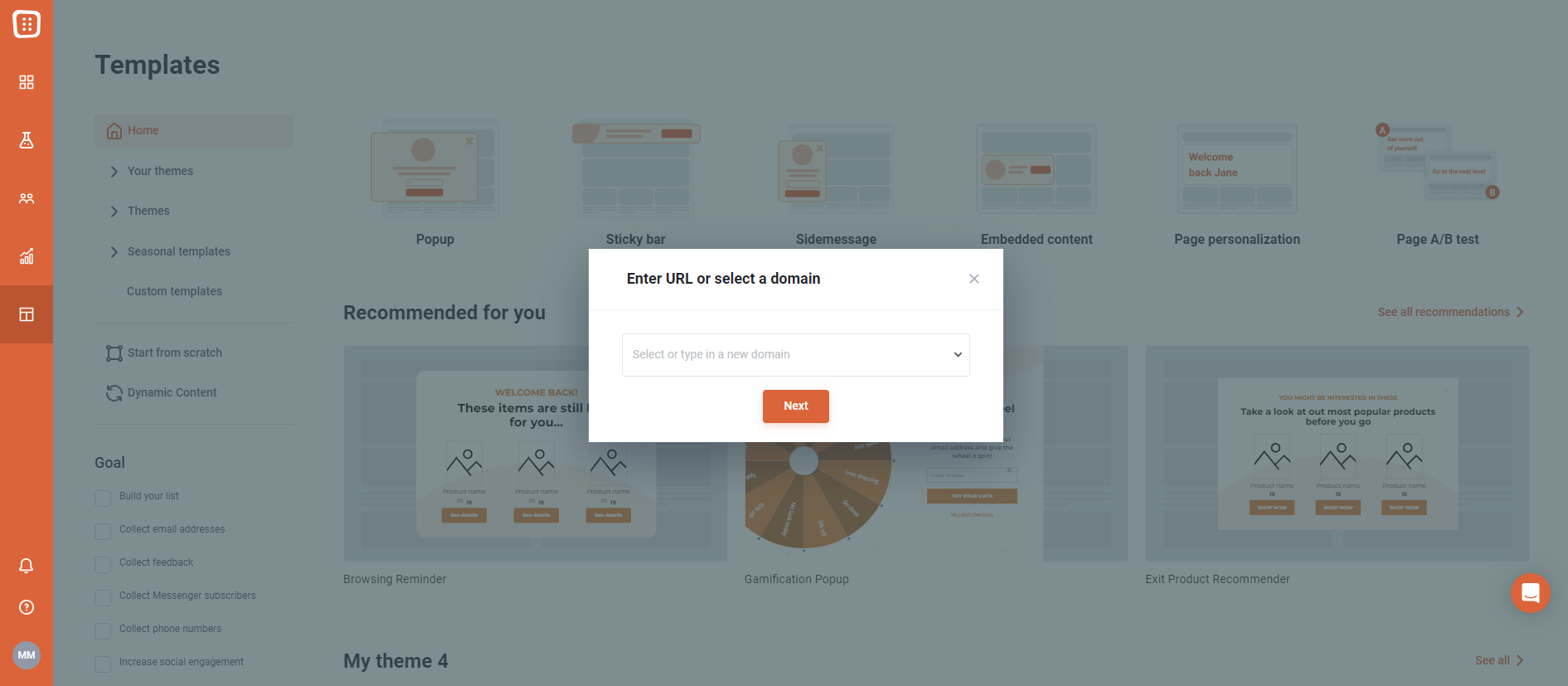 5) Once you click on Next, your page will be opened up in our visual editor.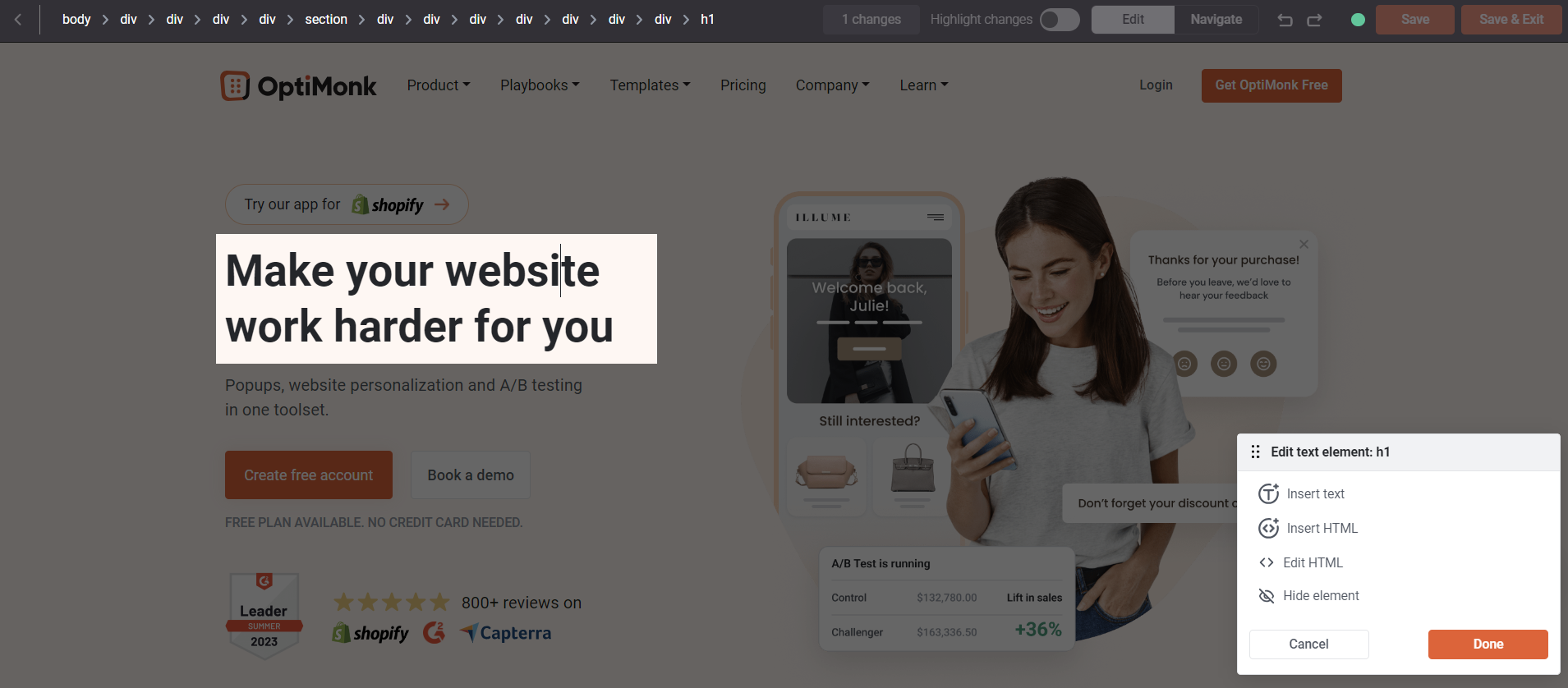 6) Create a different variant of the selected element. For example, add another headline variant like in this example, insert a new text element - for instance extra social proof -, edit an HTML element, or hide a page element such as a button. Once you're done with making the changes you want, you can review them under 'Changes' in the top toolbar.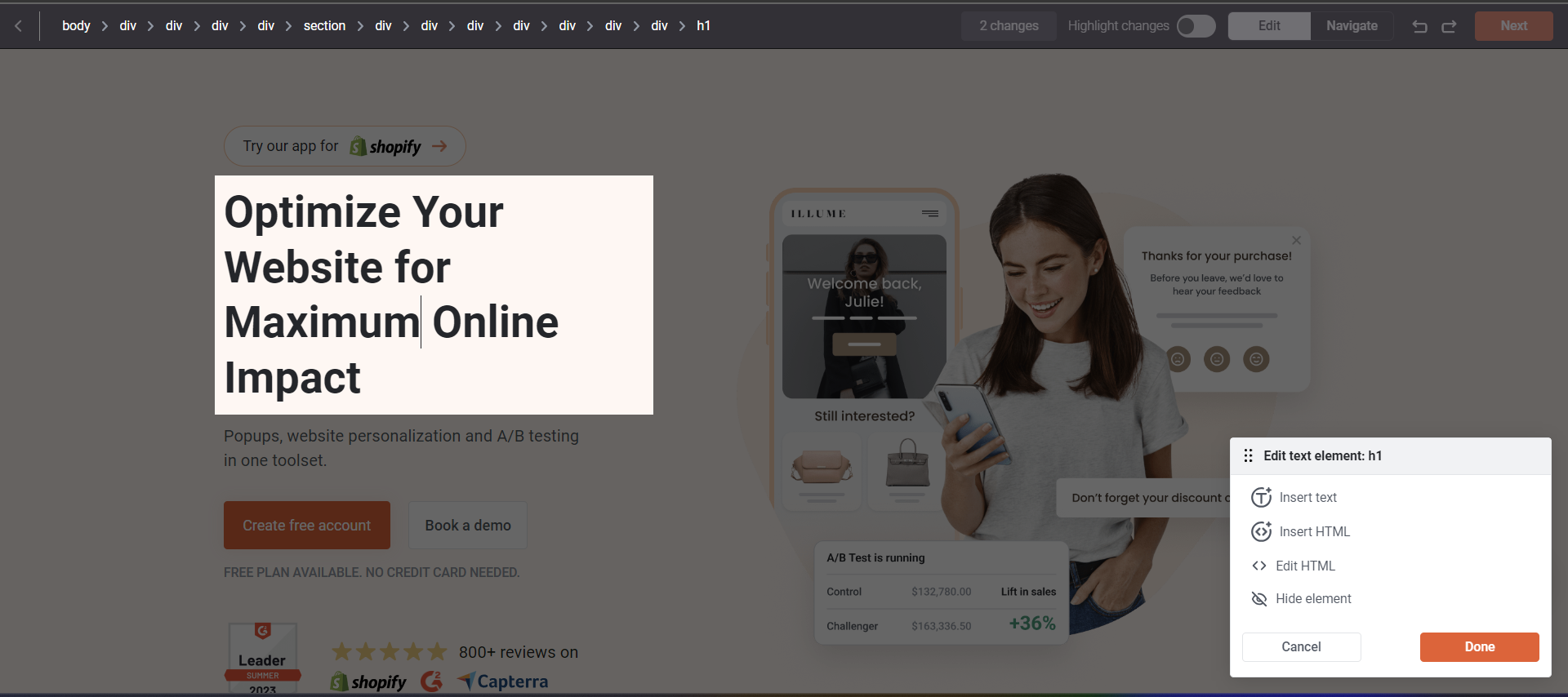 To learn more about how the Visual Editor works, check out this article.
6) After you've created your campaign, the next step is to set up the targeting rules. You can select the targeting rules the same way as you would in the case of any OptiMonk campaign like a popup or Embedded campaign. In this example, we want to test the headline of the home page only, so this is what we selected as a URL rule.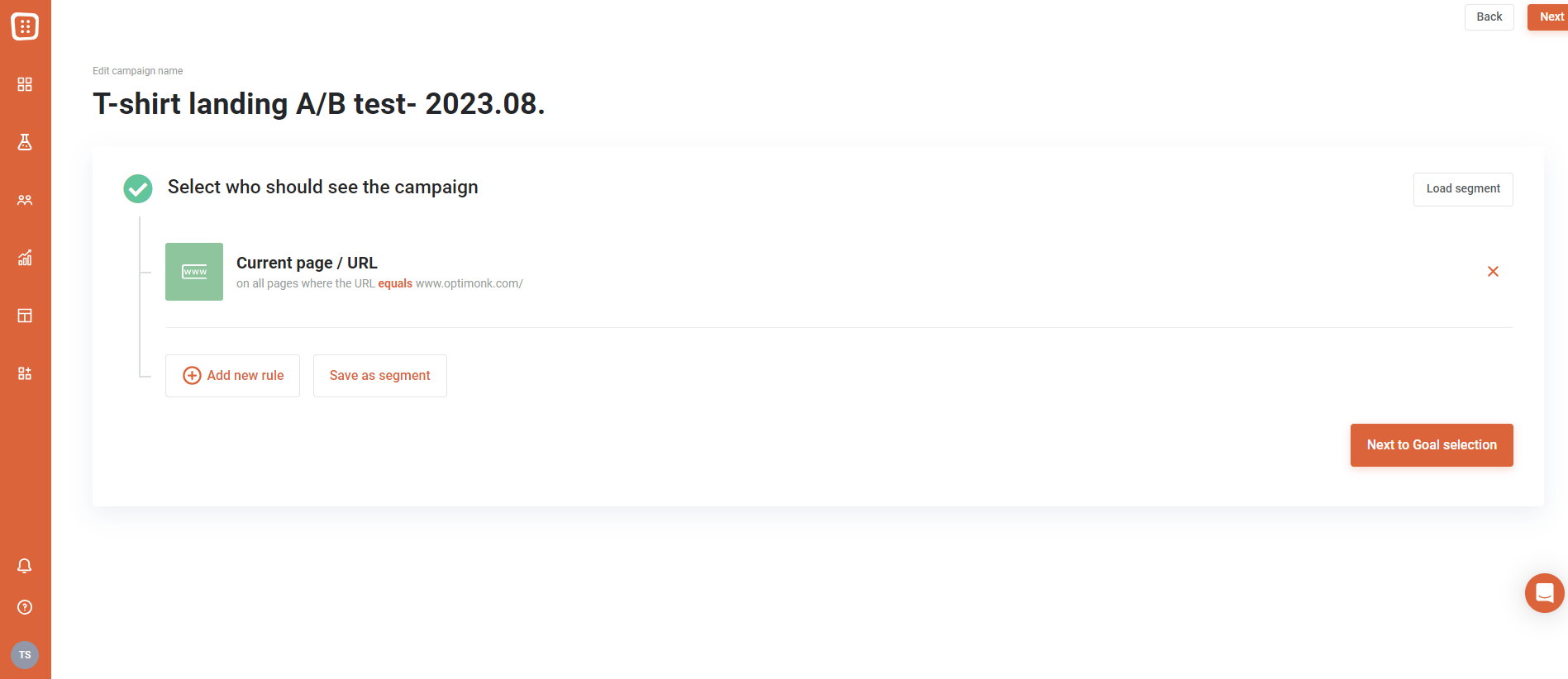 7) If you've selected all the targeting rules, you need, you can select or set up a Conversion Goal that will help you track the performance of your A/B test along with your business goals.

For example, "Add to Cart" or "Purchase" conversion events can be a great option for testing any element of your product pages. Also, for a Thank you page, you can track the "Page View" event based on your landing page's URL as a conversion event.
8) After selecting your Conversion Goal, the next step is to add more variants to your A/B test.
9) A Control Variant will be automatically activated.
The Control Variant refers to the original version of your website where no changes or campaigns are implemented. It serves as the baseline for comparison in your website test results. Read this article about Control Variant in A/B testing.
In case you do not wish to test your campaign against the original version of a page, you can inactivate or delete the Control Variant.

10) Click on Add A/B test variant to create a new variant you can test against the already-existing one.

11) Choose whether you would like to create a brand new variant, copy your previous one, or add a Control variant.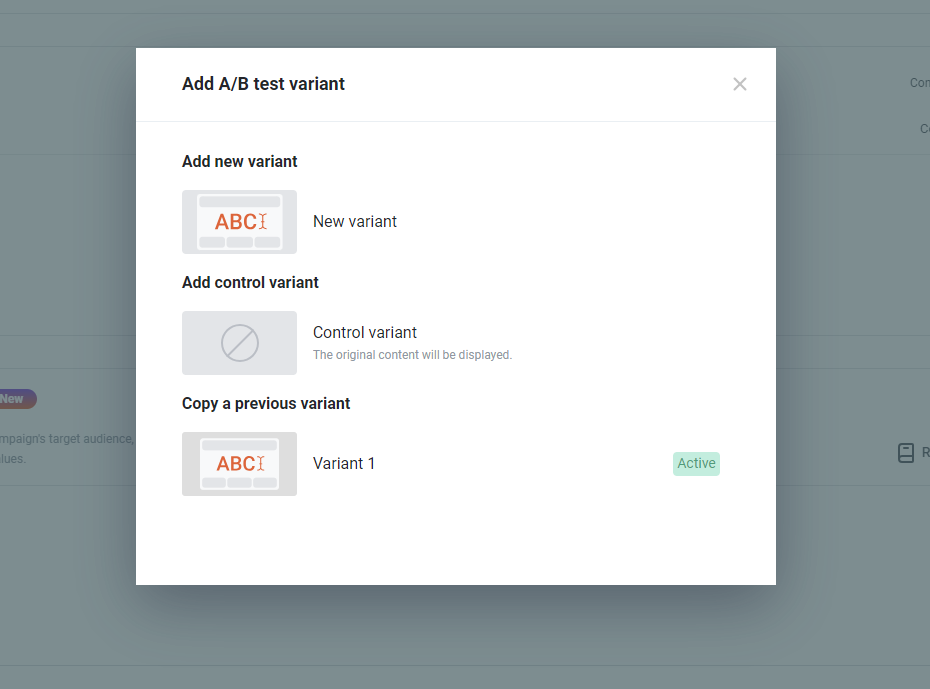 12) If you selected the Control Variant, you must activate it to run your A/B Test.

13) If you've decided to duplicate your previous variant, you'll find the duplicated version on the Campaign Details page. Click on the duplicated variant to make any necessary changes to the campaign, and then simply activate your new version.

14) If you've opted to create a new variant, you'll be automatically taken back to our Visual Editor. Create a different version of the selected element once again, and then activate it.
15) After setting up your variants, the only thing left is to start your A/B test.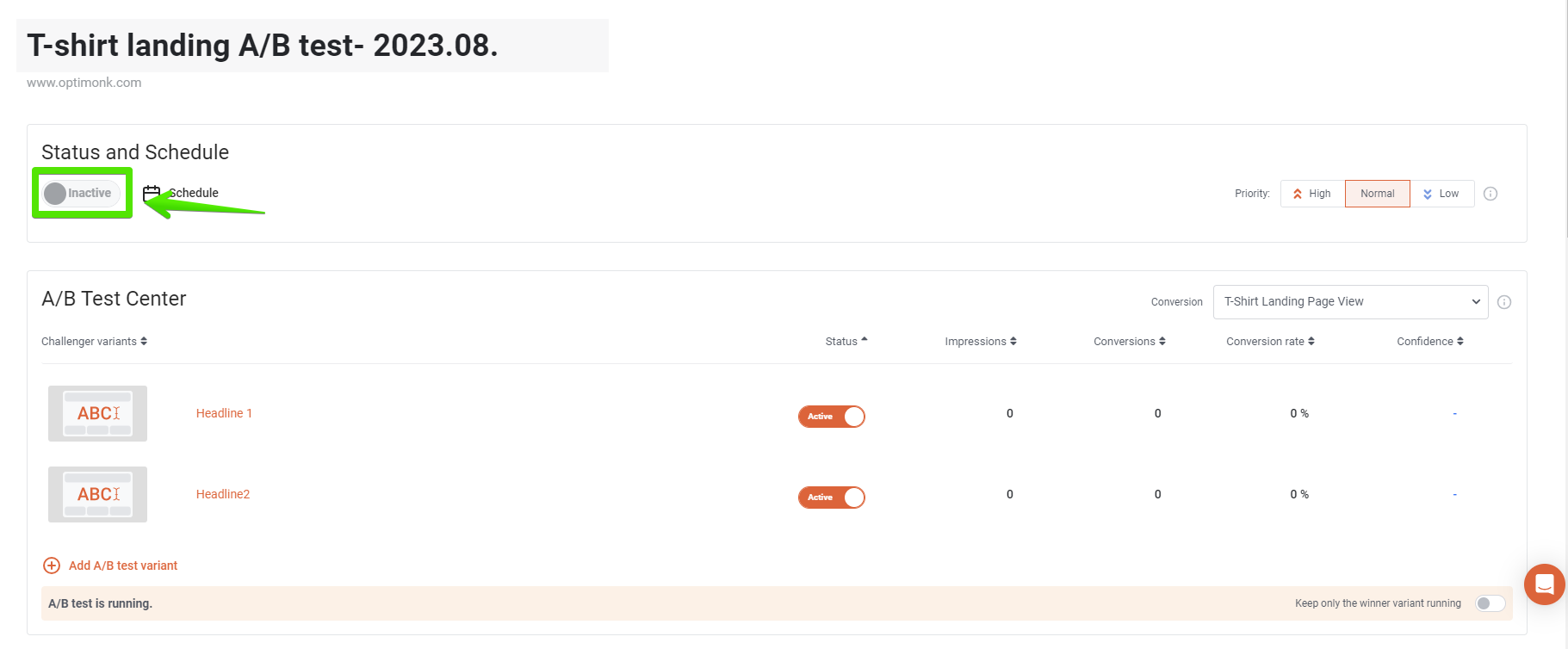 How to track Landing Page A/B Tests
Selecting the right Conversion Goal
To start, define what you want to achieve and pick a relevant Conversion Goal. For example, if you're comparing two product descriptions, measure which version drives more Purchases or Add to Cart actions. If you lack standard e-commerce events but have a Thank You page, consider the Page View Conversion Goal. You can select a fitting Conversion Goal after choosing targeting rules. This way, you'll establish a clear way to measure the success of your campaign.
A/B Testing against your original version with Control Variants
Our advanced A/B testing includes built-in Control Variants, allowing you to measure the impact of personalization against no personalization whatsoever.
For example, Control Variants allow you to compare your campaign against your original landing page, so you can test if Headline A is truly more effective than Headline B.
To learn more about how to set up a Control Variant in A/B tests, read this article.
Analyze your Landing Page A/B Tests in OptiMonk
If you wish to monitor the real-time progress of your A/B test, the simplest method is to navigate to the Campaign Detail page for the specific campaign. This will display your campaign-level performance.

However, for Shopify store owners, there is an additional option available. They can directly monitor their performance using OptiMonk Campaign Analytics. This feature offers an account-level overview of the performance of all OptiMonk campaigns while also providing further details on campaign-level performance.
Analyze your Landing Page A/B Test in Google Analytics 4
To better understand how your landing page tests are performing, you can use Google Analytics 4. This allows you to delve deeper beyond the campaign details page. By creating Custom Audiences for personalized variants, you can measure how well your different versions are doing.
Check out this guide for step-by-step instructions on using Google Analytics 4 to track campaign performance.
✉️ If you need any further help or have any questions, please let us know at support@optimonk.com, and we would be happy to assist you :)