What is the Teaser and what is it good for?
The Teaser is a complementary page for your campaign, which helps to grab visitors' attention before or after seeing your popup. If the teaser appears before the popup, it has a recommending and teasing function. If you choose the teaser to appear after the popup is closed, it serves as a reminder for your campaign.
To edit the Teaser page, log in to your OptiMonk account and start a new campaign by clicking on the "New campaign" button under the "Campaigns" menu. Choose the template you like, and after selecting it you will see the campaign editor.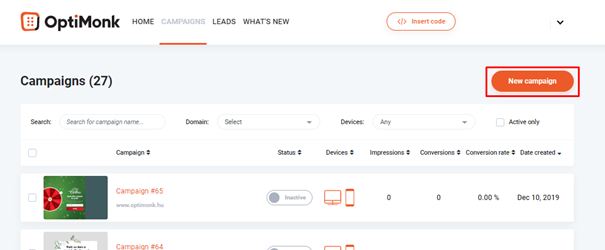 How do I set it up?
Most of the time you can see 3 pages in the campaign editor: Main page, Thank you page and Teaser. Click on the Teaser page!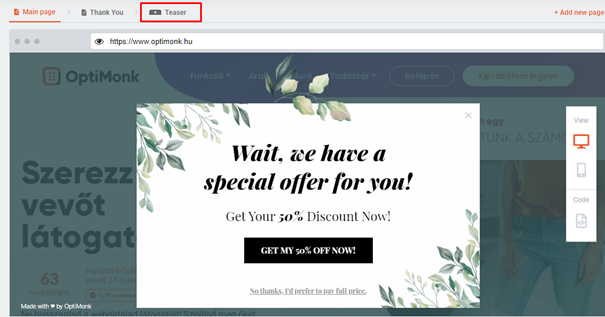 The teaser can be placed in the 4 corners of the screen with one of the 3 forms: corner, rectangle or circle. In addition to these basic settings, you can set the size there, and whether the teaser will show before the popup is displayed or after it is closed.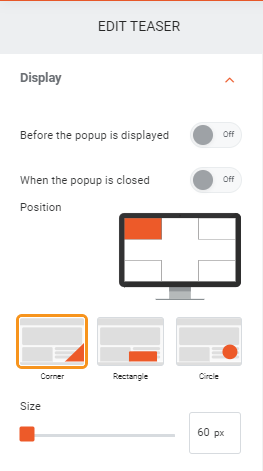 In this same editor bar, you can set up the background, the border, and the shadow options, or you can add some animations. To make this work, look for the "Animations" menu, where you will find the "Switch from campaign" drop-down menu. Select the "Animated" option, then choose one of the animation options in the "Attention seeker" drop-down. You can even set up the attention seeker frequency.