The OptiMonk Ambassador Program offers a simple way to share OptiMonk with friends, colleagues or an audience and receive lifelong recurring commissions for any OptiMonk user. By activating the Ambassador Program, you will be assigned a unique referral link you can use to invite your friends & audience into the app. If they sign up and subscribe via your unique link, their subscription will be attributed to you and you you can earn a lifelong commission after their subscription fees.
For more information about the OptiMonk Ambassador Program, visit our Ambassador Partner Page and refer to this support article.
In this article, we'll give you an overview on
How to become an OptiMonk Ambassador
You have to options to sign up to our Ambassador Program:
In the following example, we'll show you how to sign up from the app.
First, log in to your OptiMonk account at app.optimonk.com/login/en
Select your user icon from the navbar on the left and click on 'For agencies'.

You should now be redirected to the Ambassador Program promo page in the app. To become an ambassador and generate your own unique referral link, click on the Become an Ambassador button.

The Ambassador Dashboard will be activated automatically and added to your navbar. You'll be able to access it from now on from there.

You can find your unique referral link on the Ambassador Dashboard. Click to copy this link, share it with your audience and ask them to sign up via this link. Your unique referral link is generated once and will not change overtime so that you can track all subscriptions via this link in the long run.

What can you find on the Ambassador Dashboard
Visitors / Trials / Customers
On the Ambassador dashboard, you can track how many people have signed up using your unique referral link and how many have become actual subscribers.
The number of visitors tells you how many people have opened OptiMonk via your unique referral link.
The number of trial signups refers to the number of users who have successfully created an account via your unique referral link but have not become paying subscribers yet.
The number of customers tells you how many people have become actual paying subscribers using your unique referral link.
Beside that, you can also track how much commission your leads have generated for you so far.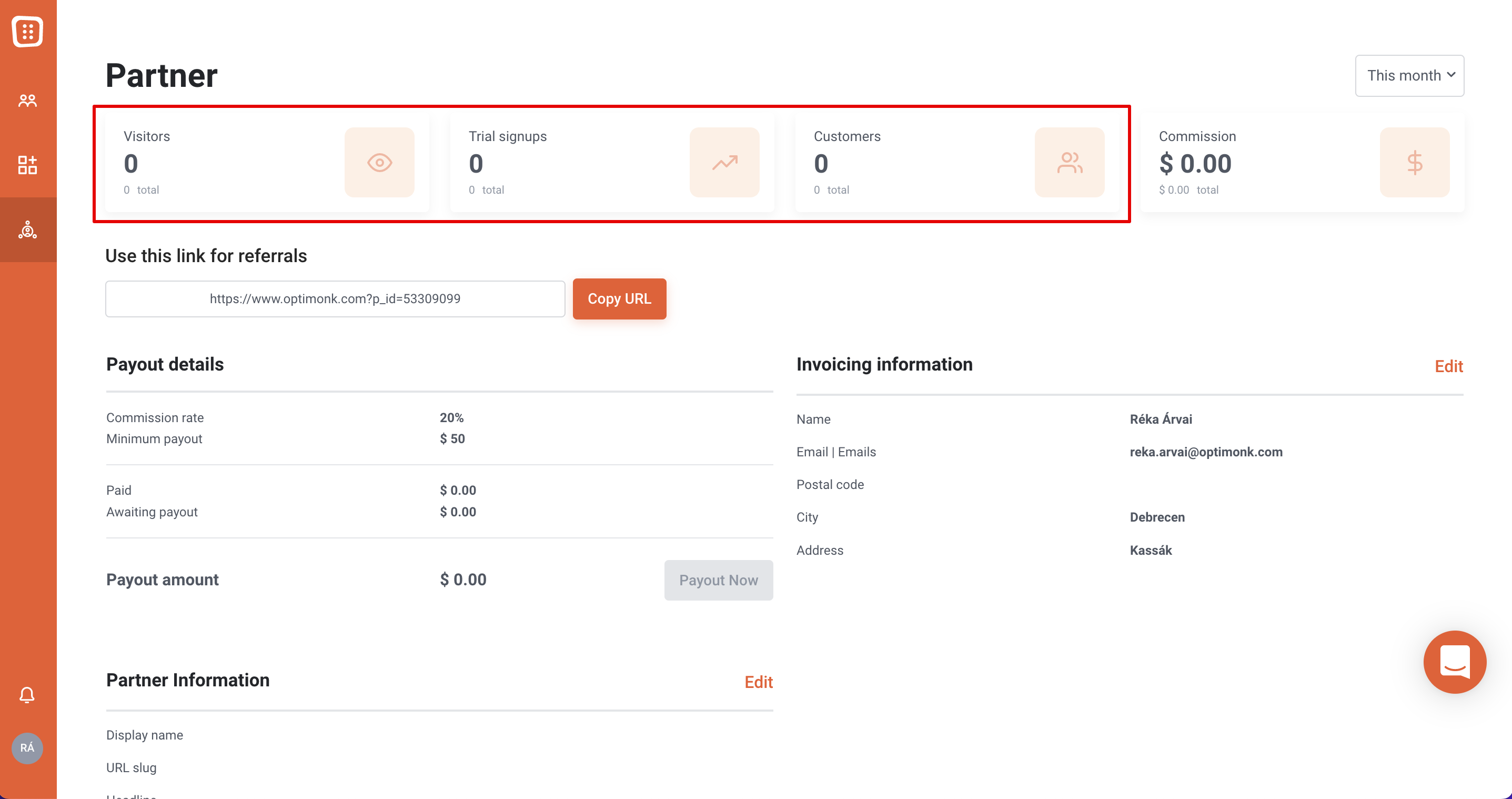 Payout details
Under payout details, you can track your current commission rate that can increase with the number of subscribers you refer to OptiMonk. For further details about commission rates, please visit our Ambassador Partner Page on the website.
Here, you can also track how much of the generated commissions have already been payed out to you and what the amount awaiting payout is. You can also request a payout if the amount is greater than 50 USD here.