If you're a design ninja, you can go ahead and create a campaign from scratch, but if you'd rather spend your free time doing something else, you'll be happy to know we have hundreds of pre-built, professionally-designed, responsive, and 100% free templates you can choose from. In this article, we'll show you how you can find the most suitable template for your goals in seconds.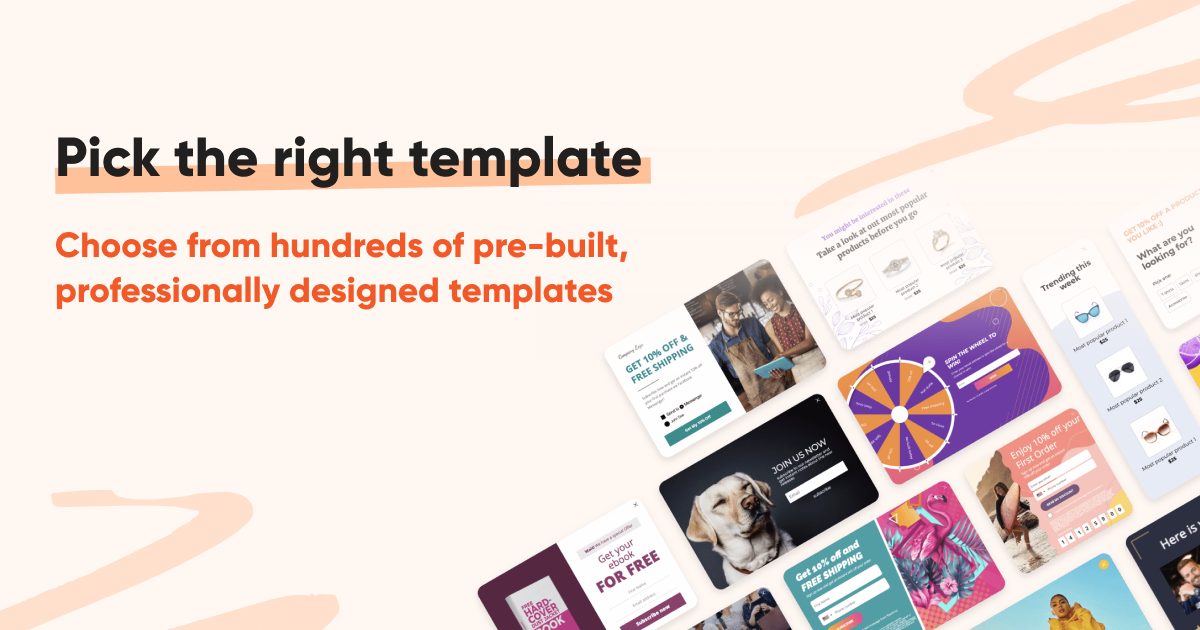 In this article, you will learn about:
If you only need a quick overview on templates, watch Reka's walkthrough in 2 minutes:
1. How to access the Template Library?
You can access hundreds of beautiful templates directly from your account. Simply select the "Templates" tab on the left sidebar to explore our 300+ pre-designed popup templates: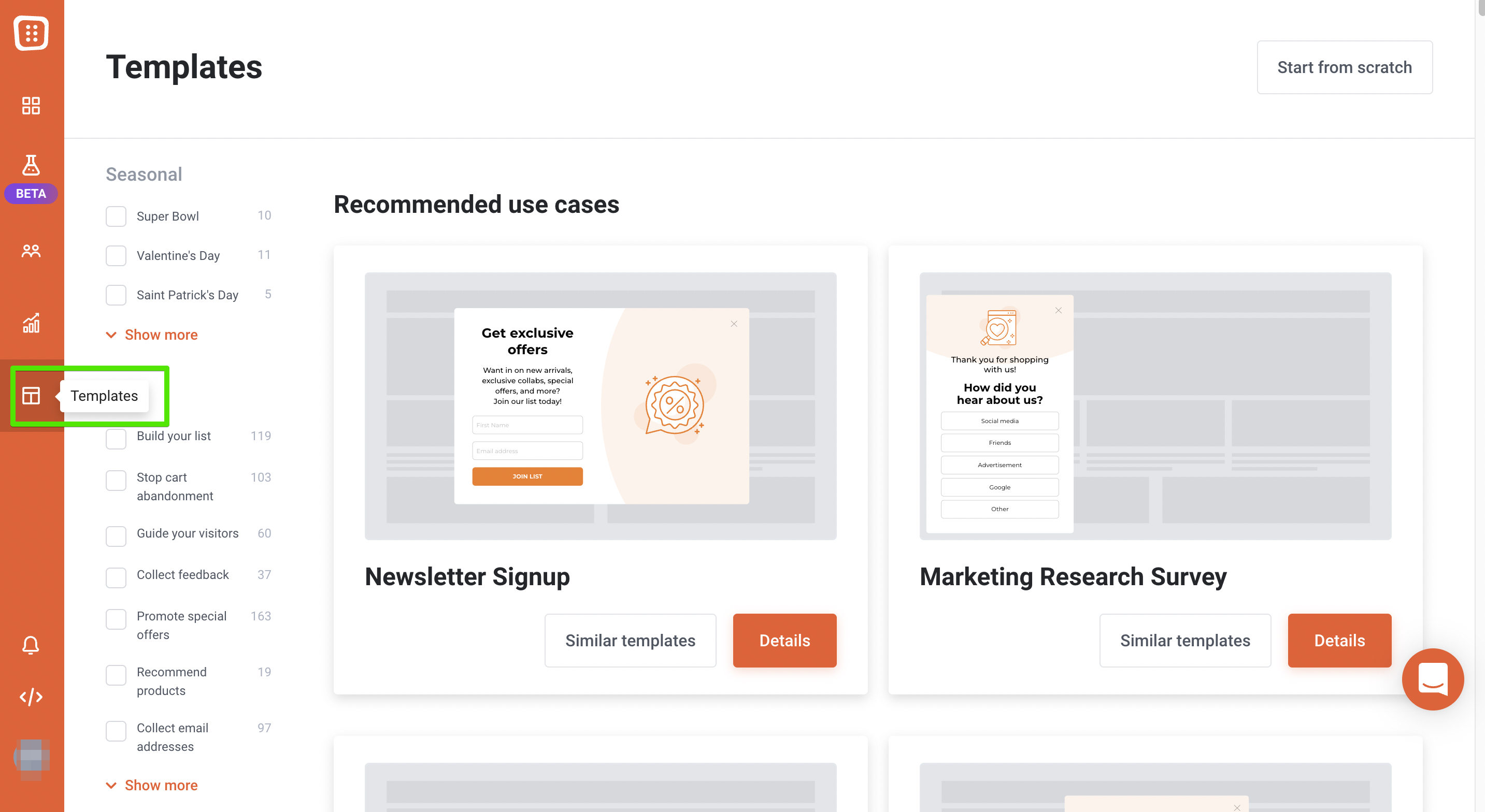 Don't have an account yet? Still, you can browse our Template Library full of fabulous templates on this page.
2. Filtering Templates by Message type
We have multiple ways to display messages to your visitors. Depending on how important your message is, you can pick the type that matches your business goals best.
For instance, a fullscreen campaign might be fitting if you're doing a Black Friday sale that no visitor should miss. However, if you're asking for feedback or offering free shipping, you probably want to let visitors know without interrupting the browsing experience. In this case, your best might be a sticky bar or a sidemessage.
You can choose from the following message types:

Popups - Drive more sales with behaviorally triggered popups
Classic popups are displayed in a typical overlay window where your message appears. These are great for cart abandonment, exit intent, or when you want your visitors to take action.

🖥️ They appear in the middle of the pages by default, but you can change their position.
❕If the popup appears, visitors cannot keep scrolling or continue browsing.
⚡ What to use classic popups for?


1. Collect SMS subscribers: SMS engagement rates are six to eight times higher than email marketing engagement rates. Offering free shipping, coupon codes, or free ebooks for mobile users, you can grow your SMS list quickly.

2. Stop cart abandonment: Show a secondary offer to your visitors to prevent cart abandonment & recover lost sales with classic popups. Use powerful incentives such as a countdown timer, discounts, or offer free shipping based on the cart value.

Sidemessage - Get real, measurable feedback in a non-intrusive way
Sides messages appear on the side of the pages as visitors browse your website. These are effective for collecting email subscribers or gathering feedback from your visitors without interrupting their browsing experience.


🖥️ The Sidemessage appears on the side of the pages.
❕ It stays on one of the sides of the page, so it will not block the browsing experience.
⚡ What to use sidemessages for?

1. Gather feedback: Discover where your customers are really coming from. Understand what attracts first-time buyers to your site and utilize the right sources to gain more traffic.

2. Collect subscribers: This can be useful when you do not want a popup to appear on exit-intent and you do not want to disturb the visitors during browsing your website. Perfect solution for blog pages.

3. Boost your social followers: Invite visitors to join your community and receive updates about your content on social media.

Sticky bar - Display updates, without blocking the main content of your site
A sticky bar is a floating onsite message that appears at the top or bottom of your website and sticks there as visitors browse the pages on your site. It is a great way to make announcements without interrupting the browsing experience or to remind visitors of an active discount code that hasn't been redeemed yet.


🖥️ They appear on the top or the bottom of your website.
❕ The Sticky bar will not block the browsing experience.
⚡ What to use sticky bars for?

1. Discount Code Reminder: Setting up a Discount code reminder campaign will remind your visitors of their active discount code that hasn't been redeemed yet. This way you can boost redemption & conversion rates at the same time.

2. Dynamic Free Shipping Bar: Boost cart value by letting your visitors know about your free shipping limit.

3. NPS survey bar: It is very important to make the customers feel that their feedback is valuable regardless if it is negative or positive. Learn how much your customers love you by asking them how likely are they to recommend you to a friend or colleague.

Gamification - The most engaging & entertaining way to build your list
Gamification popups are one of the best ways to collect email addresses. You can capture more subscribers by giving your customers a fun way to sign up for your newsletter, beyond simply asking for their email addresses.


🖥️ They will either appear on the side or in the middle of the pages depending on the template you use.
❕If the popup appears, the visitors can not scroll or continue browsing.
⚡ What type of gamification popups you can choose and how do they work?


1. Lucky Wheel: After entering their email address, your visitors can spin the wheel for a chance to win certain rewards or discounts, such as free shipping or 10%.

2. Scratch Card: After filling out the form, your visitors can simulate scratching a card on a popup for a chance to win your pre-defined rewards or discounts.

3. Pick a Present: Your visitors can pick a gift for themselves on a popup and they can win big discounts, free product samples, or any other rewards.

Fullscreen - Most attention-grabbing way to deliver a message
Fullscreen messages are similar to popups, but – as their name implies – they cover the entire screen. That is what makes fullscreen unavoidable and one of the most effective methods for attracting visitors and increasing conversion.


🖥️ They cover the entire screen of the pages.
❕If the popup appears, the visitors can not scroll or continue browsing.
⚡ What to use fullscreen popups for?


The possibilities are endless. You can redirect visitors to your best offers, promote a downloadable document or even build your email list or Messenger list.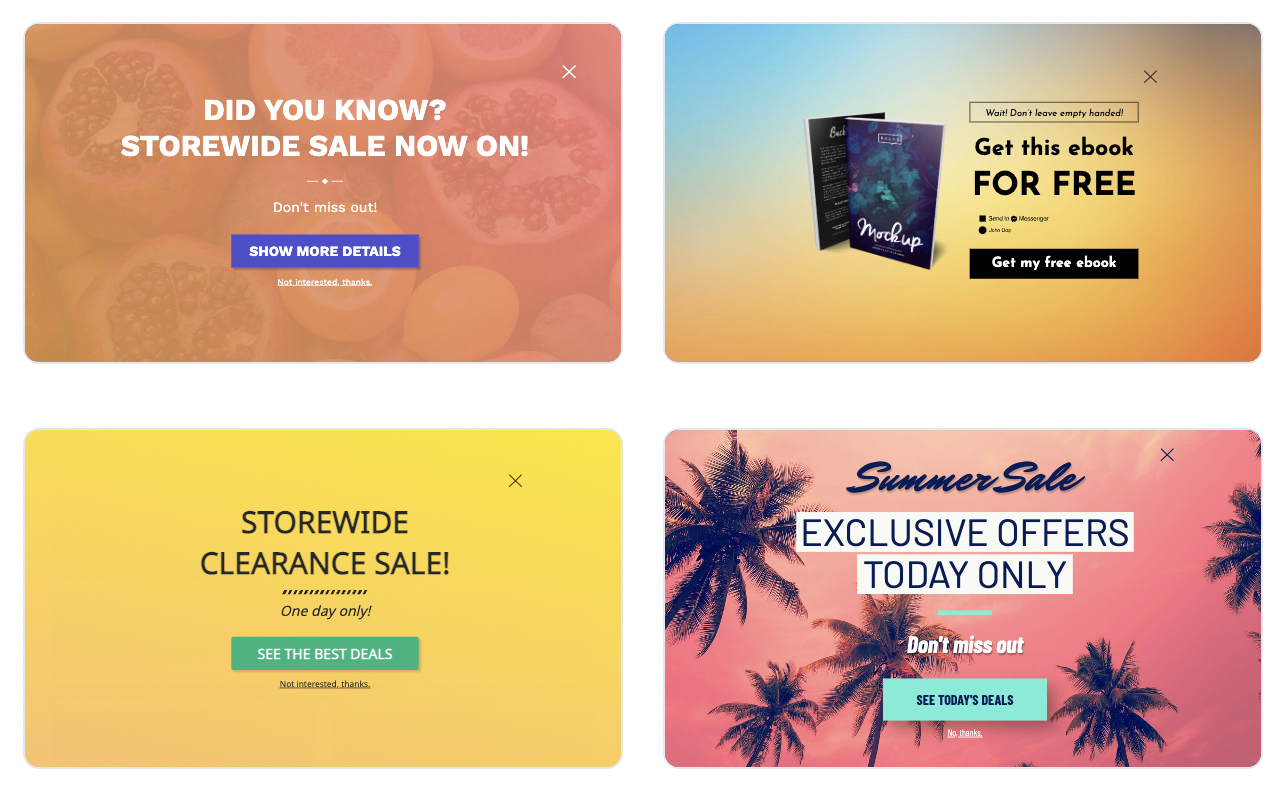 Survey - Collect valuable insights from your visitors to improve your site
It's essential to provide a first-class user experience for your visitors. But how can you be sure you have done everything to impress them? You don't have to figure it out all by yourself. Just simply ask your visitors by using one of our survey templates! :)


🖥️ Survey popups will either appear on the side or in the middle of the pages depending on the template you use.
❕Depending on the template you choose, it may or may not block the browsing experience.
⚡ Surveys speak for themselves. Collecting great quality customer feedback with Survey Templates is one of the easiest ways to show your visitors that you value them.


Embedded - Add lightning-fast, personalized sections to your website
Embedded Templates make it super easy to add custom sections to your site that actually look like native content, all without involving developers.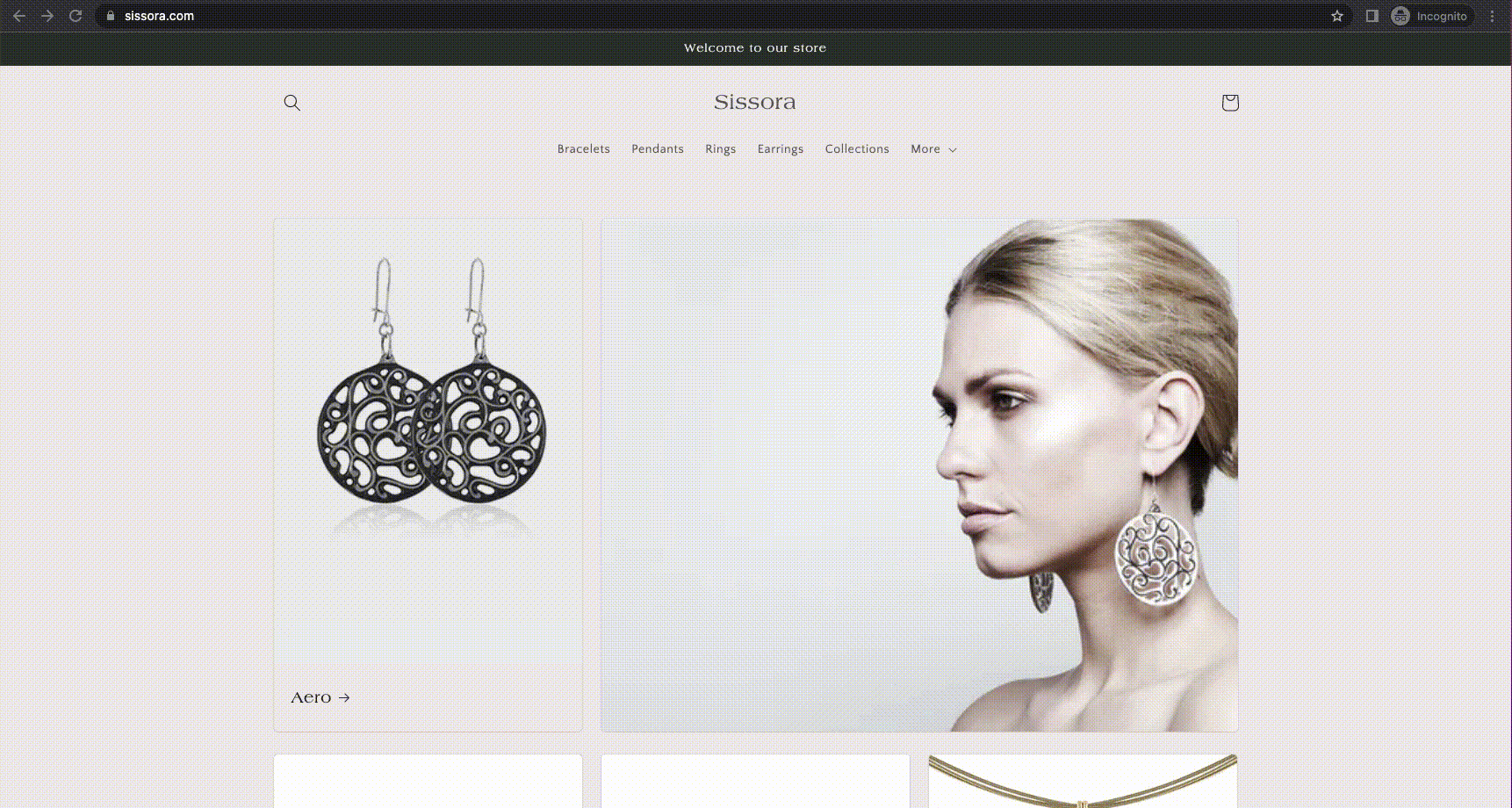 🖥️ They appear as part of your website.
❕ The Embedded Content will not block the browsing experience.
⚡ What to use embedded content for?

1. Embed list-building forms with discount codes so you don't interrupt the browsing experience.
2. Embed surveys so they seem like an organic part of your website.
3. Recommend relevant products in blog articles to help visitors convert faster.
3. Filtering Templates by Goals
When you're creating a campaign, you have goals in mind that you want to accomplish, right? That's why we have the option to filter the templates by goals. Whether you want to stop cart abandonment, collect feedback from your visitors, or build your list, you can find the perfect template based on your goal.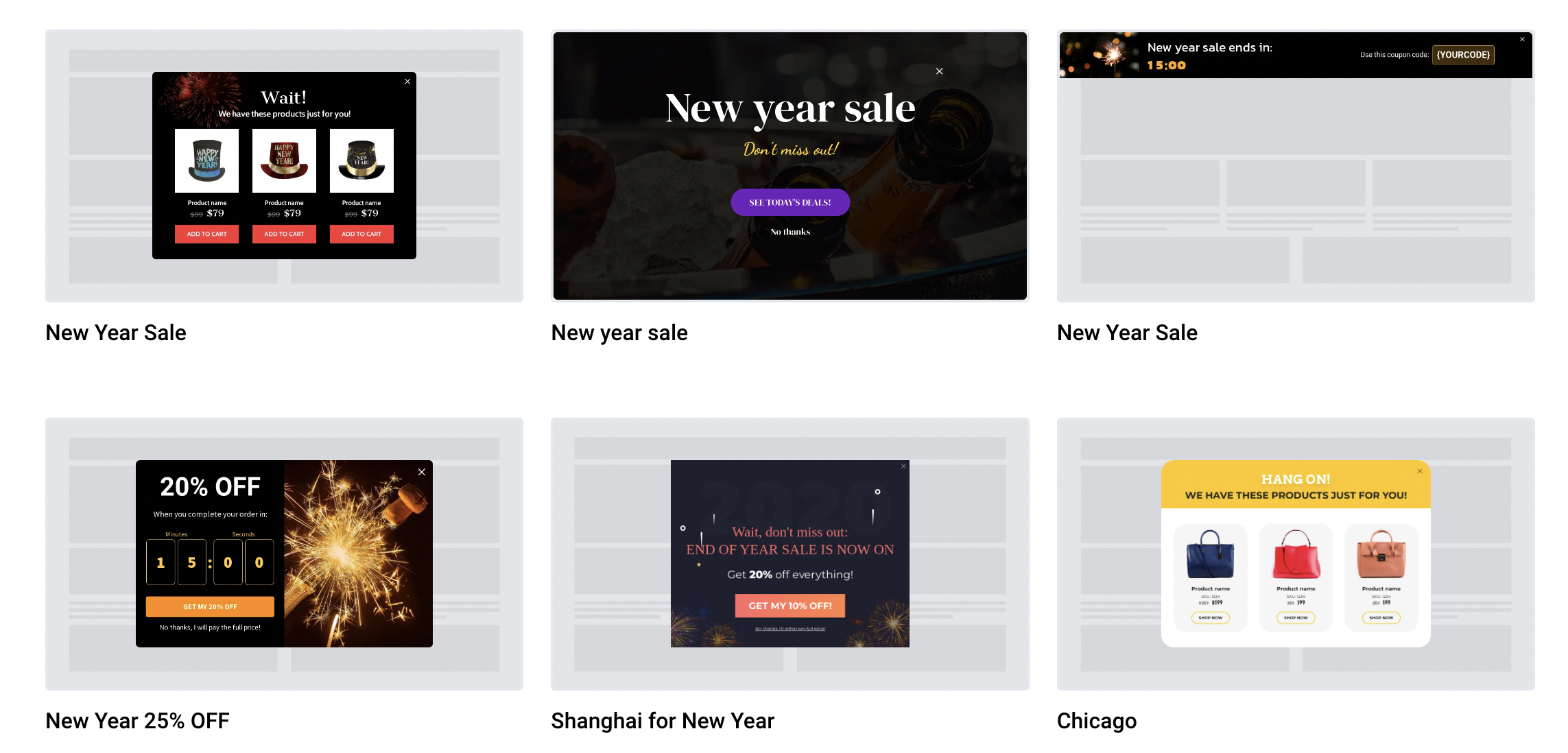 You can choose from the following goals:
Build your list
Stop cart abandonment
Guide your visitors
Collect feedback
Promote special offers
Recommend products
Collect email addresses
Collect Messenger subscribers
Collect phone numbers
Gamify your messages
Increase social engagement
Increase form submission
Increase cart value


4. Filtering Templates by Season
You can also use Seasonal filters to find templates for a specific season or holiday, like Black Friday or Christmas. You can choose from multiple options, like New Year, Super Bowl, Valentine's Day, and much more.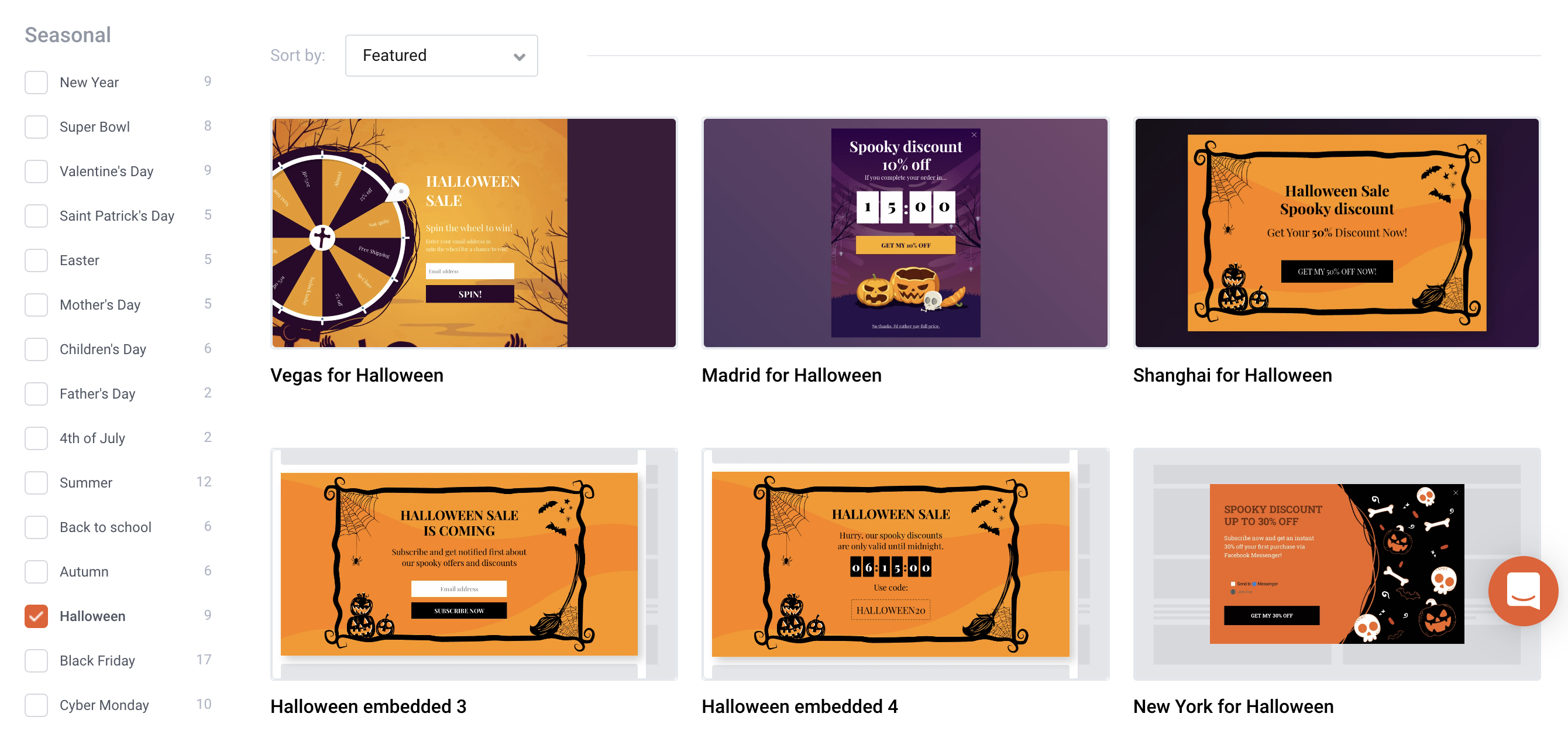 ✉️ If you need any further help or have any questions, please let us know at support@optimonk.com, and we would be happy to assist you :)